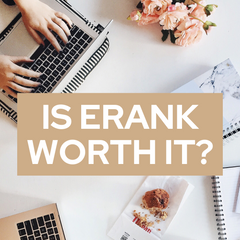 If you're a seller on Etsy you are always looking for ways to help bring in sales and make your Etsy shop even better. One of the best ways to do this is with tools such as eRank.
Erank is used by many Etsy sellers to help them grow their sales and make their products found more easily. It is like having a superpower tool that is specifically designed for Etsy sellers.
So lets take a look into eRank and work out if it's worth using for your store.
(THIS POST CONTAINS SOME AFFILIATE LINKS FOR YOUR CONVENIENCE: READ MY FULL DISCLOSURE POLICY)
What is eRank?
eRank is an all-in-one tool for Etsy sellers aimed at providing SEO (search engine optimization) solutions and store reviews to help you grow your Etsy store.
One great feature is that eRank connects directly to your Etsy store so it can quickly analyze your store, its products and the keywords that you use.
This is an incredibly useful Etsy SEO tool as it helps to identify any potential problems with your store or products that could be causing them not to be found easily on search engines like Google.
eRank Pricing
One great thing about eRank is that it offers a FREE plan, which is great for those who are just starting out and don't want to spend any money.
For those of you with established stores and looking for more features, eRank also provides paid plans that range from $5.99/month up to $29.99/month depending on the size of your store and how many features you need.
There are still lots of things you can do with the free plan, such as keyword research and store analysis.
So How Can eRank Help Me?
There are lots of things eRank can do, but here are some of the things we find most useful when using this tool in our store.
Optimize your listings
One of the most significant advantages of utilizing eRank is its exceptional ability to research keywords that are most searched for in a specific niche.
eRank is a great Etsy keyword tool. You can review the title, meta description, and tags to optimize them to help your listings rank higher in your particular niche.
You can also use eRank's keyword tool to research the highest-performing keywords in your industry, along with analyzing the SEO of your listing's relevance. 
Find Trending Products
eRank also has a feature that helps sellers find the next trending products to add to their store. It does this by looking at what customers are searching for and what items have been hot in the past.
This is invaluable for Etsy sellers who want to stay ahead of the curve and anticipate customer trends before they happen.
Being able to spot a trend early on can help a seller get ahead of the competition and provide customers with items they are genuinely interested in.
Find Competitor's Product Tags
eRank also offers a feature that shows you the tags used by your competitors, giving you an idea of what keywords you should aim for.
This feature is useful in finding keywords you may not have thought of before, and you can then use them in your own listings.
The item tags feature also uses the same strategy and can be analyzed to identify top performing tags, essential for increasing sales.
Using Etsy's Rank Checker Tool
One feature that sets eRank apart from other SEO tools is its Etsy rank checker tool.
This feature is vital to any Etsy seller, as it provides an overview of your store's performance in the form of graphs.
The Etsy rank checker tool is simple to use and reports on your shop's ranking and page views, calculated for a selected duration.
Boost Your Page Ranking
Finally, eRank also helps to boost overall page ranking by providing detailed analytics that enable you to track your store's performance in search engine results pages.
eRank creates specific reports for each of your listings so you can identify what works and what doesn't. This kind of data helps to create better content for customers, allowing you to tweak your store in real-time as needed.
Is eRank worth it for your Etsy store?
Yes, we think it is! You have nothing to loose by trying their free plan.
Using SEO Etsy tools like eRank can help your store and give you valuable insights to grow your business.
You can choose to start with their free plan and if you see the value and want help to optimize your store you can decide later to upgrade to their paid plan.
With paid plans starting at just $5.99 a month it is an affordable Etsy keyword tool worth checking out.
eRank Review 
We personally use eRank to help with our Etsy store. We've found it to be extremely useful in finding keywords and spotting trends.
We really like the features and think that eRank offers a lot of value for money for Etsy sellers looking to increase sales.
Overall we would recommend using eRank for your Etsy store. If you are serious about growing your business then it is definitely worth a try.
If you are looking to get started with eRank right away, click the link below and create your free account today! No credit card required!