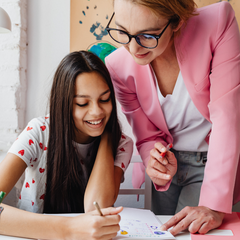 Attention all creative individuals! Are you looking to turn your passion into profit? Consider selling your digital and printable creations on Teachers Pay Teachers (also known as TpT).
This platform is a hub for teachers and educators looking for resources to enhance their classroom experiences.
TpT is an exciting selling opportunity that allows you to showcase your talents and potentially reach a wider audience. So, why not dive in and get started today?
Your creativity could end up being your biggest asset! With over 7 million educators, this online marketplace has become the go-to site for teachers to buy and sell materials that are both useful and creative.
Starting a Teachers Pay Teachers seller account is a great way for educators, content creators, and small business owners to monetize their skills. If you're looking for a new side hustle or just a creative outlet, then selling on TpT might be the perfect fit for you. Once you have set it up, you are on your way to creating products that fill a need in the education community.
It's important to remember that your first item MUST be a free resource. This may seem like a hindrance, but it's actually a wonderful opportunity to showcase your skills and creativity.
Creating an amazing freebie is what draws buyers in and encourages them to return to your store to make additional purchases. Word searches are a great free product to start with we have found.
Choosing what to sell can be challenging, but with a little research, you can discover the best categories and ideas to focus on.
What sells well on Teacher pay Teachers?
This is the question we all want to know the answer too!!! It's important to note that the success of any product on Teachers Pay Teachers depends on its quality, originality, usefulness and marketing.
Conducting research on current trends, staying updated with educational standards, and addressing specific needs within the teaching community can also help sellers create valuable resources that are more likely to sell well on the platform.
How to do research on TpT for best products to sell.
To conduct research on Teachers Pay Teachers (TpT) and identify the best products to sell, you can follow these steps:
Explore the TpT Marketplace: Spend time browsing the TpT Marketplace to familiarize yourself with the types of resources that are popular and in demand. Look at different categories, subjects, and grade levels to see what types of products have low competition, positive reviews.
Keep digging down until you find low competition keywords
Analyze Top Sellers:
Take note of the
top-selling products on TpT
. These are often displayed in various sections or highlighted by TpT itself. Pay attention to the features, formats, and topics of these resources. Analyze their descriptions, previews, and customer feedback to understand what makes them successful.
Identify Trends and Needs: Look for patterns and trends in the resources that are currently popular on TpT. Analyze what topics, teaching strategies, or curriculum areas are in high demand. Consider the needs of teachers, changes in educational standards, and emerging teaching methodologies to identify potential gaps that you can fill with your products.
Read Reviews and Feedback: Read the reviews and feedback left by customers on TpT for different products. This will give you insights into what teachers appreciate and value in resources. Pay attention to any suggestions or requests made by teachers in the comments, as these can indicate areas where you can create new and valuable products.
Join TpT Communities: Engage with the TpT community by participating in forums, groups, and social media platforms dedicated to TpT sellers. Connect with other educators and sellers to exchange ideas, share experiences, and gain insights into successful selling strategies. These communities often provide valuable information about current trends, customer preferences, and effective marketing techniques.
By following these research strategies, you can gain a better understanding of the TpT marketplace, identify trends and needs, and create products that have a higher chance of selling well to teachers. Remember to keep your products unique, high-quality, and aligned with the needs of educators to stand out in the marketplace.
The Best Things to Sell on Teachers Pay Teachers
Create Products for Specific Classrooms or Grade Levels
One of the best things to sell on TPT is a set of resources designed specifically for a particular classroom or grade level.
Teachers are always on the lookout for materials that can help their students achieve more and learn quickly. You can make this easier for them by creating grade-level specific resources like interactive notebooks, math centers, writing prompts, and reading comprehension activities. This can help teachers save time and effort in lesson planning, making it a hot seller on TPT.
Sell Themed Products
Another great way to increase sales on TPT is to create themed bundles of resources. Seasonal themes like Halloween, Thanksgiving, Easter, Christmas, and Valentine's days have the potential to make good profits.
You can also create themed products that incorporate different subjects like literacy, science, or social skills. As teachers want to make their classrooms more engaging and interactive, they are likely to invest in Halloween-Themed Literacy Centers or Valentine's Day writing prompts.
Also fun activities like printable themed games, word searches, trivia, mazes and crosswords can be created in a themed bundle.
Sell Classroom Management Resources
Classroom management resources are another type of product that is highly demanded by teachers on TPT. These include organization materials like seating charts, attendance trackers, discipline plans, and gradebook templates.Teachers rely on these kinds of items to help keep their classrooms running smoothly, making them a hot seller on TPT.
You can also create materials designed to promote positive behavior, such as reward charts and point tracking systems. This will help teachers motivate their students while reinforcing good conduct in the classroom.
Offer Engaging Visuals
TPT is a platform where you can showcase your creativity and design skills. The products that stand out visually are likely to attract more sales. You can create products with engaging visuals like eye-catching graphics, colorful clip arts, and eye-catching fonts. These can be posters, book covers, headings, or label templates.
Using unique and original artwork adds value to your products and can make them appealing to teachers on the platform.
Sell Time-Saving Tools
Another excellent way to make profits on TPT is to create time-saving tools for teachers. As teachers are always busy, they require assistance from products that can help them save time while they focus on other important things like planning lessons or grading papers.
You can create editable templates like lesson planning sheets, grade book templates, or parent communication logs that helps teachers stay organized and on top of their game.
Worksheets and activities
Worksheets, task cards, interactive notebooks, and other printable activities are popular resources on the platform. These materials cover a wide range of subjects and grade levels, providing teachers with supplementary materials to enhance their instruction.
Classroom décor and organization
Teachers often seek visually appealing and practical resources to decorate and organize their classrooms. Items such as bulletin board sets, labels, name tags, calendars, and classroom management tools are popular choices.
Assessments and rubrics
Teachers frequently search for assessments, quizzes, tests, and rubrics to evaluate student learning. These resources can cover various subjects and grade levels, offering educators different ways to assess student understanding and track progress.
Special education resources
There is a demand for resources tailored to students with special needs or learning disabilities. Materials focusing on individualized education plans (IEPs), behavior management, differentiation, and inclusion strategies tend to be sought after.
Digital resources
As technology integration continues to grow in classrooms, digital resources such as Google Slides presentations, interactive digital activities, and online learning platforms are gaining popularity. These resources provide teachers with options for virtual or blended learning environments.
Printable Worksheets
These are great resources for teachers to use with their students. Worksheets come in a variety of categories such as math, science, reading comprehension and more. They are also great tools for helping students practice skills and can be used in a variety of settings like the classroom or at home.
Lesson plans
Comprehensive and well-structured lesson plans that align with specific curriculum standards or grade levels are in high demand. Teachers are often looking for ready-to-use lessons that save them time and offer engaging activities for their students.
Fun Games and Activities
Fun and engaging games and activities can be created for any grade level or subject. These resources offer opportunities for students to have fun while also reinforcing important concepts, making them great sellers on TPT.Popular items include bingo cards, treasure hunts, scavenger hunts, themed trivia questions, card matching activities and more.
There are endless possibilities with this type of product as teachers are always willing to invest in activities that will keep their students engaged and entertained.
Clip Art and Fonts
High-quality clip art and fonts can be used to create attractive products. This type of visual element can make products stand out and draw more attention from potential buyers on TPT.
You can find a variety of clipart images, borders, frames, backgrounds, and other elements that are sure to add value to your products. These resources are a great way to add an extra touch of creativity and professionalism to your TPT shop.
Selling products on Teachers Pay Teachers can be a rewarding career choice for teachers who want to share their creativity with the wider teaching community. To be profitable, you need to work smart and design products that are both educational and visually appealing.
Creating grade-level-specific resources, selling time-saving tools, and curating professional development material that caters to the diverse needs of teachers are great ideas for your next TPT product.
We hope these tips help you generate more sales and help teachers deliver exceptional learning experiences.