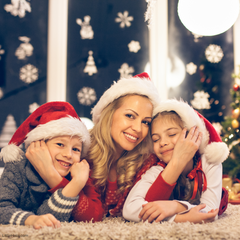 Looking for some fun activities to keep the family and kids occupied during the Christmas holiday? Look no further! We've got a variety of printable Christmas games that will keep everyone entertained.
From classic games to new favorites like "Christmas Scavenger Hunt," we have something for everyone. So grab a cup of hot chocolate and get ready to have some fun!
These printable Christmas games are perfect for classroom parties, family gatherings, or just a fun way to pass the time during the holiday season.
So whether you're looking for something to keep the kids occupied or you're just looking for some festive fun, be sure to check out our collection of printable Christmas games. 
Christmas Scavenger Hunt
Kids and teens will love our selection of Christmas Scavenger Hunts. They will need to solve the clues which will lead them to the treasure or gifts at the end of the hunt.
Christmas Trivia Printable Games
Everyone loves the challenge of testing their knowledge and seeing how much they really know with Trivia games. So now is the time to test your knowledge of all things Christmas with our fun Christmas Trivia Games.
Christmas Forbidden Words Game
This fun and challenging group Christmas game is great for any sized party
This popular game is fun for the whole family especially the teens and tweens!
Christmas Finish the Song Lyrics
Test your knowledge with your friends and family and have some fun and a laugh. Great for all the family who will love challenging each other to this fun Christmas Carol game.
How well do you know your Christmas movies? Put yourself to the test and try to answer this move quiz. Fun questions such as 'In Home Alone, how many siblings does Kevin have?
Are these 10 statements true or false? See how many you can answer correctly, and don't worry we also include an answer sheet. Do you know if Tinsel was once made of real silver?
This game is played like the TV show Family Feud. You will need to try to guess the three most popular answers to these Christmas questions. 
Fun Christmas Printable Games
Choose which one of these Christmas things you would prefer. Would you rather decorate the Christmas Tree or make a snowman? When you have finished you can compare your answers with everyone.
This is a fun new way to play pass the parcel. You simply follow the instructions on this sheet and whoever ends up with the gift gets to keep it. 
Roll the Dice Christmas Gift Exchange
Another fun Christmas gift exchange game. To play this game, everyone brings a gift and sits in a circle. Players take turns rolling the dice and following the instructions on the sheet.
Christmas What's on your Phone?
In this game, everyone has five minutes to check their phone for these items. They will earn points for everything they can find and the person with the most points will win a prize.
This is a classic game that can be enjoyed by people of all ages. You will need to download and print off the charades printable divide your guests into two teams. Then, each team will take turns acting out different Christmas-themed words or phrases. The first team to guess correctly wins the round!
Christmas Printable Word Games
This festive word search is a great way to get everyone in the holiday spirit. See how many Christmas-themed words you can unscramble.
You have five minutes to write a holiday word or phrase starting with each letter of the alphabet.
Pick someone to fill this in and their answers will be the key. Everyone else must try to guess what word or phrase they used. Whoever guesses the most correct will win.
These are just a few of our favorite printable Christmas games. Printable Christmas games are perfect for your Christmas party. They are fun and everyone can play them. If you have a big group of people, then you can make teams and race to see who can finish the game first. These games will surely keep everyone busy during your party. So what are you waiting for? Get started with your Christmas party
More Fun Party Ideas:
If you're struggling to come up with Advent Calendar ideas for your teenager, don't worry - we've got you covered! We will share some creative ways to countdown to Christmas that will make the holiday season even more special for your teen with these fun teenage advent calendars 
Looking for a fun way to celebrate the holidays this year? Why not try out some of these candy cane games. These games are perfect for family gatherings, parties, or just a fun night in with friends.