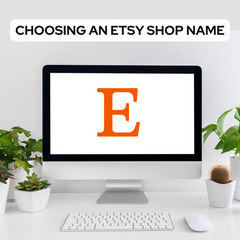 Ah, starting an Etsy shop. The excitement, the possibilities, the nerves… and oh, the pressure! One of the most important (and often daunting) steps is choosing the perfect Etsy shop name.
Your shop name will be your brand. It will be how customers find you, recognize you, and hopefully, fall in love with you.
But don't fret! We're here to help you choose a name that you will love and captures the essence of your new business.
Steps to choosing your Etsy Shop Name
Choosing a shop name is important because it sets the tone for your store. So take your time to choose a name you love, but remember Etsy will allow you to change your shop name up to 5 times if you decide it is not quite right.
Etsy also allows you to use up to 20 letters in your shop name, so keep that in mind when choosing the perfect name.
Brainstorm, Brainstorm, Brainstorm!
The first step to choosing your Etsy shop name is brainstorming. Write down a list of words that describe your brand and products. Consider your brand values, target audience, inspiration, and personality.
Think outside the box and don't be afraid to get creative! Once you have a list of about 10-15 words, start mixing and matching them to see what flows and feels right. This can be a fun exercise to do with friends or family for some added inspiration.
Keep It Simple and Easy to Spell
Your Etsy shop name should be simple, memorable, and easy to spell. Avoid complicated or lengthy names that will be hard to remember, pronounce, or type in the search bar.
Think of some of your favorite brands and notice how their names are clever, catchy, and easy to recall. For example, Nike, Apple, and Amazon are all simple, yet memorable names that come to mind instantly.
Make It Personal
Adding a personal touch to your Etsy shop name helps to connect with your customers and makes your shop more memorable. You can incorporate your name, nickname, or location into your name.
This adds a human element to your brand and can help customers feel more connected to you and your creations.
Avoid Trendy or Unoriginal Names
While it may be tempting to choose a trendy or unoriginal name, try to choose something that's unique to you and your brand. Avoid using common trends or themes that may not stand the test of time.
Remember, your Etsy shop name should have longevity, so try to pick a name that won't become dated or irrelevant.
Check Availability and Trademark
Before you finalize your Etsy shop name, make sure to check the availability and trademark. You don't want to risk legal issues or confusion with other brands.
Search for your name in the search bar on Etsy, Google, and social media to make sure it's available and not too similar to any existing brands. You can also search for trademarks to ensure that your name won't infringe on any existing trademarks.
What is a Good Name for an Etsy Shop?
The sky really is the limit when picking your Etsy shop name. Remember having good, high quality products in your Etsy store is more important than a perfect shop name. So don't let this step stop you from opening your shop.
Put the product you sell in the title:
Consider incorporating the type of products you offer directly into your shop name. For example, if you sell handmade jewelry, you could try names like "Beaded Treasures" or "Silver Sparkles."
Use your favorite color
Incorporating your favorite color into the name of your shop is a great way to make it unique. For example, if you love pink, try "Pretty in Pink" or "The Pink Palace."
Use words that evoke emotion:
Consider adding words to your Etsy shop name that will evoke an emotional response from your customers. Words like "love," "dream," or "treasure" can add a sense of whimsy and enchantment to your shop name.
You could also consider adding words that describe the aesthetic of your store, such as "vintage" or "luxury". This will help customers immediately understand the type of products you offer and create an inviting atmosphere,
Put your first name in the title:
Adding your first name can add a personal touch to your shop name. It helps create a sense of connection with your customers. For instance, "Emily's Crafts"
Use your blog or website name if you have one:
If you already have a blog related to your craft or products, consider using its name for your Etsy shop as well. This creates consistency and may help drive traffic to your store from your existing blog audience.
Use your first and middle names combined:
Combining your first and middle names can result in a unique and distinctive shop name. For example, "BenjaminScott Designs."
Include a pun:
Puns can be fun and witty, which is always great for shop names.
More Etsy Shop Name Ideas
Here are some more ideas on creating an Etsy shop name. You can incorporate these words and phrase into your name.
Your favorite color
Your favorite flower
Your initials
Your name
Your hobby
Your niche
Use rhyming words such as 'Perfect Printables'
A play on words such as 'Scentsational Scented Candles'
Merging two unrelated words such as 'Joyful Jams'
Something whimsical like 'Fairytale Fabrics'
An inspirational phrase
An inside joke between you and your friends or family
Use adjectives that describe your products, like 'Pretty, Colorful, Natural'
Your birthdate, hometown, or a special date
An acronym such as 'S.E.W (Stitch Every Wish)'
If you are stuck for ideas or just need some more inspiration, you can use online tools like this Etsy Shop Name Generator
The Etsy Sellers Handbook also has some helpful tips for choosing your Etsy store name as well as how to check for Trademark names.
How to Change your Etsy Store Name
Changing your shop name on Etsy is a relatively straightforward process. Here's a step-by-step guide on how you can change your shop name:
Sign in to your Etsy account: Visit the Etsy website and log in using your shop owner credentials.
Go to Shop Manager: Once you're logged in, click on the "Shop Manager" link located at the top right corner of the page. This will take you to your shop's dashboard.
Navigate to "Settings": In the left-hand sidebar of your Shop Manager, locate and click on the "Settings" option. This will open a dropdown menu with various settings options.
Access "Info & Appearance": Within the dropdown menu, select "Info & Appearance." This section contains the information and settings related to your shop's appearance and details.
Edit your shop name: In the "Info & Appearance" section, you'll find a field labeled "Shop Name." Click on the pencil icon or the "Edit" button next to it. This will enable you to change your shop name.
Enter your new shop name: Type in the new name you'd like to use for your Etsy shop. Remember to follow Etsy's guidelines for shop names, such as avoiding trademarked words and adhering to their policies.
Save your changes: After entering the new name, click the "Save" or "Save Changes" button to apply the change. Etsy will verify the availability of the name and inform you if any changes are required.
Review the changes: Once you've saved your new shop name, review the changes to ensure it reflects your desired branding. Make sure to check how it appears in your shop's banner and profile. 
Choosing an Etsy shop name may seem daunting, but it's an exciting step in the journey of starting a shop.
Remember to brainstorm and keep it simple. Most importantly, have fun with it! Your Etsy shop name sets the tone for your brand and should be something that makes you feel proud, excited, and ready to share your creativity with the world. So take your time, get inspired, and choose the perfect name for your Etsy shop!