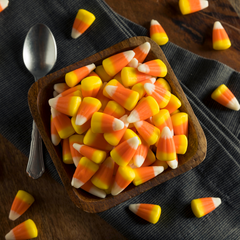 It's that time of year again - the leaves are changing, the air is getting colder, and Thanksgiving and Halloween is just around the corner! If you're looking for some fun ideas to celebrate the season, look no further. We have put together a variety of Candy Corn-themed party games that are perfect for a festive fall gathering. Whether you're hosting a kids' party or an adults-only soiree, we have something for everyone. So put on your favorite costume and get ready to have some spook-tacular fun!
(THIS POST CONTAINS SOME AFFILIATE LINKS FOR YOUR CONVENIENCE: READ MY FULL DISCLOSURE POLICY)
Candy Corn Toss
In this game, players take turns throwing candy corn at a target. The player who gets the most pieces of candy corn in the target wins. This is a great way to get everyone involved and moving around.
Printable Candy Corn Trivia Game
Printable games are perfect for your fall party because they're easy to set up and you don't have to worry about losing any pieces. Plus, they're great for large groups. Test your knowledge with this fun printable Candy Corn Trivia Game and don't worry an answer sheet is included!
Find this Candy Corn Trivia Printable Game in our shop or get it FREE below!
Candy Corn Relay
Split your guests into 2 teams and give each team a spoon and a bowl of candy corn. Everyone lines up at one side of the room and one at a time, they must scoop candy corn onto their spoon and run to the other side of the room and tip the candy corn into an empty bowl. The team that fills their bowl with candy corn the fastest will win.
Candy Corn Match
If you're looking for a more low-key game, "Candy Corn Match" might be more your speed. In this game, players must collect two matching pieces of candy corn. Place a large bowl in the middle of the table. When the game starts players must try to pick out the candy corn using chopsticks and collect pairs of colored candy corn. The goal is to see who can collect the most pairs of candy corn. This game is perfect for those who want to take a break from the hustle and bustle of the party.
Jelly Belly Candy Corn
Reusable Chopsticks
Candy Corn Scavenger Hunt
Hide small pieces of candy corn around your party space and give your guests a list of items to find. With each item on the list you will need to hide a piece of candy corn. The first person or team to find all of the items on the list and collect the pieces of candy corn wins a prize. This is a great way to get everyone exploring and interacting with each other.
Candy Corn Taste Test
Set out a variety of different candy corn products and have your guests try them all while blindfolded and try to guess the flavor. This is a great way to get people talking and trying new things.
Candy Corn Jar Guessing Game
This fun candy corn jar guessing game is great for all ages. Simply fill a jar with candy corn and have your guests guess how many pieces are in the jar. The person who comes closest to the correct number wins a prize. This is a great way to get everyone involved and having fun
Candy Corn Minute to Win it Games
If you are not familiar with minute to win it games they are a series of simple yet challenging games that can be played in under a minute. These games are very popular especially with Teenagers and Tweens.
Candy Corn Balance
The objective is to see how many candy corns you can balance on your forehead in one minute. This is a great way to get everyone moving and laughing.
Candy Corn Stacking Game or Pattern Game
See how many candy corn pieces you can stack on each other in just one minute. Or you can play this game by seeing if players can create a set pattern with their candy corn in the time allowed.  
Candy Corn Throw
Stand on one side of the room with an empty bucket on the other side. Throw your candy corn and see how many pieces you can get into the bucket. Whoever gets the most in the bucket in one minute is the winner.
Candy Corn Catch Game
Break up into pairs stand a distance apart from each other, one player has a bucket full of candy corn, the other has an empty bucket. This is a fabulous Minute to win it game. Set the timer for a minute and the player with the candy corn must throw 1 piece of candy corn at a time to the other player. They must try and catch the candy corn then place in the bucket. The team with the most candy corn in the bucket wins.
So, gather your friends and family together this fall for some festive fun with these candy corn games. Whether you're looking to test your knowledge or just want to have a good time, these activities are sure to please. And who knows? You may even end up being the Candy Corn Champion!
DOWNLOAD THE FREE CANDY CORN TRIVIA GAME
 More Fun Party Games:
These candy games will get the kids excited and keep them entertained all night long. From a sweet scavenger hunt to guess the number, there's something for everyone. So grab your favorite treats and get ready to have some fun!
Looking for some fun and spooky games to keep your teen entertained this Halloween? Look no further! We've gathered a list of the best (and most ghoulish) games that will have them shrieking with delight. From classic party games Halloween Scavenger Hunt, to new favorites like Zombie Apocalypse, we've got you covered. So get ready to have some serious fun this Halloween!