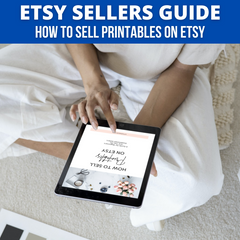 How to Sell Printables on Etsy – A Creative Guide
Have you heard about selling printables on Etsy but aren't sure what they are or where to start? You're not alone! We started out a few years ago right where you are now and in just 2 short years we have become a top 1% Etsy seller and have sold over 24,500 printable products!
Selling printables on Etsy is a great way to start making a passive income. Etsy already has an established audience so you will be able to tap into those Etsy customers who are already on the site and are ready to buy. Through trial and error we have found some tips and tricks to help our Etsy shop stand out and increase sales which we will share with you to help you on your Etsy printables journey.
But before we get started, lets talk about printables and why they're such a great product to sell on Etsy.
What are printables?
First up lets look at what printables actually are. If you're not familiar with the term, printables are digital products that customers can download and print on their own home computer or local copy shop.
The popularity of printables has skyrocketed in recent years, making it a great business opportunity for anyone with a creative streak. Printables can be anything from a simple checklist to a full-blown planner, or from a cute wall art to a set of party games and decorations.
Printables are typically sold as PDF files, but they can also be in other formats, such as JPEG or PNG. Customers usually purchase printables for a one-time fee, and then they can print and use them as many times as they want. There are countless printable products out there, but some of the most popular ones include:
Planners and organizers: These can be daily, weekly, monthly, or yearly planners, as well as to-do lists, habit trackers, budget planners, meal planners, and more.
Wall art and decor: These can include anything from inspirational quotes and typography to seasonal art and holiday decorations.
Stickers and labels: These are great for planners, journals, scrapbooks, or any other type of creative project.
Invitations and cards: These can be customized for any occasion, such as birthdays, weddings, baby showers, or holidays.
Educational resources: These can be worksheets, flashcards, coloring pages, or other activities for kids or adults.
Party Printables. This can include invitations, banners and decorations and games.
Why Printables are great to sell on Etsy
Printables are always in demand as they are affordable, convenient, and can offer a lot of value to customers. From a seller's point of view, it is a relatively stress free way to sell as when an item is purchased, Etsy handles everything from the payment to sending the file to the customer for you.
Now while you will be paying Etsy a fee of 20 cents per listing and a 'success fee' when you sell an item, it really is a small price to pay for the convenience of accessing Etsy's built in customer base. This is especially important if you are just starting out and do not have a website or established social media presence.
And if you want to advertise your products, Etsy makes it so easy to run a sale or promote your products on their website and off-site. You also don't need to spend a fortune on ads as you can set your spend to as little as $1 per day. You can also quickly and easily see your ad stats and see at a glance what is working and what is not selling.
Another added bonus of selling printables is that they don't take up physical space or require shipping or inventory management. Once listed on Etsy you can sell your printables worldwide and make money even when you are sleeping!
So, what do you need to get started?
The good news is that selling printables on Etsy requires minimal investment. All you need is a computer, design software that can create PDF files and a few design ideas.
You can also purchase pre-designed templates and graphics, just make sure these have a commercial use license. These are our favorites;
As well as giving us access to designs, we love using Canva to create printables as it is easy to use even for beginners. . Once you have your designs ready, it's time to create your Etsy shop.
Creating an Etsy shop is easy and straightforward
When opening your new Etsy shop you can sign up here to get 40 FREE listings. This is a great way to test out Etsy without having to pay anything up front.
First you will need to choose a shop name, create a logo and banner and then add your products. You can also customize your shop's policies, such as returns and exchanges, shop members section and adding an FAQ section, to ensure your customers have a seamless experience.
With over 7.3 million sellers and 94 million active buyers on Etsy, it's essential to make your shop visually appealing and easy to navigate. Start by using high-quality product images that showcase your designs. You can also write engaging product descriptions that highlight the benefits of your printables.
Make sure to use clear and attractive photos of your products and have a visually appealing shop banner. Utilize Etsy's SEO features and assign relevant tags to help people find your products easily. You can also help your products to be found by optimizing your shop's descriptions and titles for search engines.
Selling printables on Etsy can be a lucrative way to monetize your creative skills. If you are interested in learning even more about selling on Etsy, and want a more step by step guide be sure to check out our comprehensive eBook on 'How to Sell Printables on Etsy - A Guide for Beginners and Tips for Established Sellers"
Steps to Selling Printables on Etsy
There is more to it than just making your printable, listing it on Etsy and crossing your fingers hoping to make sales. But once you have put in the ground work at the beginning, selling printables on Etsy can be very profitable with many sellers making six figure incomes! Here are some things to consider when starting out.
Importance of finding a profitable niche
As a new seller, it's easy to think that selling a bunch of different products to a huge audience is the way to go. But actually, the opposite is true!
To be successful, you need to zero in on a specific niche that both has demand and isn't overcrowded. This allows you to create products and marketing that perfectly match your target audience, improve your SEO, and build your brand into something that truly speaks to your customers.
For example, instead of having something broad like 'Printable Party Invitations' as your niche you can narrow this down to creating invitations for kids, baby showers, weddings etc. You then become seen as an expert in your specialized niche.
Researching popular printables categories on Etsy
One way to find a profitable niche is to research what's already popular on Etsy. Etsy is a great source of data for printables sellers, as it has millions of buyers and sellers who have already tested the waters.
Start by browsing the categories that interest you and taking note of the most popular and best-selling products. You can also use tools like Alura, Marmalead or ERank to analyze the search volume, competition, and engagement of specific keywords or tags.
With this research, you'll uncover patterns, trends, and gaps in the market, and be able to create unique products that will make you stand out.
How to come up with unique ideas for printables
Let your own creativity and expertise guide you towards finding a successful niche. Start by considering your passions, skills, and the problems you can solve for your ideal customers. You can only succeed if you offer something unique, high-quality, and relevant to your target audience!
Another way to find a profitable niche is to tap into your own creativity and expertise. Think about what you're passionate about, what skills you have, or what problems you can solve for your ideal customers. From there, brainstorm printable ideas that perfectly align with your niche and offer exceptional value to your customers.
For example, if you love planning parties for your children, consider making some party decorations, games or cupcake toppers. Gardening enthusiasts might be intrigued by sets of printable plant guides, seed packets, or garden planners. If you're a language teacher, printable flashcards, worksheets, or games designed for your students could be a hit.
The key is to offer something that is unique, high-quality, and relevant to your target audience.
Design tips for creating visually appealing printables
Design is a crucial element in creating printables that sell. Here are some tips for designing visually appealing printables:
Use high-quality images and graphics: Choose images that are clear, crisp, and high-resolution. Avoid using blurry or pixelated images that can affect the overall quality of your printables. You can also purchase high quality commercial use images from places such as Creative Fabrica.
Choose a consistent color scheme: use colors that match your brand or theme and that are visually pleasing. Avoid using too many colors that can make your printables look cluttered or confusing.
Use easy-to-read fonts: choose fonts that are easy to read and that match your brand or theme. Avoid using too many different fonts that can make your printables look unprofessional.
Make it user-friendly: ensure that your printables are easy to use and understand. Include clear instructions, labels, and guidelines that can help your customers achieve their goals or solve their problems.
How to make your printables stand out from the competition
To make your printables stand out from the competition, you need to offer something unique and valuable to your customers. Here are some strategies to differentiate your printables from others:
Offer customization or personalization options: allow your customers to customize their printables with their names, colors, or other details. This can make your printables more personal and appealing. If you don't want to offer a customizable option, think about including different options with your printable such as a range of colors.
Offer bonuses or extras: include bonus pages, templates, or resources that can add value to your printables. For example, if you sell a planner, you could include a set of printable stickers or a goal-setting worksheet.
Offer discounts or promotions: run limited-time sales, bundle offers, or seasonal promotions that can attract new customers and increase your sales.
Pricing your Products
Consider researching other sellers' prices in your category. You don't want to price your products too high or too low, and this is where competitor analysis comes in handy. One of the best ways to determine the best price is to research and compare prices on Etsy for similar products. Here's how to do it:
Search for similar printables: Look for printables that are similar to yours in terms of design, size, and purpose. This will give you an idea of what other sellers are charging for similar products.
Analyze pricing trends: Look at the pricing trends of similar products on Etsy. Are there any patterns or trends that you can identify?
Compare prices: Once you have a list of similar products and their prices, compare them to your own pricing strategy. Are you pricing your printables higher or lower than the competition?
You will see that many one page printables will sell for between $2 and $5 but if you bundle a few products together you can increase your sale value to $10 and upwards.
Promote your Etsy Shop
Marketing your Etsy shop and printables is vital for success. There are several ways to market your Etsy shop, including social media, email marketing, and advertising.
Utilize Pinterest, Facebook, and Instagram to showcase your products, build a following, and communicate with your customers. You can also reach out to Etsy bloggers for reviews or collaborate with other Etsy sellers to cross-promote each other.
Provide Excellent Customer Service
Finally, keep in mind that customer satisfaction is important for creating a successful Etsy business. Always provide contact information and clear return policies. Respond to customer inquiries and feedback promptly, and show appreciation by leaving positive feedback for buyers who leave you positive feedback.
Etsy has a 'Star Seller' program which rewards sellers for receiving great reviews and for giving excellent service to their customers. You should try hard to be awarded the star seller icon. To be a star seller adds extra credibility and reassurance for potential buyers that they are dealing with a proven and reputable seller.
So there you have some tips and advice on how to sell printables on Etsy. This is a fun and creative way to make some extra income. With the right amount of effort, you can turn your passion for design and creativity into a thriving digital business on Etsy.
If you would like more detailed steps and more of our secret tips and tricks on how to maximise your Etsy sales, have a look at our ebook "How to sell printables on Etsy - a guide for beginners and tips for established sellers' In this guide we will let you in on what we have learnt over the past few years and what has helped us to become a top 1% seller on Etsy.
How to sell printables on Etsy will cover

✔Set up your new Etsy Shop
✔Stand out from the crowd
✔How to rank on Etsy
✔Learn about keywords
✔Brainstorm printable ideas
✔Optimize your listings
✔And much more! PLUS GET 40 FREE LISTINGS (for your new Etsy shop)