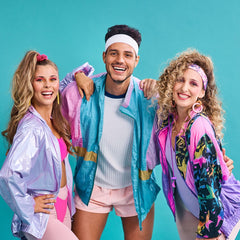 Do you miss the days of the 80's when life was simpler and parties were more fun? Well, have no fear! You can bring back the good old days by hosting an 80s-themed party and playing some classic games that are sure to get everyone in the mood. 
Fun 80s Themed Party Games
The 80s was all about having fun and letting loose, so why not bring that vibe back with some classic party games? Here are some our favorites that are sure to be a hit with your guests.
(THIS POST CONTAINS SOME AFFILIATE LINKS FOR YOUR CONVENIENCE: READ MY FULL DISCLOSURE POLICY)
Twister
Twister is a classic game that was invented in 1966 but became a phenomenon in the 1980s. It's easy to play, just spin the spinner, move one body part to whichever color it lands on, and hope you don't end up in a pretzel shape! This game is great for small groups or large ones; just make sure you have enough space for everyone to stretch out.
Classic Indoor and Outdoor Party Games
Twister Game, Party Game
Twister Ultimate: Bigger Mat Party Game
80s Video Games
Another great way to bring the '80s back is to set up some classic video games. Games like PacMan and Donkey Kong are 80s favorites. Many arcades from the era have been restored and some people even still own their original consoles like Atari or Nintendo Entertainment System (NES).
If you don't want to go through all that trouble, there are plenty of online emulators that can be used to play classic games on modern computers.
Rock Band or Karaoke Challenge
If you have a karaoke machine or a Rock Band game, then your evening is sure to be filled with plenty of singing and laughter! Whether it's a group performance or individual ones, everyone will love belting out some '80s classics and having a good time. Plus, with the right competition, you might even get some great prizes at the end of the night!
80s Themed Charades
You can't have a party without charades and playing 80s-themed ones is sure to be a blast. Prepare cards ahead of time with titles of classic movies, songs, and TV shows from the era and see who can guess them all correctly! It's sure to be a night of laughs and fun.
80s Costume Contest
To really get your guests in the 80s mood, have them all dress up as their favorite characters from movies, TV shows and music videos of the era. Or you can set out some 80s dress up items at the party and give each person 5 minutes to come up with the best 80s outfit. Include items such as leg warmers, fingerless gloves, sun glasses and neon colored clothing. At the end of the night, give out a prize to whoever came up with the best outfit!
80s Trivia
You can't go wrong with a good game of trivia. Put your guests to the test by coming up with questions about the 80s, everything from music and movies to fashion and politics. Make sure you have some fun prizes for the winners. 
Or you could play the classic Trivial Pursuit. They even make an 80s version of this game!
Games Like Totally 80's - Pop Culture Trivia Game
80's Printable Games
Try this fun 80s themed 'This or That' party game. Choose which one of these 80s items you would prefer and then compare answers with the rest of the guests at your party.
Pictionary
Pictionary is another classic game from the 80s that will get your guests laughing out loud. It's super simple, divide into teams, draw whatever word you're given, and try to get your team members to guess what it is before time runs out!
Rubix Cube Race
Another fun game from the 80s is a Rubix Cube race. Have your guests split into teams and give each team one cube. The goal is to be the first team to solve the puzzle! This game requires some skill and patience, but it's always a hit with kids and adults alike.
Rubik's Cube
The Original Rubik's Connected - Smart Digital Electronic Rubik's Cube
Speed Cube Se
Simon Says
Simon Says is one of those games that never gets old. All you need are at least two players, one who plays Simon and the others follows his/her instructions. It's great for kids and adults alike, making it perfect for an 80s-themed party where people of all ages will be present.
Spin the Bottle
Spin the bottle is a classic party game and can be quite entertaining. Have your guests sit in a circle and spin the bottle around to see who it will point to. You can tailor this game to suit the age group playing.
If playing with younger kids when the bottle points to them, they can choose a truth or dare. For adults you can revert back to the classic spin the bottle by letting the bottle decide who you will kiss!
80s Talent Contests
Last but not least, a great way to bring the 80s back is to hold an '80s themed talent contest. Have your guests dress up and perform their favorite 80s songs, dance moves, or skits from movies of the era.
You could also set up contests for things like the best moonwalk, best breakdance moves and best lipsyncing. It'll be a night full of laughs and fun!
Whether you're looking for something fun and easy or something more challenging, these classic 80s party games are sure to do the trick! Not only will they bring back fond memories of childhood but they'll also provide hours of entertainment at your next gathering. So break out those games and get ready to start playing!
80s/90s Expansion Pack Party Games
Murder Mysteries 80s Mall Murder Madness
Lyrically Correct 80'S Adult Game Night and Fun Trivia
More Fun Party Games:
Need some ideas for your next party? Check out these fun and easy icebreaker party games that will get everyone laughing and having a good time. From classic games to new twists, there's something here for everyone. So gather your friends and get ready to have some laughs!
Hosting a cocktail party and looking for some fun cocktail party games to keep your guests entertained? Look no further! We've gathered some of the best games that will make your party a hit. So mix up some cocktails, and get ready for a night of fun!