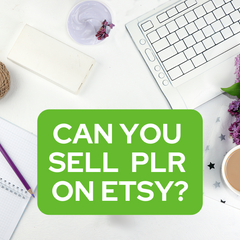 If you have recently purchased PLR Products you may be wondering if you are allowed to resell them on Etsy. It is essential to understand Etsy's specific policies and guidelines in relation to PLR products.
But don't worry we will delve into what PLR products are and explore Etsy's guidelines.
What are PLR Products?
First, let's clarify what PLR products are. PLR products refer to products with Private Label Rights.
These are digital products like ebooks, videos, articles, or software that you can sell or give away along with the right to your buyer to edit, rebrand, or market them as their own.
Since Etsy has strict rules against reselling items, you might think that selling PLR products on the platform is a bad idea. However, you can sell PLR products on Etsy if you offer them the right way.
How to Sell PLR Products on Etsy the Right Way
To sell PLR products on Etsy, you need to follow some guidelines.
The most important thing is you need to create your own original content.
If you're using PLR content, be sure to edit it and make it your own. You should also add your own unique branding elements, such as logos, images, or designs.
Just changing a few colors or font styles will not be enough to satisfy Etsy's handmade policies. But don't worry it is still quick and easy to turn PLR products into your own unique designs.
One easy way is to choose a theme. For example if you purchase a Baby Shower PLR Games Bundle, you could turn this into something like a Jungle Themed or Pink Teddy Bear themed bundle of Games.
By adding your own twist on the PLR template you have created something uniquely different to the original.
Etsy's Guidelines in Relation to PLR Products
Etsy has a comprehensive set of policies outlined in its Etsy Handbook, which serves as a guide for all sellers on the platform.
When it comes to PLR products, Etsy's guidelines make it clear that sellers are expected to offer items that are either handmade, vintage, or craft supplies.
This means that selling PLR products as is without making any changes will not align with Etsy's handmade policies.
You can absolutely sell PLR products on Etsy but you will be required to make edits and changes to the PLR template you purchased. If you do try to sell the unedited PLR product, you may be considered in violation of Etsy's policies and could lead to consequences, such as account suspension or closure. 
Benefits of Using PLR Templates to Create Etsy Products
Using PLR templates to create Etsy products can be a great way to save time and money. They are also perfect for people with limited design skills or limited time.
With so many creative options available, you can quickly and easily customize a template to fit your needs. This will allow you to quickly and easily fill your Etsy shop with quality unique products.
By doing this, you will be freed up to spend your time focusing on marketing and other aspects of your business while still providing customers with unique and interesting products.
If you make significant changes to a PLR template and offer it as original work, Etsy will not consider it a violation of its handmade policies.
This makes selling PLR products on Etsy an interesting and profitable venture for creative entrepreneurs. 
Ways to Customize PLR Products
By making changes to the PLR products you have purchased, you will have no problems with Etsy's handmade policies.
Here are some ways you can customize your PLR. You may need to combine a couple of these ideas to turn your product into something unique.
Add your own clipart: To change the look of the PLR you can use your own clipart. This will make it unique and reflect your style or brand. We have a selection of commercial use clipart to purchase. You can also purchase a wide range of clipart and fonts from Creative Fabrica.
Change the layout: Changing the layout of a template is another way to change its look and feel. You can use different font sizes, colors, images, etc. You can move the images and text boxes around change the look of the product.
Add your own text: Adding your own text is another great way to customize PLR products. You can add your own descriptions, instructions, and other content to make it unique.
Change the colors: Changing the color scheme of a template is another way to give it a unique look. You can use Pantone or CMYK color codes to get exact shades you need for your design.
Add your branding elements: Adding logos and other branding elements will make the templates more unique. This will also help customers identify your products and brand easily.
Add Pages: You can add your own pages to the PLR. For example if you purchase a PLR games pack you can add some extra games of your own. Or for a PLR planner, you can add extra planner pages.
Combine PLR: If you have purchased a couple of PLR Bundles, you can combine them to create something new. Choose pages out of each bundle that compliment each other, then make the required color, font, image changes.
Choose a Theme: An easy way to change the look of your PLR product is to apply a theme to it. This could be turning an ordinary planner into a Kids Gratitude Planner or taking a Summer Themed PLR Games Bundle and turning that into a 4th of July Games Bundle
By combining the steps above, you can quickly and easily create Etsy products using PLR templates that are uniquely different from the original design while still staying within Etsy's handmade policies.
How to Legally Sell PLR Products on Etsy
While we have given you some advice based on our interpretations of Etsy's guidelines in their Etsy Handbook, just remember that we are not lawyers! We highly recommend that you do your own research into Etsy's policies in relation to reselling PLR products.
When selling PLR products on Etsy, always make sure that you have the right licenses and rights from the original product creator before uploading a listing to the platform.
If you have questions about whether something is allowed or not when it comes to PLR products, it's important to talk to a professional who knows the rules.
We are not experts in the law, so we can't tell you for sure if what you're doing with your digital products is okay or not.
Asking someone like a lawyer who knows a lot about the rules can help you be sure that you are doing things the right way and not getting into any trouble. It's always good to get a second opinion from someone who knows what they're talking about to make sure you're doing things correctly.
It is important that you are careful and follow all of Etsy's rules and policies in your Etsy shop. If you do anything that steps outside of their guidelines it could cause Etsy to take your shop down.
And you might even have legal problems, which you definitely don't want! So it's really important to make sure you're doing everything the right way to keep your shop safe and avoid any trouble.
To Sum It all Up
So the quick answer is that YES you can sell PLR products on Etsy providing you put your own creative spin on the products.
PLR products will save you time and are a perfect starting point for your creations. Just remember to make sure that what you are doing is compliant with Etsy's rules and regulations.
By customizing the PLR products to make them look unique, you can create beautiful products for your shop while avoiding any legal issues.
We hope this article has helped you understand how to use PLR templates to create unique products for your Etsy shop. Good luck on your creative journey!