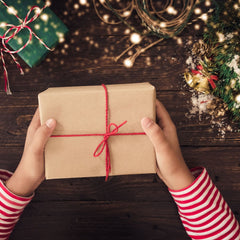 Are you gearing up for a holiday party or a festive get-together with friends and family? Well, if you're ready to add a twist of excitement to your gift exchange, then try the classic game of Yankee Swap!
We will explain the rules of the Yankee Swap game, and most importantly, share some fantastic gift ideas that will bring fun and laughter among your guests.
(THIS POST CONTAINS SOME AFFILIATE LINKS FOR YOUR CONVENIENCE: READ MY FULL DISCLOSURE POLICY)
What is the Yankee Swap Game? 
A Yankee Swap, also known as White Elephant or Dirty Santa, is a popular gift exchange game that adds an element of surprise, strategy, and humor to your gathering.
Unlike a traditional gift exchange, where you simply give and receive gifts, a Yankee Swap involves a series of swapping, stealing, and unexpected turns that keep everyone on their toes!
Why is it Call Yankee Swap?
You may be wondering why it is called a Yankee Swap. The origins of the term "Yankee Swap" are shrouded in a bit of mystery and folklore, but the name is often attributed to the New England region of the United States.
While there's no definitive historical account of how the term came to be associated with this gift exchange game, there are a few theories that offer some insights into its possible origins.
One theory suggests that the term "Yankee Swap" may have its roots in the colonial history of New England. During the 18th and 19th centuries, New Englanders were known for their thriftiness and resourcefulness. The term "Yankee" itself was often used to refer to people from this region.
It's possible that the concept of swapping or trading gifts during holiday gatherings drew inspiration from the region's history of trade and bartering.
How to Play Yankee Gift Swap Game
Before we jump into the gift ideas, let's take a quick refresher on what a Yankee Swap is all about. This spirited gift exchange game adds a touch of mystery, strategy, and surprise to your celebrations.
Participants take turns choosing gifts, and they can either select a new gift or "swap" with someone who has already chosen. As the swapping unfolds, the anticipation and enjoyment build, creating a memorable experience for all.
Gift Gathering: Everyone who's playing brings a wrapped gift to the party. These gifts can be all sorts of things, like toys, books, snacks, or anything you think others might like.
Numbering: Each person gets a number. This number decides the order in which they get to choose a gift.
Gift Choosing: The person with number 1 picks a gift from the pile and opens it. Then, the person with number 2 can either pick a new gift or take the one that number 1 chose. If they take the gift from number 1, then number 1 gets to pick a new gift.
The Fun Part: This continues with each person taking turns. When it's your turn, you can either pick a new gift or "swap" with someone else. If they have a gift you want, you can take it from them!
Stealing Gifts: Here's where it gets interesting. As the game goes on, people can "steal" gifts from each other. But there's a rule: a gift can only be stolen a certain number of times before it's safe from being taken again.
Last Turn: When everyone has had a turn, the person with the highest number (the last turn) can choose any gift they want, even if it was already opened before.
The End: After all the turns are done, everyone gets to keep the gift they have in their hands.
The Best Yankee Swap Gifts
When selecting a Yankee Swap gift, it's important to keep a few key factors in mind:
Universal Appeal: Opt for gifts that can bring joy to a wide range of personalities and interests. The goal is to have everyone excited about the gift possibilities.
Humor and Quirkiness: A dash of humor or an element of surprise can elevate the enjoyment of the game. Look for gifts that tickle the funny bone or evoke a playful reaction.
Usefulness and Practicality: While fun is essential, a gift that's also practical or useful will resonate with participants long after the game ends.
Creativity and Originality: Stand out by choosing gifts that showcase your creative thinking and uniqueness. A little creativity can go a long way in sparking excitement.
Versatility: Opt for gifts that can suit a variety of ages, genders, and tastes. This ensures that no one feels left out during the swapping frenzy.
Top Yankee Swap Gift Ideas to Steal the Show
Gourmet Delights Basket. Curate a selection of gourmet chocolates, artisanal snacks, or flavored coffee beans for a taste bud-tingling experience.
Hilarious Novelty Socks. Elevate the fun with socks featuring quirky patterns, witty sayings, or pop culture references. It's a gift that's as amusing as it is cozy.
Board Game Extravaganza. Choose a captivating board game that encourages laughter, interaction, and friendly competition among players.
Customized Mug Magic
Design a personalized mug with a witty quote, an inside joke, or a creative illustration to make mornings more enjoyable.
DIY Craft Kits. Tap into everyone's creative side with DIY craft kits that offer hours of entertainment and the satisfaction of crafting something unique.
Pop Culture Puzzle. Select a jigsaw puzzle featuring a favorite movie, TV show, or iconic artwork. Puzzles bring people together for hours of collaborative fun.
Intriguing Mystery Book. Pick a gripping mystery novel that keeps readers guessing till the very end. A captivating story is a gift that keeps on giving.
Tech Gadgets Galore. Surprise tech-savvy participants with gadgets like portable chargers, wireless earbuds, or innovative phone accessories.
Plant Starter Kit. Foster a green thumb with a mini plant or succulent kit complete with a decorative pot and care instructions.
Kitchen Gadgets Marvel. Introduce culinary creativity with unique kitchen gadgets that make cooking and meal prep an adventure.
Movie Marathon Set. Assemble a movie night bundle with a cozy blanket, a selection of classic films, and gourmet popcorn for a cinematic treat.
The Best Yankee Gift Swap Ideas under $10
Are you ready to dive into the festive spirit of gift-giving without breaking the bank? Here are some Yankee Swap gift ideas that are not only creative and fun but also easy on the wallet.
With a spending limit of $10, you can still capture the essence of the season and make your gift exchange an unforgettable experience. Let's unwrap the magic of affordable giving!
1. Cozy Holiday Socks 
Embrace the warmth of the season with a pair of festive holiday socks. Choose from a variety of cheerful patterns and designs that will keep toes toasty and spirits high.
2. Mini Desktop Games 
Add a dash of entertainment to any workspace with mini desktop games like a puzzle cube, a mini basketball hoop, or a tiny tabletop foosball game.
3. Festive Coffee Mug 
Spread holiday cheer with a cute coffee mug adorned with whimsical designs, witty quotes, or festive artwork. It's a gift that will brighten up their mornings!
4. Creative DIY Kits 
Encourage a creative outlet with DIY kits for making friendship bracelets, assembling mini models, or crafting origami creations.
5. Pop Culture Playing Cards 
Choose playing cards featuring beloved movie characters, TV show themes, or iconic artwork for hours of card-playing fun.
6. Tasty Treats and Snacks 
Delight taste buds with an assortment of gourmet popcorn, flavored nuts, or a festive box of chocolates. Tasty treats are always a crowd-pleaser!
7. Pocket-Sized Puzzle Books 
Keep minds engaged with puzzle books filled with crosswords, Sudoku, or brain-teasing challenges.
8. Mini Plant Pals
Gift a tiny potted plant or succulent to bring a touch of greenery and happiness to their space.
9. Playful Keychains 
Choose quirky keychains featuring cute animals, funny quotes, or playful shapes that add a bit of personality to their keys or bags.
10. Candle Delights 
Set a cozy ambiance with scented candles in seasonal fragrances like cinnamon, vanilla, or pine.
11. Whimsical Notepads or Journals 
Encourage writing, doodling, or note-taking with charming notepads or pocket-sized journals featuring delightful designs.
12. Handy Phone Accessories 
Opt for affordable phone accessories like a stylish phone stand, a fun pop socket, or a colorful phone case.
13. Puzzle Erasers or Fidget Toys 
Provide a little distraction and entertainment with puzzle erasers or fidget toys that offer endless tactile enjoyment.
14. Novelty Ice Cube Trays 
Infuse a touch of whimsy into their drinks with ice cube trays shaped like animals, famous symbols, or favorite characters.
15. Movie Night Kit 
Create a mini movie night experience with a bag of microwave popcorn and a classic movie on DVD or digital format.
Yankee Gift Swap Ideas under $20 
Compact Tabletop Games
Choose from a variety of compact tabletop games like mini air hockey, tabletop foosball, or miniature billiards for hours of fun.
Mini Desktop Zen Garden
Promote relaxation and mindfulness with a mini desktop zen garden complete with sand, rocks, and miniature accessories. 
Compact Bluetooth Speaker 
Gift the joy of music with a portable Bluetooth speaker that offers impressive sound quality in a small package. 
Whimsical Wall Art Print 
Add a touch of charm to their living space with a whimsical wall art print featuring inspiring quotes or adorable illustrations.
Specialty Coffee or Tea Set
Delight coffee or tea enthusiasts with a curated set of specialty blends or unique brewing tools.
Insulated Travel Mug 
Keep beverages warm on the go with a stylish insulated travel mug featuring fun designs or personalized touches.
Festive Throw Blanket
Wrap your loved ones in warmth and coziness with a beautifully designed throw blanket featuring holiday patterns or cheerful motifs.
Funny Yankee Swap Gift Ideas
A Whoopee Cushion This classic prank never gets old, and it's sure to get a few laughs from the kids in your group. Just be sure to position it strategically so you can enjoy the show!
A Fake Spider For the person who's always screaming at the sight of a real spider, this fake spider is sure to get a good laugh. Simply place it in their path and watch them jump out of their skin!
A Nose Shower Gel Dispenser This one is sure to get a few giggles (and maybe even some groans) from the crowd. This nose-shaped shower gel dispenser attaches to the wall and dispenses soap or shampoo through the nostrils. Perfect for those mornings when they just can't seem to wake up!
A Toilet Bowl Nightlight This motion-activated toilet bowl nightlight is perfect for those who are afraid of the dark (or just need a little extra light in the bathroom). It's also great for illuminating the way to the bathroom in the middle of the night. No more stubbed toes!
A Giant Gummy Worm This giant gummy worm is perfect for the person with a sweet tooth. It's also sure to get a few laughs thanks to its size. Just be warned, it may not last long once they get their hands on it!
A Farting Plush Toy This farting plush toy is sure to get a rise out of the group. Simply squeeze it to hear one of 10 different fart sounds. Perfect for pranking friends or family members!
A Fake Lottery Ticket This fake lottery ticket is perfect for the teen who always seems to be hitting the jackpot. simply scratch off the "winning" numbers to reveal a hilarious message.
A pair of "Socks and Sandals" This one is sure to get a few laughs from the group. This pair of "socks and sandals" are perfect for those who just can't seem to get their fashion game
Light Up Holiday Hat If the Yankee Gift Swap party is during the holidays, try this light up holiday hat. It's sure to get a few laughs, and it may even come in handy when they need a little extra light to see their way around!
Yankee Swap ideas for Teens
Card Games A deck of cards is always a great gift swap gift, but why not make it a little more interesting with one of these card games? Exploding Kittens This strategically-minded card game is perfect for the teen who loves cats (and explosions). The object of the game is to avoid being blown up by an exploding kitten. Unstable Unicorns This card game is all about creating the most powerful unicorn army. The player with the most powerful army at the end of the game wins! What makes this game unique is that it's not just about playing your cards right, but also about beating your opponents.
Soft Toy Animals These soft toy animals are perfect for the teen who loves cuddling (or just needs a little extra comfort). Choose from a wide variety of animals, including dogs, cats, rabbits, and even sloths!
A Wireless Charger This wireless charger is perfect for the teen who is always running out of battery. Simply place their phone on the charger and it will start charging automatically. No more searching for outlets!
A Portable Charger This portable charger is perfect for the teen who is always on the go. It's small enough to fit in a purse or backpack, and it has enough power to charge a phone multiple times.
Animal Paw Print Socks These animal paw print socks are perfect for the teen who loves animals. They're also sure to make a statement, thanks to their bold design. Choose from a variety of animal prints, including tigers, leopards, and bears!
A Scratch-Off Map This scratch-off map is perfect for the teen who loves to travel. Simply scratch off the places they've been to reveal a colorful map underneath.
A Water Bottle with a Straw This water bottle with a straw is perfect for the teen who is always on the go. It's leak-proof and comes with a built-in straw, so they can drink without having to stop and unscrew the lid.
Selfie Ring Light If your teen loves to take pictures, they will love this selfie light. It attaches to their phone and provides a soft, flattering light that will make their selfies look even better!
Karaoke Microphone Connect this karaoke microphone to your phone and you will be ready to rock! It is great for the teen who loves to sing. It's also great for lip syncing and recording videos.
Small S'Mores Maker Who doesn't love smore's? This small smores maker is just the thing for the teen who loves to roast marshmallows. It's also great for making single servings of smores, so they don't have to share! 
Remember, the goal of a Yankee Swap is to have a blast and share some laughs with friends and family. The joy is not only in receiving but also in the playful banter, surprises, and friendly competition that come with the game.
So, gather your loved ones, set your budget, wrap those gifts, and get ready to embark on a Yankee Swap adventure that will leave everyone talking long after the festivities have ended. Happy swapping!