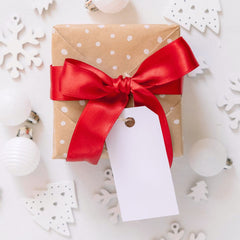 As the holiday season approaches, it's time to add some fun and laughter to your Christmas gatherings with a classic game of White Elephant.
I've been playing this game with my friends and family for years, and it is always a fun game to play. Here are some simple steps on how to play Christmas White Elephant, to make your holiday celebrations unforgettable.
What is a White Elephant Gift Exchange?
White Elephant, also known as Yankee Swap or Dirty Santa, is a popular gift exchange game. Think of it as a quirky twist on the traditional gift giving process.  It's not about giving expensive or extravagant gifts; it's about the thrill of stealing and trading presents.
Participants bring wrapped gifts, and then the real fun begins as gifts are exchanged in a way that keeps everyone guessing.
Tips for a Memorable Gift Exchange
Remember this is a fun game to don't take it too seriously. Just sit back and have fun!
Keep the atmosphere light-hearted and fun. Remember, it's all about laughter and camaraderie!
Embrace the element of surprise. Don't be afraid to choose a gift that's a little unconventional.
Pay attention to the reactions of the participants. It's all in good fun, so don't take things too seriously.
Consider including a theme for the gifts, like "nostalgia" or "weird and wonderful."
White Elephant Exchange Rules
Don't worry, this game isn't as complex as it may sound. Here's a breakdown of how it works:
Set a Budget: Decide on a budget for the gifts. This ensures that everyone's contributions are within a similar price range.
Wrap Your Gift: Each participant should wrap their chosen gift in a creative and enticing manner. Remember, the goal is to make your gift tempting to others!
Random Selection: Players draw numbers to determine the order in which they'll choose gifts. The person with number one starts by selecting a gift from the pile.
The Unwrapping Begins: Here's where the fun really kicks in! The subsequent players can either choose a new, wrapped gift from the pile or "steal" an already unwrapped gift from someone who has gone before them.
Stealing and Swapping: If a gift is stolen, the person whose gift was taken gets to choose another one from the pile or steal from someone else. This continues until all participants have a gift.
Limits on Stealing: Depending on the rules you set, a gift might be "safe" after it has been stolen a certain number of times. This adds an element of strategy and ensures that one gift doesn't keep changing hands indefinitely.
The Reveal: Once all gifts have been selected and/or stolen, it's time to unwrap and reveal the treasures within. Get ready for a lot of laughs and surprises!
Choosing the Perfect White Elephant Gift
The beauty of the White Elephant Gift Exchange lies in the unpredictability. When selecting a gift to bring, think outside the box and aim for something that will spark laughter. Gag gifts, quirky gadgets, or even something you already have at home can make for great choices.
A white elephant gift is traditionally a gag gift that is intended to be funny or humorous. The term "white elephant" refers to something that is unwanted or superfluous. A white elephant gift is often something that is quirky, impractical, or just plain odd. However, it should not be something that is truly offensive or mean-spirited.
Nowadays, you can give any gift you want as a white elephant gift. There is usually a limit on the dollar value of the gift but if you put some thought into it, you can find great gifts without breaking the bank.
White Elephant Gifts that will Make Everyone Laugh
When playing White Elephant, the goal is often to bring a gift that's both fun and desirable, which will lead to friendly competition and laughter as participants try to snag it. Here are some White Elephant gift ideas that are sure to spark interest and have everyone trying to claim them:
Novelty Toaster: Imagine a toaster that imprints your face or a custom message onto your morning toast. It's both fun and functional!


Giant Inflatable Unicorn or Dinosaur Costume: These costumes are hilarious and great for themed parties or just to have a good laugh.
Belly Fanny Pack: A fanny pack that resembles a hairy belly adds humor to any outfit.
Shower Wine Glass Holder: Make bath time more relaxing with a wine glass holder that sticks to the shower wall.
Singing Toilet Paper Dispenser: A motion-activated toilet paper dispenser that serenades you with a song when you reach for paper.
Mini USB Desk Vacuum: A tiny vacuum cleaner designed to clean crumbs and dust off your desk.
Giant Wine Glass: A wine glass so big it can hold an entire bottle of wine – a funny gift for the wine lovers.
Pickle or Bacon Scented Christmas Ornaments: Unique and unusual scented ornaments that add a twist to your holiday decorations.
Musical Gag Gifts: Anything that plays funny or annoying tunes at the push of a button can add hilarity to your White Elephant exchange.
Singing Fish Wall Plaque: The infamous mounted fish that sings songs and dances is always a good laugh.
Giant Toilet Paper Roll: A jumbo-sized toilet paper roll to make bathroom trips extra silly.
Toilet Bowl Coffee Mug: A coffee mug that looks like a miniature toilet bowl is sure to get a few laughs.
Hilarious Socks: Find socks with quirky and funny designs, like sushi rolls or avocados wearing sunglasses.
"Emergency Underpants" Dispenser: A tin filled with disposable, one-size-fits-all underpants for emergency situations.
Unicorn Poop Soap: Soap that looks like colorful unicorn poop, a delightful and humorous bathroom addition.
Toilet Timer: A sand timer that gives your bathroom guests five minutes of "reading time" before they must vacate the bathroom.
Butt/Face Soap: Soap with "Butt" and "Face" labels, so there's no mix-up in the shower.
Farting Santa Claus: A Santa figurine that produces flatulent sounds for comedic effect.
"Nothing" Box: A box with a button that, when pressed, does nothing – a gift for those who have everything.
USB Pet Rock: A modern twist on the classic pet rock – this one plugs into your computer via USB.
In the end, playing Christmas White Elephant is a really fun way to make your holiday get-togethers full of laughs, togetherness, and some friendly competition.
By following the easy steps above, you can make a holiday gift exchange that everyone in your family and friends will look forward to every year.
Don't forget, the best part of White Elephant is spending time together, the joy of giving and getting funny gifts, and sharing a good laugh, which makes this game a special part of the holiday season.
So, bring your loved ones together, set some rules, and get ready to make wonderful memories and have a fun time with your own Christmas White Elephant tradition. Merry Christmas!