Celebrate Spirit Week with Decades Day!
It's that time of year again school spirit week! And if your school has chosen a decades theme for one of the days, you're likely looking for outfit ideas to help you stand out from the crowd.
Well, look no further; we've got you covered. Read on to find some great decades day dress up ideas for teenagers so that you can be the best-dressed at school spirit week. 
What is Spirit Week?
School Spirit Week is such an exciting and fun experience that school-aged children can take part in! From dress up days to themed activities and snacks, this week dedicated to school pride brings about an incredible sense of community among kids, faculty, and families.
During School Spirit Week, each day has a unique theme dedicated to fostering an appreciation for the school – whether it be through showing off your best PJs for Pajama Day or wearing your favorite animal outfit on Animal Day.
Spirit week is a great time to spend one whole week celebrating with students, teachers, parents, and friends creating all kinds of wonderful memories!
Here are some fun dress up ideas for School Spirit Week Decades Day
50s Decade Day Dress Up Ideas
The Fifties is a well known era so why not channel that decade with an iconic 50s outfit?
Go Greaser 
Nothing says "50's" quite like a greaser look. To pull it off, start with a black leather jacket, a white t-shirt, and jeans. Add some boots and a bandana or scarf in any color, and finish it off with an Elvis-style pompadour hairstyle (or just slick your hair back).
If you really want to go all out, add an accessory such as an earring or necklace to complete the look.  
(THIS POST CONTAINS SOME AFFILIATE LINKS FOR YOUR CONVENIENCE: READ MY FULL DISCLOSURE POLICY)
Rock Around The Clock       
For those who prefer something more feminine but still want to rock the 50's look, try going with a poodle skirt ensemble. Start by finding yourself a nice poodle skirt—they usually come in bright colors like pink or yellow—then pair it with a matching top and white blouse underneath.
Add some saddle shoes and cat eye glasses for extra flair. Finish your look by doing your hair in victory rolls or pin curls and adding bright red lipstick!  
Dance All Night Long
For those who don't mind being extra flashy, try putting together an Elvis costume! Start by wearing black trousers and a white dress shirt; add some white loafers and sunglasses if desired.
Next, add on his iconic leather jacket along with a red silk scarf around your neck. Finally, spike up your hair into an Elvis-style pompadour using hairspray or gel, and voila—you've got yourself an Elvis costume!  
50s Dress Up Ideas
Poodle Skirt
Letterman or Leather Jacket
Jeans and white T-shirt
Cat Eye Glasses
Polka Dot Dress
1950s Poodle Dress Costume
Womens Vintage Polka Dot Dress
70s Decade Day Ideas
If your style leans more towards funkiness, then why not get into the groovy 70s vibe?
Go Retro with Bell Bottoms
Bell bottoms were all the rage in the 70s and they're making a huge comeback. You can find them in almost any clothing store, or you can thrift shop for an even more authentic look.
Throw on a pair of bell bottoms with a tank top or crop top, and you'll have an instant 1970s vibe. Don't forget to add a headband and platform shoes for an extra groovy touch! 
Rock Out with Tie Dye
Tie dye is another classic 70s look that has made its way back into mainstream fashion. To get the perfect tie dye ensemble, start by picking out a plain white t-shirt or tank top.
Then grab some fabric dye from your local craft store, mix it according to instructions, and follow their directions on how to tie-dye your shirt. When you're done, show off your new creation by pairing it with some high-waisted jeans or shorts. Add a few peace sign accessories (earrings, pins, etc.) if you want to kick it up a notch! 
Neon Tie-Dye Kit
Tie Dye Print Summer Swing Dress
Tie Dye Shirt
Channel your inner Hippie
If you're looking for something a little more laid-back, try channeling your inner hippie. Start by wearing some loose-fitting clothes, a flowy top, and sandals. Then accessorize with some peace sign jewelry, flower headband or tie a bandana around your head. Finally, don't forget to add some round sunglasses for the ultimate 70s look.
Be Bold with Colorblocking
If you want something less "out there" but still 70s-inspired, try colorblocking! This trend was made famous in the 1970s and never really went away. Pick two coordinating colors—like blue and yellow—and wear them together in blocks of color around your body (think one half of your outfit blue; the other half yellow). Finish it off with large hoop earrings or aviator sunglasses for a totally rad 70s look! 
70s Dress Up Ideas
Bell bottoms 
Tie-dye 
Floral prints 
Maxi dresses 
Platform shoes 
Disco clothes 
Hippie clothes 
Jumpsuits 
Crochet Top
Bright Patterns
Peace signs and flower jewelry
Round sunglasses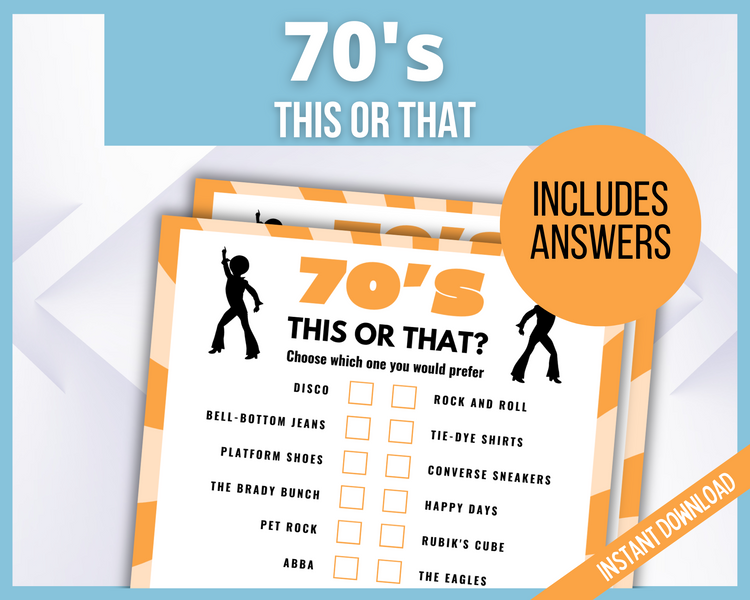 80s Decades Day Outfit Ideas
Whether you're a fan of big hair, neon colors, or iconic movies from the decade, there are lots of creative ways to dress up for 80's Decade Day. From classic rock to rap music, these fun fashion ideas will help you make a statement on this special day. 
Bright Colors & Bold Patterns
The 80's was all about bright colors and bold patterns. You can easily create an unforgettable look with vibrant t-shirts and sweaters in shades like hot pink, electric blue, and neon yellow.
Mix it up with patterned leggings or skirts featuring stripes, polka dots, or geometric shapes. Accessories like colorful lace headbands or oversized plastic jewelry will add the perfect amount of personality to your outfit. 
Rock & Roll Style
Rock music was huge in the 80's and it's easy to channel that style with some ripped jeans or leather pants paired with a graphic t-shirt featuring your favorite band from the era.
Finish off your look with fingerless gloves and combat boots for a totally cool vibe. A black leather jacket is also a great way to bring out your inner rock star! 
Retro Sportswear
The 80's brought us some iconic sports styles that are still popular today like high-top sneakers and tracksuits in bright colors. Put together an outfit inspired by your favorite athletes from the decade with some retro Nike shorts paired with a colorful windbreaker jacket or zip-up sweatshirt. Classic legwarmers will complete your look perfectly!
80s Workout Costume
80s Costumes for Women
Shutter Shades 
Add a pair of Shutter Shades to any of these looks for an instant 80's touch. These funky sunglasses were all the rage in the eighties and they're sure to make a statement at any Decades Day event.
These sunglasses do not have lenses but have vertical or horizontal slats instead. Choose from a variety of colors or stick with classic black to keep your look cool and modern. 
Neon Colors 
One of the most popular trends of the 80s was neon colors. Bright and bold colors were everywhere, from clothes to accessories to makeup. If you want to rock an 80s look, go for bright colors like pink, blue, or green.
Big Hair and Big Shoulder Pads
Another iconic 80s trend was big hair and huge shoulder pads. Channel your inner diva with an outfit featuring a bold shoulder pad blazer and statement earrings.
Go for an extra dramatic look by adding a pair of sky-high stilettos or platform boots. Don't forget to finish off the look with voluminous 80s hair. 
80s Dress Up Ideas
Neon Colors
Big Hair
Leg Warmers
Spandex
Shoulder pads
Acid wash jeans
High waisted jeans
Overalls
Jean dresses
Platform shoes
Shutter Shades
Bright colored sportswear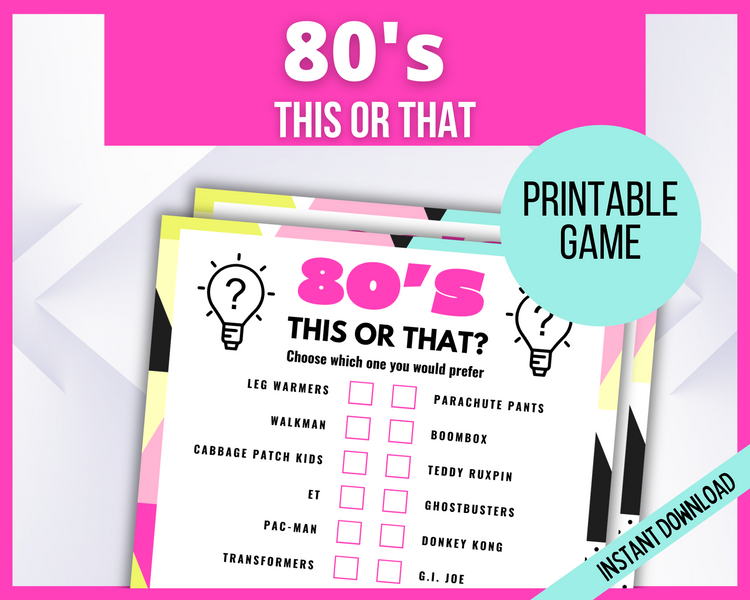 90s Decades Day Outfit Ideas
Are you ready to go back in time? For school spirit week, it's time to bust out those 90s decade day dress up ideas!
Whether you're a 90s kid or not, there is sure to be something in this decade that speaks to your individual style. Let's take a trip down memory lane with some easy-to-pull-off looks from the 1990s. 
The Hip Hop Look 
If you want to bring back the classic hip hop style, start off with a baggy pair of jeans, a graphic t-shirt (think Tupac), and some throwback Air Jordans. Top off the look with a baseball cap and some bling—we mean chunky jewelry like statement rings and necklaces. Complete the look by wearing your hair in long dreadlocks or cornrows. 
The Girl Power Look 
Channel those 90s girl power vibes with an oversized flannel shirt (tied around your waist if you're feeling extra daring) paired with short overalls or shorts. Finish off the outfit with a pair of chunky sneakers like Doc Martens, Converse All Star shoes, or even platform sandals. Put on lots of friendship bracelets, layer on some necklaces, and don't forget the scrunchie to tie back your hair!  
The Skater Look
Bring out your inner skater girl/boy by wearing baggy jeans (cuffed at the ankle), an oversized skateboard tee, and some cool kicks like Vans slip-ons or DC skate shoes. Don't forget to wear a beanie—and if you really want to stand out from the crowd—add an oversized belt buckle for extra flair!   
Mom Jeans
Mom jeans are making a huge comeback in the fashion world, so why not pay homage to them by wearing them on Decades Day?
Choose a pair that is high-waisted and loose fitting and pair it with a white tee. Complete the look with some classic Converse sneakers and an oversizes denim jacket or plaid shirt for an easy 90s vibe.
90s Dress Up Ideas
Mom jeans with white t-shirt or plaid shirt
Oversized T-Shirt
Denim Skirt
Graphic Tees
Oversized Flannel Shirt
Friendship Bracelets
Chunky Sneakers
Skateboard Tee or Oversized Skater Shoes
Beanie Hat  
Decades day is a great way to express yourself while showing off your school spirit during spirit week. Whether you're feeling 50s to 90s – there are plenty of options from which to choose!
Pulling together all the elements for each decade gives everyone an opportunity for creativity. Have fun dressing up for decades day and make sure to take lots of pictures so that you can remember all the fun had by everyone celebrating their school spirit!