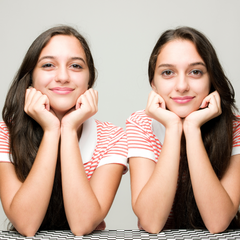 Twin Day is a fun and creative way to show off your unique style. Whether you're dressing up with siblings, best friends, or classmates, the possibilities are endless. Here are some ideas for twin day costumes so that you can make the most out of this special day.
What is Twin Day at School?
Twin Day at school is a great way to show off your creative side! It can be part of your school's Spirit Week. It's the perfect excuse for you and your bestie or even sibling to go all out on dressing alike. Anything from the same matching shirt, to matching full-blown costumes – whatever it is, it's sure to be a fun day.
Of course, it doesn't have to be limited just to two people – groups of friends can join in on the fun by all dressing up with an awesome theme! Twin Day is sure to bring a lot of smiles and laughter to classmates as they look through everyone's uniquely identical outfit ideas.
(THIS POST CONTAINS SOME AFFILIATE LINKS FOR YOUR CONVENIENCE: READ MY FULL DISCLOSURE POLICY)
Twin Day Outfit Ideas for Spirit Week
Spirit Week Twin Day is a great way for students to bond with peers and let their creative sides shine! Whether it's matching looks and colors or even taking on different characters from pop culture, there's no shortage of fun possibilities.
Reach out to your classmates ahead of time to coordinate and start planning a look that will be sure to turn heads in the hallways. And if you're really wanting to stand out, forget two-person twins – why not make it three-person triplets or four-person quadruplets by including friends and get ready for lots of laughs and photo ops!
Matching Colors for Twin Day
Having trouble thinking of an idea for your Spirit Week Twin Day? Start by matching colors! Look through your closets and choose a color that you and your twin can wear from head to toe.
Opt for bold colors like bright yellows, reds, or blues to capture everyone's attention. Or if you'd rather keep it a bit more subtle, try pairing up muted tones such as olive greens or navy blues for a classy and timeless look. The options are truly limitless!
Don't forget about the accessories that can pull an entire outfit together – from hats to jewelry, there's always something you can add to your look.
Twin Musicians
Music lovers can also unite on Twin Day by dressing up as their favorite musical acts! This is especially easy if you have two people who both love the same artist and would like to share their passion with one another (or with the rest of the school!). Have fun choosing outfits that match the style of your favorite band or singer and get ready to rock out!
Twin Superheroes
For those looking for something more exciting, why not dress up as your favorite superhero duo? Find matching costumes or pair together items from each person's wardrobe to create an imaginative look. You can even use face paint and other accessories to complete your look. Plus, if you have a group of friends who all want to participate in twin day, you could all come dressed as different members of a superhero team!
Opposites on Twin Day
Another fun ideas is to dress up as opposites. This could be two people wearing entirely different looks, a person dressed in all black while the other is in all white, or anything else your imagination can come up with. How about one person being 'peanut' and the other 'jelly'. This can be done as simply as both wearing white tee shirts with the words peanut and jelly written on them.
Peanut Butter and Jelly Costume
Mirror Match
Another easy Twin Day outfit is to dress in the same clothes as your twin. This could be something as simple as both wearing white shoes, blue jeans and a white tee shirt. This is a perfect last minute option.
Thing 1 and Thing 2
This is a classic twin day idea. Choose two matching shirts with the words "Thing 1" and "Thing 2" written on them, or create your own custom shirts.
TV or Movie Characters
Have you and your bestie ever wanted to be crime fighting dynamic duo? Why not dress up like Batman and Robin for the day? Or maybe a princess is more your style and you could choose Elsa and Ana from the movie Frozen.
Whatever the case may be, twin day is an opportunity to turn yourself into whichever characters fit your fancy. With some fun costumes, wigs, and props, you will have the perfect twinning look for the day. So unleash your inner superheroes or powerful best friends, there are so many possibilities!
Twin Day is a great way to bond with your friends and show off your individual styles! Remember, the key to mastering Twin Day is to find creative ways to dress with your twin. Whether you go for matching clothes, similar makeup, or even complementary opposites, have fun experimenting.
Most importantly, don't take things too seriously. This day should be filled with silliness and laughter, so own it! With a little bit of creativity and careful planning, you will have a great day. So go ahead grab a buddy and start planning for your ultimate Twin Day outfit!
No matter what you end up wearing, Twin Day is sure to be a memorable event for everyone involved. Get creative, have fun and enjoy the special bond of being twins!