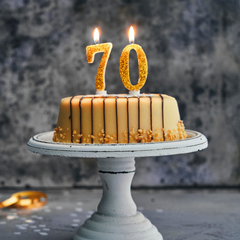 Turning 70 is a milestone birthday that should be celebrated with family and friends. If you're planning a party to celebrate this special occasion, you'll want to make sure there are plenty of activities to keep everyone entertained. Here are some fun game ideas to make your party a hit.
(THIS POST CONTAINS SOME AFFILIATE LINKS FOR YOUR CONVENIENCE: READ MY FULL DISCLOSURE POLICY)
Guess the Year
This game is a great way to get everyone talking and laughing. Put together a collage of images from different years, starting with the year the birthday honoree was born. Guests will take turns guessing which year each image is from. The person with the most correct guesses wins a prize.
Themed Scavenger Hunt
This game can be tailored to fit the interests of the guest of honor. To prepare for the game, create a list of items that can be found around the party venue or house. Make sure to have enough items on the list so that everyone at the party has a chance to find something. You can also make it a competition by seeing who can find the most items on the list. Themed items could include things like 70th-related items, objects that start with the letter "s", or things that are gold and silver.

Name That Tune
Divide guests into teams and give each team a piece of paper and a pen. Then begin by playing a few seconds of songs that were popular in the year or decade the birthday person was born. Teams will try to guess the name of each song. 
Name That Tune!: 50 Music Trivia Qu

Name That Tune DVD Board Game

Sixties Guess That Tune Music Quiz Game

Printable 70th Birthday Games
This games bundle has three fun 70th Birthday Party Games, which will be perfect for your guests to play.
Word Scramble
Word scramble is a classic party game that is always a hit. Put together a list of words related to the birthday honoree, like "jokester" or "wise" or "celebrate." Then scramble up the letters of each word and see who can unscramble them the quickest. 
Charades
Charades is a classic game is always a hit at parties! To prepare for charades, make a list of things related to the guest of honor or their life. For example, you could include things like "has been to all 50 states", "owned a pet", or "born in 1947". Guests will then take turns acting out each item on the list and others will have to guess what it is.

Memory Lane
This game is sure to bring back some memories! Ask everyone to bring a photo featuring the honoree and themselves. This will make a collage of images from different stages of the birthday honoree's life, including childhood, high school, young adulthood, and present day. Guests will take turns guessing who is in each photo and the person who brought the photo can share a short story explaining where and when the photo was taken.
Scratch Off Cards
Scratch off cards are a fun way to add an element of chance to any birthday party. To play, simply give each guest a card and have them scratch off the area to reveal a prize. Prizes can be anything from a small trinket to a gift card or discount at a local store.
70th Birthday Party Game Scratch Off Cards

Chic 70th Birthday Scratch Off Cards

70th Birthday Party Game Scratch Off Cards

Trivia
Prepare trivia questions about the guest of honor or topics related to their life. You could also make this into a team game by divided guests into teams of two or three people. To make it more challenging, you can give each team a different set of questions to answer. The team with the most correct answers at the end wins!
Board Games
Board games are always fun to play Classic games like Monopoly and pictionary are always popular, or you could try newer games like Ticket to Ride and Catan.
Catan Histories: Settlers of America Board Game

Ticket To Ride Board Game

Card Games
The best card games are those that are easy to learn but still challenging enough to be fun. If you have some younger guests at your party, try playing some family-friendly games like Go Fish or Crazy Eights. For something a little more challenging, try Rummy or Hearts. If you want to add a play betting element to the game, Poker or Blackjack are fun.
300-Piece Poker Set

Rummy Card Game Kit

Hearts Card Game

Prize Ideas for 70th Birthday Games
Adding the chance to win a prize always makes party games more exciting.  Here are our top picks for game prizes for a 70th Birthday party
Gift card. You can't go wrong with giving a gift card as a prize. This way the winner can choose something that they would like.

A trophy. You could get a couple of trophies to give out on the night perhaps to the overall game winners.
A bottle of wine, craft beer or unusual flavor of soda
Fridge magnets
Wine or beer glass
Candles
Cookies or candy
Novelty socks
No matter what games you decide to play at your party, remember that the goal is to have fun and celebrate the guest of honor's life. With these games, you are sure to get everyone at the party involved and laughing along with memories from throughout the years. With a little bit of planning, your party will be one to remember!
70th Birthday Decorations
70th Birthday Backdrop
70th Birthday Party Supplies
70th Birthday Decorations
 More Fun Party Games:
Planning a 60th birthday party and looking for some fun games to keep everyone entertained? Look no further! We've gathered some of the best games that will have your guests laughing and enjoying themselves.
Check out these retirement party games that are perfect for any age group. From classic party games to new and exciting activities, there's something for everyone! Plus, they're all easy to set up so you can focus on having fun instead of planning.