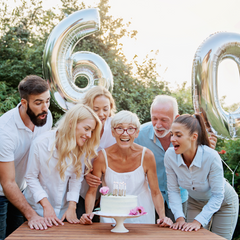 A 60th birthday party is a special occasion that calls for a celebration. There are many ways to make the day memorable, but it's important to consider the interests of the guest of honor. If they're someone who enjoys a good time, then a party with friends and family is the perfect way to celebrate. If they're more low-key, then a small gathering or intimate dinner party may be more their style.
No matter what the preference, there are a few things that should be included in any 60th birthday party. First, it's important to have plenty of food and drink. A variety of appetizers, main course options, and desserts will ensure that everyone leaves satisfied.
Second, is the entertainment. You will need a range of games to play to keep all of your guests mingling and having fun. Finally, good music is a must-have for any party. Choose something that will get everyone out on the dance floor or simply provide some background noise as guests chat and mingle. With these ingredients, any 60th birthday party is sure to be a success.
If you're planning a 60th birthday party, and are in charge of the entertainment, you'll want to make sure the games you choose are fun and challenging enough to keep all your guests entertained.
Here we will share some of our favorite activities that are perfect for a fabulous celebration. Whether you're looking for something competitive or just want to get everyone in the mood for a good time, we've got you covered. So read on and get ready to have some fun!
(THIS POST CONTAINS SOME AFFILIATE LINKS FOR YOUR CONVENIENCE: READ MY FULL DISCLOSURE POLICY)
60th Birthday Trivia Games
A good way to get everyone involved is to have some 60th birthday trivia questions. You can either make up your own questions or print out a trivia sheet. Trivia is always a hit, and it's a great way to test everyone's knowledge.
Who knows the 60 year old best?
For this printable game, guests will need to remember as many details as possible about the guest of honor. Test their memory by asking questions about the birthday person's life, such as where they grew up, what was their first job, favorite food, etc.
This one is bound to get a few laughs. Ask guests to try to guess if the birthday person is older or younger than these items. The person with the most correct  will win a prize. Don't worry, an answer sheet is provided.
Photo Timeline
For this game, you will need to gather some old photos of the birthday person. Have them scattered on a table and have guests try to place the photos in the correct date order. This is a great way to walk down memory lane and will be sure to get some laughs.
Never have I ever
This game is a great way to get to know your guests better. Have everyone sit in a circle and take turns saying something they have never done. Some examples could be Never have I ever
Been skydiving
Ridden a motorbike
Traveled to another country
If anyone has done the thing that was said, they must hold up one finger. When you get to holding up three fingers you are out of the game. Continue playing until there is only one person left. This game is bound to create some laughs and memories that will last long after the party is over.
True or False
Before the party starts, have the guest of honor write down some little known facts about themselves on slips of paper. They should also include some false facts. At the party, read each fact aloud and have guests vote on whether they think it's true or false. The guest of honor can either confirm or deny the answer at the end!
Name that Tune
This is another great game for a 60th birthday party. You can either play it as a team game or have everyone compete individually. To make it more challenging, you can give points for guessing the artist, song title, and release year.
Name That Tune DVD Board Game
Name That Tune!: 50 Music Trivia
Name The 60's Song from The Lyrics
You are never too old for charades! This is a classic party game that can be enjoyed by people of all ages. It's also a lot of fun to act out famous movie scenes, TV shows, or songs. You can either split the guests up into teams or have everyone play together. To make it more appropriate for a 60th birthday party, you can use movies, TV shows, and songs from the past 60 years.
Balloon Shaving
This is a hilarious game that is sure to get some laughs. You will need to blow up some balloons and tie them to the back of chairs. Be sure to leave enough room for guests to sit in the chairs. Give each guest a pen and they can draw a face on their balloon and then cover the face with shaving cream. Using a plastic knife, guests must now race to 'shave' their balloon. The person who shaves their balloon the fastest without popping it is the winner.
Gillette Series Shave Gel
Colorful Party Balloons
100% Compostable Knives
No matter what games you choose, just make sure they're fun and festive. After all, it's not every day that someone turns 60! So get creative and have a blast at your party celebrating this special milestone birthday.
More Fun Party Games:
Looking for some fun party games to keep your seniors entertained? Look no further! These games are perfect for any occasion and will keep everyone amused. So grab a few friends, get in the party spirit, and have some laughs!
It's not a Christmas party without some festive drinking games! Get the gang together and check out these hilarious games that will get you in the holiday spirit. Cheers!