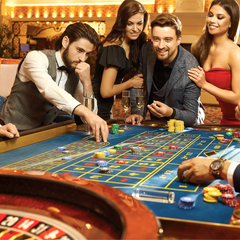 If you're planning a casino-themed party, there are a lot of games that you can choose from to entertain your guests. From blackjack to roulette, your guests will be sure to have an enjoyable time playing all the different games. Here's an overview of some popular casino party games that you can consider adding to your event.
Blackjack
This is one of the most popular casino games out there. The object of the game is simple—each player attempts to beat the dealer by getting as close as possible to 21 without going over (or "busting"). Players get two cards face up, while the dealer gets one card face up and one card face down. Players then add up their cards and decide whether they want to hit (take another card) or stay (keep their current total). Whoever has the closest total wins!
Blackjack Basics Set
Texas Holdem and Blackjack Casino Felt Layout
Wooden Blackjack Shoe
Chocolate Blackjack
For a fun twist on the classic game, try playing Chocolate Blackjack instead. Players are dealt "cards" in the form of individually wrapped chocolates, with a number on each wrapper ranging from 1 to 10. The goal is again to get as close as possible to 21 without going over. Players take turns unwrapping their chocolates and adding up their total. Whoever gets the closest to 21, but not over wins!
Roulette
This classic wheel-based game gives players a chance at big winnings based on where they place their bets. There are many types of bets in Roulette, but the basic concept is always the same—players must guess which number or color will come up when the wheel stops spinning. When it comes time for payout, players who guessed correctly will receive odds based on which type of bet they placed.
Roulette Table Felt
Roulette Set with Accessories
Roulette Wheel Game Set
Poker
This beloved card game requires strategy and luck in order to win. To understand how poker works, it's important to know that hands are ranked according to strength. At its core, poker is simply a battle between two or more people who are attempting to create the strongest hand with five cards that are dealt out of a deck. There are many variations of this game including Texas Hold 'Em and Omaha Hi-Lo so make sure you're familiar with all these different versions before hosting a casino party!
Karaoke Poker
This is a fun way to liven up your party. You can introduce a penalty into your poker or casino game. The basic concept is simple, you play your game of poker as usual but when certain things happen those players must sing karaoke. It could be when a player runs out of chips or loses a bet that they have to serenade the remaining players with a fun rendition of a popular karaoke song. With karaoke poker, you can combine your guests' love of music with their competitive spirit to have a night full of fun and entertainment.
Chase the Ace
This is a fun and exciting card game that requires players to predict which card will come up next. The player who correctly guesses the highest-ranking card at the end of each round is the winner. This 1-vs-many game is perfect for larger groups, as it's easy to understand but still offers enough strategy that everyone can have a chance at playing.
Magic Makers Triple ACE Combo Chase The Ace, Color Aces and Ultimate Aces
Craps
Craps is a great game for larger groups and can be enjoyed by players of all skill levels. The main goal of this dice-based game is to correctly predict which ones will be rolled before they are tossed. Players bet on either the "Pass" or "Don't Pass" line, depending on if they think the dice will pass or not. If they guess correctly, they'll win the bet!
Dart Poker
This is a fun combination of darts and poker and is a great way to add some variety to your casino party. To play this game you will need to pin a set of cards to a wooden board. Players then thro 5 darts at the board to select their poker hand. The player who ends up with the best hand at the end of each round wins!
Shot Roulette
This one is strictly for the adults! In this game players will have to spin a roulette wheel and then take a shot from the designated cup for whatever number the ball lands on. This is a great way to liven up any casino-themed party and make sure your guests are having a good time!
Shot Glass Roulette Party Game
Bingo
This classic game is easy to learn and can be played with any group size. To play, each player will receive a card with randomly shuffled numbers ranging from 1-75 (or whatever you choose). Then the caller will draw numbered balls one at a time and call out their number while players mark off the corresponding number on their cards. The first person to mark off all the numbers on their card wins!
Slot Machines
Slot machines are the quintessential casino game, and you can easily add them to your party with our selection of virtual slot machines. They offer a great way for guests to test their luck without any prior knowledge or skill, all they need to do is press the button, spin the reels, and see what comes up.
No matter which games you choose for your casino party, make sure that you have plenty of snacks and drinks available so your guests can stay energized throughout the night. With these games, your event is sure to be a hit.
Casino parties are always fun and exciting events because there's something for everyone no matter what their skill level may be! With these popular games you can create an entertaining evening for all your guests. So get ready for some fantastic casino action on your next special occasion!
More Fun Party Game Ideas:
Everything you need to know about the chandelier drinking game! This game is guaranteed to liven up any party and provide you with some great memories (and maybe even some embarrassing photos!).
Turning 30 is a big milestone birthday! Make it even more special by playing some fun games with your friends and family. From classic party games to some new ones, we've got you covered. So gather everyone together for a night of celebrating and have some laughs along the way.