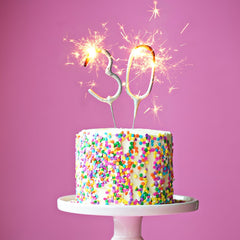 Turning 30 is a milestone worth celebrating! Whether you're throwing a party for yourself or for a friend, make sure it's a bash to remember with these fun and festive 30th birthday party games.
From classic party games like charades to more unique options like minute to win it games there's something for everyone to enjoy. And don't forget the cake! Make sure to have a delicious birthday cake on hand to fuel all that fun. After all, what's a birthday party without cake?
With these tips, you're sure to throw an amazing 30th birthday celebration that your guests will be talking about for years to come.
(THIS POST CONTAINS SOME AFFILIATE LINKS FOR YOUR CONVENIENCE: READ MY FULL DISCLOSURE POLICY)
Icebreaker Games for 30th Birthday Party
One of the best things about a 30th birthday is that it's a great excuse to get together with all your friends and have some fun. And what better way to break the ice than with some fun birthday party games?
Whatever games you choose to play, make sure they're ones that everyone can enjoy. After all, the point of an icebreaker game is to help everyone relax and have a good time. And with any luck, by the end of the party, everyone will be feeling like old friends.
Minute to Win It Games
Minute to win it games are perfect for a birthday party. They are fun, fast paced and can be played individually or in teams. There are tons of these fun games you can play that only take a minute or less per person, making them perfect for large groups. Challenge your guests to see how many marshmallows they can stack in 60 seconds using only their face, or how long they can keep 3 balloons inflated and airborne using only their legs!
Trivia
Put together some trivia about the birthday honoree, or about pop culture from the year they were born and challenge your guests to see how much they know. You could even offer prizes for the winners!
DIY Photo Booth
Set up a designated area where guests can take photos of themselves using props like wigs, mustaches, glasses, hats, etc. Perfect for capturing some hilarious memories of the big day!
30th Birthday Photo Booth Props
Rose Gold 30 Birthday Photo Booth Kit
30th Birthday Photo Booth Props
Charades
Last but not least, charades is always a good time no matter what age you are. It's perfect for large groups and can be easily tailored to whatever theme or interests you might have. So get creative and have fun!
Pictionary
Pictionary is another classic party game that's perfect for any size group. The goal of the game is to get your team to guess the word or phrase that you're trying to describe, but instead of using words, you have to draw it. So if you're feeling creative, this is the game for you.
30th Birthday Games for Groups
These birthday party games are perfect for groups of all sizes and ages. So whether you're looking for something to keep the everyone entertained or something to get everyone laughing, you're sure to find a game that's just right.
Famous Couples
This game is a great way to get everyone talking and laughing. To play, simply have everyone get into groups of two and choose a famous couple from history, pop culture, or even fiction. Once everyone has chosen their couple, each group will take turns asking other groups questions about which couple they have chosen to be. Each group will then write down their answers and the team with the most correct will win.
Scavenger Hunt
Hide Scavenger Hunt clues around the party venue for your guests to find, leading them from one clue to the next until they reach the final destination—where you could hide something special like a gift card or piece of cake!
Murder Mystery Game
For a more adult party, try playing a murder mystery game. Mysteries are always fun to solve. It's a bit like a puzzle, trying to piece together all the clues to figure out who did it. That's why I love playing murder mystery games.
In these games, you take on the role of a detective, working to solve a crime. You have to pay close attention to the evidence and use your deduction skills to figure out whodunnit. These games are great for parties or group events, because they're interactive and everyone can get involved.
One of the best things about game shows is that they're always entertaining, whether you're playing or watching. So why not bring the fun of a game show to your birthday party? There are tons of different games you can play, from trivia-based games to physical challenges. And the best part is, you can easily adapt them to fit your party theme. So there's sure to be a game show-inspired birthday party game that's perfect for you.
Catchphrase
Catchphrase is a classic party game that's perfect for large groups. The goal of the game is to get your team to guess the word or phrase that you're trying to describe. But here's the catch: you can only say a certain number of words, and you're not allowed to say the word itself or any of its derivations. So it's up to you to be creative and think of clever ways to get your team to guess the right answer.
Taboo
Taboo is a party game that's similar to Catchphrase, but with a twist. The goal is still to get your team to guess the word or phrase that you're trying to describe, but this time, you're not allowed to say certain words that are associated with the answer. So it's up to you to be creative and think of clever ways to get your team to guess the right answer without using the taboo words.
Taboo Board Game, Guessing Game for Families
30th Birthday Party Games for Him
It's time to celebrate! Your best friend, brother, husband, or dad is turning 30 and you want to throw him the best party ever. But what do you do? You want games that are fun but not too childish, that will get everyone involved but won't take all night to play. Never fear, we've got you covered. Here are the some fun birthday party games for grown men turning 30.
Beer Pong
This classic game is always a hit and can be played with as few as two people or as many as 10. All you need is a Ping-Pong table, some cups, and a couple of balls. Arrange the cups in a triangle at either end of the table and fill them with beer. Then take turns trying to bounce the ball into your opponent's cups. If you make it in, they have to drink the beer and remove the cup from the table. First person to clear all of their opponent's cups wins! Or turn this into a fun Beer Olympics challenge.
Pool
If you have access to a pool table then a game of pool is the perfect way to unwind and have some friendly competition at the same time. Whether you're playing 8-ball or 9-ball, everyone can join in on the fun. Just make sure you know the rules before you start playing so there aren't any arguments later on!
Barrington Pool Table and Dart Board
90" Billiard Table with Rustic Finish
Poker
Poker is another great game for big groups or small groups alike. If you're unfamiliar with how to play, there are plenty of resources online or you can ask one of your friends who knows how to deal out a hand. Just remember, this is a party so use pretend poker chips and don't take it too seriously!
Texas Hold 'em Poker Chip Set
300-Piece Poker Set with Aluminum Carrying Case
Ceramic Poker Chips Set for Texas Hold'em
Cornhole
Cornhole is a great outdoor game that can be played with two people or teams of four. All you need is a cornhole board and bean bags (or balls if you don't have bean bags). Take turns throwing the bean bags at the board, trying to get them through the hole in the center. The team with the most points at the end of the game wins!
With these tips in mind, you're well on your way to throwing a 30th birthday party that he'll always remember. Just relax and have fun - after all, it's his special day!
Classic Cornhole Set
LED Cornhole Board Ring Lights
30th Birthday Party Games for Her
As any seasoned party planner knows, games are essential for a fun and successful party. Not only do they provide a way to get guests interacting, but they also help to keep the energy level up throughout the event.
When it comes to girls' birthday parties, there are a few games that always seem to be a hit. One classic is Karaoke and another popular choice is Dance Battle. These games are perfect for an active group of girls, and it's sure to get everyone moving and shaking.
Karaoke
No birthday party is complete without some karaoke fun! Set up a karaoke machine (or use your smartphone) and let your guests belt out their favorite tunes. If you don't feel like singing you can try your best lip syncing skills instead.
Karaoke Machine
Karaoke Machine
Karaoke Machine
Dance Battle
This is a great game for getting everyone out of their seats and dancing. Pick two guests to be the dancers and put them in the center of the room. Start some music and let them dance for a minute or two. Then, have the rest of the guests vote on who danced the best. The winner stays in the center to face off against the next challenger! Or just crank up the music and let your guests loose on the dance floor!
Printable Birthday Girl Games
Printable Birthday games are a great option if you're short on time or ideas. They are quick to download and print and fun to play.
Give your guests a printed list of items they need to take a selfie with around the party venue. The first person or team to come back with all the required photos wins a prize!
Drinking Games for 30th Birthday Party
If you're looking for a way to add some extra fun to your 30th birthday party, then look no further than this list of drinking games! From classic party games like beer pong and flip cup to more creative options like "I Never" and "Never Have I Ever," there's sure to be a drinking game on this list that's perfect for your big night.
So invite your friends, grab some drinks, and get ready for a birthday party that you'll never forget!
 Flip Cup
Another classic party game, flip cup is perfect for those who are looking for a little friendly competition. This game can be played with teams of two or more. Each team lines up on one side of a table with a row of cups filled with beer in front of them. The first player on each team drinks their beer and then tries to flip their empty cup upside down on the edge of the table.
Once they succeed, the next player on their team can start drinking their beer. The first team to finish all their beers and flip all their cups wins the game!
Buzzed Flip Cup Frenzy - The Best Flippin' Drinking Game Ever
Never Have I Ever
This drinking game is perfect for getting to know your friends better. Players take turns making statements about things they have done before (e.g., "Never have I ever gotten arrested"). If any player has not done the thing that was mentioned, they must drink. This game is sure to create some laughs as well as some interesting revelations about your friends' pasts!
Never Have I Ever Two Card Game Set
No matter what kind of party you're throwing, these games are sure to get your guests laughing, dancing, and having a blast! So round up some friends, crank up the music, and get ready to celebrate another year of life with some truly memorable 30th birthday party games.
More Fun Party Game Ideas!
Having a kitty party? Here are some fun party games that will keep the night exciting for everyone. From classic favorites to new and unique games, there's something for everyone. So gather your friends and have some fun!
Graduation is a time of celebration and what better way to keep your guests entertained than with some fun party games? From classic favorites like Piñata Whack-A-Mole to new twists on old classics, we've got you covered. So grab your graduation cap and let the party games begin!