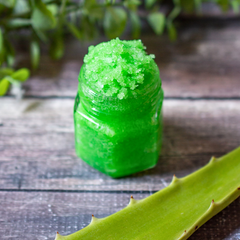 There are a lot of benefits that come along with using an Aloe Vera lip scrub. For one, it can help to exfoliate your lips, removing any dead skin cells that might be present. Additionally, Aloe Vera is packed with antioxidants, which can help to protect your lips from damage caused by free radicals. And lastly, Aloe Vera can also help to hydrate your lips, keeping them soft and supple.
This DIY Aloe Vera Lip Scrub is easy to make and only requires a few ingredients that you likely already have in your kitchen.
(THIS POST CONTAINS SOME AFFILIATE LINKS FOR YOUR CONVENIENCE: READ MY FULL DISCLOSURE POLICY)
Ingredients Needed To Make the Aloe Vera Lip Scrub
4 ½ Tbsp. white sugar
1 Tbsp. coconut oil
1 Tbsp. fresh aloe leaf
Green food coloring (optional)
Organic Coconut Oil
Sugar Crystals White
Green Food Coloring
How To Make The Aloe Lip Scrub
Instructions:
Cut a 1 inch section of the aloe leaf and discard the rest.
Slice off the skin, leaving the gel just with a fork try to mush up the gel and break it apart. You could try a mesh sieve or a blender to get a better smooth consistency.
Add the gel, sugar, and coconut oil to a bowl and mix until well combined and it is the consistency of very wet sand.
* If you want the extra green color dip a toothpick into food coloring and mix it around the coconut oil use food coloring very sparingly.
Transfer to a jar and screw on the lid.
How To Use The Aloe Lip Scrub
Aloe lips are the perfect natural DIY scrub to make your lips feel soft, hydrated and plump. It's easy to make and only requires a few ingredients that you probably already have in your kitchen. First, start with a clean, dry lip. Add a nickel size amount and combine with a a drop of water. Rub the mixture onto your lips in a circular motion for about 60 seconds. Once you're done scrubbing, rinse your lips with warm water and pat them dry.
Finally, apply a lip balm or Vaseline to lock in moisture. And that's it! Your lips will thank you for this simple yet effective scrub. Aloe Vera is packed with vitamins and minerals that are beneficial for the skin, so not only will your lips feel softer and smoother, but they'll also be healthy and protected from the elements.
Recipe notes and tips:
While the recipe is straightforward, it is always nice to have a few different tips and suggestions to make things easier. So here are some of the recipe notes and tips to help you out:
– If you want to make a large batch of this scrub, simply double or triple the recipe. Perfect for gifts for your friends for Christmas or Birthdays
– If you do not have fresh aloe on hand, you can also use a store bought aloe vera gel.
– You can store this scrub in the fridge for up to 2 weeks.
– When using this scrub, be sure to do so gently.
– This scrub can also be used on your body, not just your lips.
– You may need to experiment with the amount of green food coloring you add, depending on how dark you want the final product to be. Sparingly is best
Variations to try:
Like with many recipes there will always be variations to try. Here are a few suggestions.
– If you want to add a little bit of flavor to the scrub, you can try adding in a drop or two of essential oils. Some good options include peppermint or lavender oil.
– You could also try using brown sugar in place of the white sugar.
– For a fun twist, you could also add in a little bit of ground coffee. This will give the scrub a nice exfoliating effect.
FAQ's:
Like with any recipe, there are often questions that need answering. I thought I would share some of the common questions here, but if you have any comments or questions please don't hesitate to get in touch directly.
How often should I use this scrub?
You can use this scrub as often as you like, but I would recommend using it at least once a week.
Does this scrub need to be rinsed off?
Yes, this is a lip scrub not a lip balm, so it does need to be washed off
Can this scrub be used on sensitive skin?
Yes, this scrub is gentle enough to be used on sensitive skin. However, if you have any concerns it is always best to speak with your doctor first.
Can I add other ingredients to the scrub?
Yes, feel free to experiment with different ingredients. As long as you follow the basic ratio of sugar : oil : aloe, you should be fine.
What type of container should I use to store the scrub?
Any type of container with a tight fitting lid will work fine. A mason jar or recycled plastic container would both be good options. You can purchase small jars with lids if you are giving as a gift.
This easy-to-make DIY Aloe Vera Lip Scrub is perfect for everyone looking to exfoliate and hydrate their lips. The scrub only requires a few simple ingredients that you likely already have in your kitchen, and it can be stored in the fridge for up to 2 weeks. So why not give it a try? Your lips will thank you!