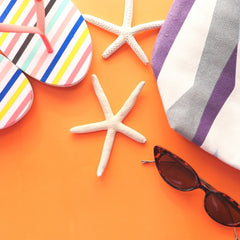 How To Have A Beach Party At Home
Bring a taste of the tropics to your next backyard BBQ or party by using these ideas for the best beach party theme.
It's a clever and fun way to put some spice into the summer's entertainment venue of choice, your own backyard.
Since not everyone has the opportunity to travel to have a birthday at the beach, there are still ways that you can have have that beach experience by creating something special in your own backyard. Host a party with a summer theme and invite your closest friends and relatives.
Here is a list of ideas that will help you to move the beach into your backyard.
(THIS POST CONTAINS SOME AFFILIATE LINKS FOR YOUR CONVENIENCE: READ MY FULL DISCLOSURE POLICY)
Invitations
When inviting your guests, spruce up the invitations with summer colors, patterns, or pictures of beach balls, sunglasses, and flip flops. Cards such as these are very affordable and can be purchased at a local party store. Or if you would rather make them yourself you can do so using a computer program.
The invitations don't have to be elegant just fun and colorful. In addition, when filling out the card inform the guests of the theme and ask them to wear beach apparel.
What do you do at beach party?
Music
A party isn't a party without music. But instead of relying on the Top Hits playlists or listening to the radio, play Hawaiian, summer, or beach-style music. This will set the mood and compliment the atmosphere.
Shelter
To protect against sun exposure pop up beach umbrellas. If you only have regular umbrellas you can use stencils to make beach patterns, draw designs, and splash some color on them. The idea is to make each item as close as possible to the real thing so the larger the umbrella the better it is.
Theme Decorations
Any items associated with the beach can be utilized as decorations for a beach party. Many of these items may already be on hand for summertime beach trips, which will save money on party purchases.
Beach umbrellas, beach chairs, and large beach towels can be set up for seating and lounging in the backyard during the party. Have beach balls and hula hoops on hand for play.
Beach Chairs
Beach Umbrella
Oversized Beach Towel
If a backyard pool will be used by guests during the party, place rolled-up beach towels in beach bags near the pool area or on beach chairs for guests' convenience.
Pool toys are always a great idea for teens or adults. You can get heaps of different ones like Flamingos and donuts.
String colorful paper lanterns in trees for backyard lighting. Place tall tiki torches in safe places to light for additional ambiance.
Station a buffet table decorated with colorful designs to hold the food, scatter beach items around the area such as beach balls, frisbees, and pail and shovels, then enlist the kids by having them blow up balloons, make streamers, and fun signs.
You could even go for an under the sea theme too if you love the ideas of Octopus and Mermaids
Seating
At a lot of parties, the host will make a seating chart but for a beach party, that's too formal. Instead of setting up chairs use large beach blankets and arrange them on the grass.
It will give the feel of being at the beach, it's a little more relaxing, and if the little ones spill something it will go on the ground instead of the table; easier clean up in the end.
Table Setup
The buffet table will be the focal point of the beach party. Decorate an adequate-sized table with a flair by layering large tropical leaves on the table instead of using a table cloth. Create a centerpiece for the table with fresh, tropical fruits and have Hawaiian island music playing near the buffet table
Beverage Station
Carryover the use of large tropical leaves on the table or bar where beverages will be served, or use a grass skirt around the base of the table or bar. Have a blender and electrical power source at the beverage station for mixing up tropical beverages to be served in large glasses with mini umbrellas.
Use a large chest-type cooler to keep canned beverages cold and to promote the beach look.
Pink Lemonade is such a delicious Summer Drink the kids will love
Hawaiian BBQ Foods
Meats, veggies, and fruits skewered and cooked on the grill are quick and easy. Shrimp and pineapple skewers, pork and pineapple kabobs, chicken and pepper skewers with peanut sauce for dipping, or beef kabobs with a spicy dipping sauce are all a change from the ordinary backyard BBQ fare.
Simply grilled fruit slices or fruit kabobs provide an easy tropical backyard BBQ dessert. Place the grilled skewers of food on the tropical leaves for guests to serve themselves from the buffet table.
Beach themed Cupcakes with life bouys, starfish and anchors are a perfect dessert to serve at your beach party.
You can even make these easy little Fishy Cupcakes and plate them up fake seaweed to give the look of being in the ocean.
Activities
For entertainment erect a volleyball or badminton net. These are regular activities on the beach so they should be enjoyed in the backyard as well. Not only will it give guests something to do but they'll also have the opportunity to exercise. In addition, the little ones will burn off some energy.
Summer party games like this Summer Treasure Hunt or our very popular Summer Emoji Game. Printables are a fabulous idea for any party and getting ones that are themed to suit a themed party are a great idea.
Dinnerware
At a normal barbeque plastic cups, plates, napkins, and utensils would be just fine. But since this isn't a normal barbeque offers large colored plates, tumblers, silverware, and pitchers that are shatterproof. These items are extremely inexpensive and available at Target and Wal-Mart.
Lighting
When the sun sets the party doesn't have to end. Set up tiki torches around the perimeter of the backyard and light them when the sun starts to set. Your guests will enjoy star gazing after a long day of fun.
Beach bags
Now that the music is playing, the umbrellas and beach blankets are laid, and the food is cooked, all that's left to do is prepare the gift bags. This may be unusual for a casual party but it really does make guests feel special. Add a small tube of sunscreen, lip balm, a water bottle, and a personal mini spray bottle or cooling fan. Your guests will love how you put your own little personal touch to it.
Although these are only a few ideas there are countless more to make your party a success. So instead of having just another boring BBQ create a memorable experience for your family and friends, by bringing the beach to the backyard.
Decorate the backyard with a beach theme, and serve tropical beverages and foods to change an ordinary summertime get-together into a beach party. Kids beach party themes are a great idea for summer parties and you don't need to go to the beach to have a fabulous party.