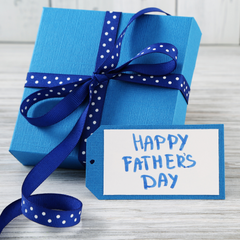 Looking for Father's Day craft ideas? Check out these fun and easy projects that will show your Dad or Grandad how much you care. Whether you're looking for a heartfelt homemade gift or something to keep him busy on his special day, we've got you covered. Using supplies from your arts and craft box you will be able to come up with some wonderful gifts. So get creative and have fun!
(THIS POST CONTAINS SOME AFFILIATE LINKS FOR YOUR CONVENIENCE: READ MY FULL DISCLOSURE POLICY)
Father's Day Handprint Poem
This cute poem printable will sure make Dad's day. This makes a perfect gift for Father's day, Birthday or even Christmas. Just add your little ones handprint and you will have a lovely gift Dad will 
always cherish. Perfect 
Fathers Day crafts for toddlers to make with a little help.
Rustic Rock Picture Frame
This Rustic Rock picture frame is a simple but impressive gift for Father's Day. Just pop in your favorite family photo or draw Dad a picture
==> Find the tutorial for this rock picture frame here 
Father's Day Cricut SVG
If you have a Cricut machine and are looking for a quick and easy gift for Father's Day, this SVG cut file will be perfect. Cut it out in vinyl and put it onto a mug, t-shirt, notebook.  Between the letters, add a word about Dad such as Awesome, Hero, Best and you can create a gift he will treasure. Perfect Cricut Fathers Day gift to make for Dad this Father's day
==> Find the Dad SVG File here
Stamped Fishing Lure
Such a cute idea for a Dad that loves fishing. This personalized fishing lure will be something he will treasure
==> Find the tutorial for this personalized fishing lure here
 All about My Dad / Grandpa Printable
Getting the kids to fill in and color in these All About My Dad sheets are such a great way to see how they feel about Dad. Always lovely to look back on in years to come.
==> Find the All About My Dad/Grandpa Printable here 
Father's Day would be so much fun playing these fun printable Father's Day games or even giving Dad a Treasure hunt to follow along to find his gifts.
Dad Rocks Paperweight
 Give Dad something handmade this year. This Dad Rocks Paperweight is a great last minute gift idea as it is simple to make and only uses a few supplies
==> Find the tutorial for this Dad Rocks Paperweight here
 

Father's Day Superhero Craft
Show Dad how special he is with this SuperHero Plate Spinner craft. Fun and easy to make, this is sure to be a hit with Dad
==> Find the tutorial for this SuperHero Craft here
 

Father's Day Mug
This adorable Fathers Day mug is made using your child's fingerprints. Perfect gift for Dad to take to the office
==> Find the tutorial for this Father's Day Mug here
Washer Stamped Keychain
Here is another great gift idea for Dad using Letter Stamps.
==> Find the tutorial for this Washer Stamped keychain here
Popsicle Stick Picture Frame
These colorful popsicle stick picture frames are quick and easy to make. Great for Preschool and Kindergarten age.
==> See the tutorial for these popsicle stick picture frames here
DIY Custom Coasters
These DIY Coasters made from maps are a great gift for dad. Find and cut out a place special to dad and create a coaster using a few simple supplies
==> Find the tutorial for these DIY coasters here
Hope you have been able to get some great inspiration from some of the above Father's Day Crafts. Parents love getting homemade gifts, it really does mean so much more than a bought gift. So get started and show your Dad how much you love him this Fathers Day!