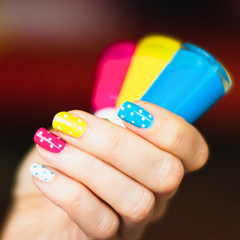 Whether you're looking to make a statement or just have some fun, nail art is the perfect way to express yourself. Painting your nails at a sleepover or just for fun is a great way to show off your style. There are tons of amazing nail ideas and designs out there, but it can be tricky to find ones that work especially well for teenagers.
To help you get started, here are some awesome nail art ideas that will make you stand out from the crowd.
Easy Nail Designs For Teens and Tweens
If you're just starting to experiment with nail art, opt for something simple but eye-catching. These ideas are quick to do and will brighten up your look
Holographic Nails
Holographic nails are a great way to add some dimension and sparkle to your look. Start by applying a thin layer of polish as the base coat. Then take a holographic nail polish and apply it directly onto the nail bed. Let it dry completely before finishing with a top coat for extra shine.
(THIS POST CONTAINS SOME AFFILIATE LINKS FOR YOUR CONVENIENCE: READ MY FULL DISCLOSURE POLICY)
Holographic Nail Powder Holo Powder for Nails
Holographic Glitter Cat Eye Gel Nail Polish Kit
Chameleon Nail Polish Holographic Glitter
French Tip Nails
For a timeless look, it doesn't get much better than French tip nails. Start by applying your base color and then use white or light pink polish to paint the tips of each nail. Finally, finish off with a glossy top coat for an extra dose of shine.
Gold Accents
For an extra pop of glamour, try adding metallic accents to your manicure! Start with your favorite base color and let it dry completely before using a sparkly gold polish to add contrast or even small dots or dashes around each nail. When finished, seal everything with a glossy top coat and voila, your nails will now be shimmering with metallic brilliance!
Colorful Nails
Sometimes you want something bright and fun. That's where colorful nails come in. Choose a range of bright color nail polishes like blues, greens, pinks, yellows and oranges to create your own unique design. Finish off the look with a top coat for extra shine.
Nail Polish Set Glossy Colors
Colorful Gel nail polish Kit
Gel Polish Nail Art Rainbow Pastel
Ombre Nails
Ombre nails are another great way to add some extra color and dimension to your look. Start by applying a base coat in the lightest shade you want to use, then gradually move into darker shades until you create an ombre effect. This is a great way to make use of multiple colors while still achieving a subtle look.
Glitter Nails
Adding glitter to your manicure is a great way to add some pizzazz. Start by applying a base coat and let it dry completely before brushing on the glitter polish. You can use just one color, or mix and match for added fun. Once complete, seal it all off with a top coat for extra protection. These nails are perfect for the festive season.
GlitterGel Nail Polish
Glitter Maple Gel Nail Polish Set
Glitter Gel Polish Set
Color Shade Nails
A quick a simple nail design is to choose one color and paint each nail a differing shade of that color. Start with the lightest shade and gradually move into darker shades. This is a great way to experiment with color while still keeping your look subtle.
6 Colors Pink Rose Red Gel Polish
6 Colors Skin Tones Collection
Gel Nail Polish Colors Chasing Summer Breeze
Spots and Stripes
For a fun and playful look, add some stripes or dots to your nails. There are really no rules for this pattern, just make it up as you go along. You can opt for geometric shapes or a combination of spots and stripes.
Super Cute Spring Nail Designs For Teenagers
As the weather starts to warm up and flowers begin to bloom, it's time to switch up your nail game and try out some super cute spring designs. From pastel colors to floral patterns, there are so many options that are perfect for teenagers.
Why not try out a daisy design on your nails for a fresh and playful look, or mix and match pastel shades for a fun and vibrant feel? Don't be afraid to get creative and experiment with different designs and colors. With these spring nail designs, your nails will be the envy of all your friends.
Acrylic Nails for Teenagers
Teenagers love experimenting with different fashion and Beauty trends, and acrylic nails have become very popular in recent years. Even those who don't normally wear nail polish are drawn to the colorful designs that can be created with acrylics.
Not only can acrylics add an eye-catching splash of color to any outfit, they are also a chance to express your unique style. But acrylic nails may not be the best options for some teens, luckily there are alternatives available.
Acrylic Nail Kit for Beginners
Acrylic Nail Kit
Acrylic Nail Kit with Prep Dehydrator and Primer
What are Acrylic Nails?
Acrylic nails are a type of artificial nail extension that is applied over your natural nails. They are made from a combination of monomer liquid and polymers powder which can be formed into various shapes, sizes, and colors. Acrylics come in many different designs and can last anywhere from several weeks to a few months.
Common Concerns about Acrylic Nails
While acrylic nails are generally safe, there are some potential risks and things to consider.
It is important to use a reputable nail technician and ensure that they are using the proper techniques when applying the acrylics.
Remember to take good care of your natural nails while wearing acrylics by keeping them clean and moisturized to avoid infection or damage.
Allergic reaction is also a potential risk, so if you have sensitive skin or are prone to allergies it is best to do a patch test before application.
Acrylic nails can be dangerous when playing sport or doing activities that require a lot of hand movements such as playing musical instruments. So make sure to take extra precaution if you plan on wearing acrylics while participating in these activities. Before getting acrylic nails, be sure to check with activity regulations to see if acrylic/long nails are allowed.
Keep in mind the cost. Acrylic nails can be expensive and need to be regularly maintained.
Finally, make sure you take them off properly in order to avoid damaging your natural nails.
Alternatives to Acrylic Nails
If you want the look of acrylic nails but without the cost and potential safety concerns, there are plenty of other options to consider.
Gel polish is a great alternative as it provides the same look and feel as acrylics but without the need for professional application or removal. Gel polish can last up to two weeks and is easy to remove with regular nail polish remover.
Press-on nails, or false nails, are another fun option for teenagers. They come in a variety of styles and sizes and can last up to two weeks.
Nail wraps are also an excellent choice for those who want something a little less permanent. Nail wraps apply like stickers and can be taken off easily with nail polish remover.
Nail art pens and nail stickers are great for creating your own unique designs without the use of any special tools.
Colors Nail Art Pens
336 Pieces Wrap Nail Polish Stickers
Flower Nail Art Stickers
Nail art is an easy way to show off your creative side and express yourself through fashion! With these cool nail ideas and designs, teens can easily stand out from the crowd without having to break the bank. Whether you're into making bold statements or prefer something more subtle, there's sure to be something here that catches your eye! So go ahead — make those fingers shine!