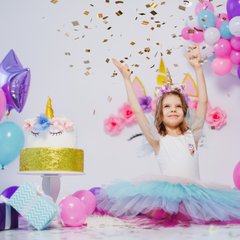 Unicorn themed parties are so much fun! They are a great way to celebrate a birthday, special event, or just because. There is something about unicorns that brings out the childlike wonder in all of us and there is no better way to enjoy that than by throwing a unicorn themed party. 
This is also a great opportunity to get creative with your decorations, food options and of course party games. There are endless possibilities when it comes to fun games that can be played with a unicorn theme.  From classic party games to new and unique options, we have something for everyone to enjoy.
(THIS POST CONTAINS SOME AFFILIATE LINKS FOR YOUR CONVENIENCE: READ MY FULL DISCLOSURE POLICY)
So if you are looking for some fun games to add to your upcoming Unicorn themed party then look no further. We have gathered a list of some of the best games to keep your guests entertained all night long. Read on for our top picks and get ready to have a blast at your Unicorn party.
Unicorn Charades: This classic party game is sure to get everyone laughing and having a great time. Simply have your guests break into teams and take turns acting out different unicorn themed phrases or words. The first team to guess correctly wins! 
Unicorn Treasure Hunt: A Treasure/Scavenger Hunt is a good way to get everyone up and moving as they solve the clues to lead them to the final treasure.
Heads Up: This newer party game is a favorite among many. For this game, you will need to download the Heads Up app on your smartphone. Once you have the app, choose the Unicorn category and start playing! The object of the game is to guess the word or phrase correctly before time runs out.
Pin the Horn on the Unicorn: This classic party game is a twist on Pin the Tail on the Donkey. Simply print out a large unicorn poster and cut out small horns for each of your guests. Blindfold each guest, spin them around 3 times, and see who can get closest to pinning the horn on the unicorn! The person with the closest horn wins.
Pin The Horn On The Unicorn Party Game

Pin The Horn on The Unicorn Game

What's your Unicorn Name? This printable Unicorn Party Game is a great one to start your party with. Everyone gets a special Unicorn name and can write it on their name tag. Throughout the party everyone must be called by their unique Unicorn Name.
Unicorn Tag: This is a fun game to get your party guests moving. Choose one person to be the 'unicorn' and have them stand in the middle of the playing area. All the other players must spread out around the edge of the playing area. 
When the game starts, the players must run away from the unicorn. If a player is tagged by the unicorn, they become a 'mini unicorn' and must help the main unicorn tag other players. The game ends when all the players have been turned into mini unicorns.
Unicorn Pop It Toy Race: This game is a race to see who can pop all their Unicorn fidget toy pops the fastest. It's great for fine motor skills and hand-eye coordination. The first player to pop all their Unicorn pops wins the game! You will need a Unicorn Pop It Toy for each guest. Play starts when everyone has a fidget toy in their hand and on "go" everyone pops their Unicorn as fast as they can. The first person to finish popping all their Unicorns is the winner!
Unicorn Drawing Game: This is a great party game for all ages and the finished drawing can be used as part of the party decorations. To start, hang a large piece of paper on the wall and draw a simple outline of a unicorn head in the middle.
Each player must take turns being blindfolded and trying to add onto the drawing. The goal is to see who can create the most creative and unique unicorn drawing! Be sure to have plenty of markers and crayons on hand for this game.
Unicorn Coloring Pages: Have fun coloring these unicorn sheets. This is a great activity for the kids to do whilst waiting for all of the party guests to arrive.
Unicorn Piñata: This classic party game is always a hit at parties.  Fill your piñata with unicorn stickers, erasers, toys and of course candy.
Create your own Unicorn Horn. This fun craft is a great way to get everyone in the unicorn spirit!. It is also a great photo opportunity for your party guests. Here are some easy ways to make your Unicorn horn. Cut out pointy shapes out of construction paper and tape it to the end of a headband.
Decorate the horn with glitter, sequins, or anything else you like. This activity can be done as part of the party decorations or as a standalone activity. Be sure to have plenty of supplies on hand so that everyone can make their own horn. Get creative and have fun with it.
Unicorn Monopoly: Looking for a unicorn-themed board game that's as colorful as it is fun? Look no further than Unicorn Monopoly! This delightful game features adorable unicorn characters and a colorful game board. Players will love the challenge of trying to win this magical game. So gather your friends and family for some whimsical fun with Unicorn Monopoly.
MONOPOLY Junior: Unicorn Edition Board Game

Unicorn Candy Land: Looking for a magical game to play with friends at your party? Look no further than Unicorn themed Candy Land. This enchanting game features a colorful game board, rainbows and unicorn characters that will bring a smile to kids faces. This fun game with have the kids coming back for more.
Candy Land Unicorn Edition Board Game

Unicorn Bean Bag Toss Game: Unicorns are magical! This bean bag toss game is perfect for a Unicorn themed party or just to have fun with. Kids will love tossing the bean bags at the colorful unicorn target. The Unicorn Bean Bag Toss set comes with 8 bean bags. The set folds up easily for storage and can be used indoors or outdoors.
Decorate Unicorn Cookies: Such a wonderful idea for the guests to make and decorate their own Unicorn Cookies. The kids will love this as they will be able to eat them once they have decorated them, or take them home from the party and show their parents. You can either pre make the sugar cookies with Unicorn cookie cutters or get the guests to help make them.
So, there you have it – our top picks for unicorn themed party games. We hope you have as much fun playing them as we did researching and writing about them! Wishing you a magical time at your next unicorn party!