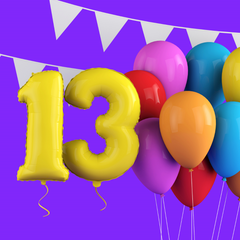 Are you looking for some fun birthday party games for 13 year olds that will score you some major points with your teen and their friends? Look no further - we've got the inside scoop on the best games to keep your partygoers entertained. From classic party games with a twist to new favorites, these activities are sure to make your child's birthday one they'll always remember.
(THIS POST CONTAINS SOME AFFILIATE LINKS FOR YOUR CONVENIENCE: READ MY FULL DISCLOSURE POLICY)
Printable Party Games
Watch as your teenagers work out and solve these clues. Each clue contains a puzzle/riddle that must be solved to work out the location of the next clue which will lead them to the treasure hidden at the end
This Would you Rather Game is a great idea to entertain the tweens and teens with 39 fun questions. Perfect as an icebreaker game at your party.
What 13 year old does not love a slumber party? This printable bundle of games has everything you need to keep them entertained all night.
Minute to Win It Games
One of the all-time favorite television game shows is now a popular party theme - and for good reason! These momentary challenges are perfect for teenage boys and girls and can be easily adapted to any party space and budget. Here are a few minute to win it game ideas to get your started.
Cookie Face Challenge
This is a great game for groups of all sizes. To play, you'll need a few cookies and a timer. The object of the game is to move the cookie from your forehead down to your mouth without using your hands. You can keep score by counting the number of cookies each player gets to their mouth, or by awarding points for each one that's still intact at the end of the game.
Grandma's Cookies Variety Pack
OREO Chocolate Cookies
Junk in the trunk
The object of this game is to get all of the ping pong balls out of the tissue box which is tied around your waist. The player must shake and shimmy to get all of the ping pong balls out without using their hands.
The Cup Stacking Challenge
This is a great game for groups of all sizes. To play, you'll need a few cups and a timer. The object of the game is to stack the cups as high as possible in the allotted time. You can keep score by counting the number of cups each player stacks
These easy Minute to Win It birthday party games that are sure to impress. Follow the step-by-step instructions for setting up your own Minute to Win It party. Don't forget to make scorecards so everyone can keep track of their progress.
Stacking Cups Game
Stacking Cups Game
The Best Birthday Party Games for Teenage Girls
Turning thirteen is a big deal. Your little girl is now a teenager and probably has some strong opinions about how she wants to party. Games are always a great addition to any birthday party. Whether you're planning a themed party or just want to mix things up a bit, these birthday party games for 13 year olds provide a fresh take on classic favorites.
Scavenger Hunt
Put together a scavenger hunt that is tailored specifically for teens. A Mall Scavenger Hunt or Selfie Scavenger Hunt is always fun or try these other scavenger hunt ideas for teens
Photo Booth
Have a DIY photo booth complete with props and have them dress up in silly costumes - just be sure to have someone on hand to take pictures!
Chic 13th Birthday Photo Booth Props
13th Birthday Photo Booth Party Props
Boy 13th Birthday Party Photo Booth Props
Spin the Nail Polish
This fun game will keep your teens busy. You will need some nail polish and a game board. You can make your own or try this printable spin the nail polish game. 
Balloon Animals
See who can create the best balloon animal. The only limit is your imagination!
Premium Long Balloon kit and pump
Metallic Long Balloons Kit with Pump
Long Balloons Animal Balloons Kit
New Favorites
Is your child looking for something different? If they're tired of the same old birthday parties, try one of these unique ideas.
Your guests will be talking about these new birthday party games long after the event is over!
The Best Birthday Party Games for 13 Year Old Boys
It's your boy's birthday, and you want to make it a day he'll never forget! Part of making sure he has the best day ever is choosing the perfect birthday party games. Boys can be tricky to please, but we've got you covered with a list of the best birthday party games for boys of all ages.
Capture the Flag
This classic game is always a hit, no matter what age group you're playing with. It's a great way to get everyone up and moving around, and it's also a lot of fun. To play, you'll need two teams and two flags. The objective of the game is to capture the other team's flag and bring it back to your own base. You can set whatever rules you want, but typically players can't cross into enemy territory unless they're holding the flag. This is a great game for large groups and it can be played indoors or outdoors.
Capture The Flag Game Illuminated - Outdoor Activity for Teens
LED Light-Up Capture The Flag Game
The Original Glow in The Dark Capture The Flag Game
Nerf Battle
Put together an epic nerf battle. To set up a nerf battle game for boys, you'll need two teams of players, some Nerf guns, and a large playing area. Divide the players into two teams and assign each team a side of the playing area. Then, give each player a Nerf gun and let the battle begin! The object of the game is to eliminate all of the players on the other team. Players can be eliminated by being hit with a Nerf bullet or by going out of the playing area. The team with the last player standing is the winner.
NERF Elite 2.0 Echo CS-10 Blaster
NERF Ultra Speed Fully Motorized Blaster
NERF Elite 2.0 Motoblitz Blaster with Scope
Trivia Games
Movie trivia (with plenty of snacks), charades, or even reverse charades where one person acts out a scene while the others guess what movie it's from.
Video Game Tournament
This is a great game idea for boys who love video games. First, you'll need to set up a gaming station for your guests. You can use a TV or computer screen, and you'll need plenty of games and controllers.
Next, you'll need to decide on the format of the tournament. You can have a single-elimination tournament, or you can do a round-robin format where everyone plays each other.
Finally, you'll need to announce the rules and regulations of the tournament. Be sure to set some ground rules, such as no cheating and no swearing.
After the tournament is over, be sure to have plenty of snacks and drinks on hand for your guests.
These are just a few games that are sure to be hits at your 13 year old's birthday party. With these games, you're guaranteed to give them a birthday bash they will never forget - and neither will their friends. We hope you have a blast celebrating your teen's special day!
More Fun Party Games:
Looking for some fun teen board games? Check out this list of the best games that will keep you entertained for hours on end. From classic games to new and exciting titles, there's something for everyone here. So gather your friends and get ready for some serious fun!
Get your Thanksgiving party started with these fun and festive Minute to Win It games. With a little bit of prep, you can have everyone entertained and competing for the title of Thanksgiving champion!