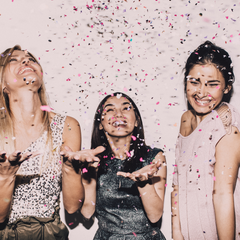 Looking for some fun kitty party games for ladies to play at your next get-together? Well, you've come to the right place! Here we will show you some of the best games that are perfect for a girly gathering. Whether you're looking for something new and exciting to try or just want some ideas for classic party games, we have you covered. So put on your thinking caps and get ready to have some fun!
(THIS POST CONTAINS SOME AFFILIATE LINKS FOR YOUR CONVENIENCE: READ MY FULL DISCLOSURE POLICY)
What is a Kitty Party?
A kitty party is a social gathering usually held by women. It is typically a small, intimate gathering where the ladies can catch up and have some fun. Kitty parties are usually themed, and the games and activities are often centered around the theme. For example, if you are having a beach-themed kitty party, the games and activities might revolve around the beach.
Kitty parties are often held in private homes or public spaces such as restaurants or clubs. The name "kitty party" comes from the fact that attendees often pool their money to contribute to a shared pot, which is then used to cover the costs of the event. Kitty parties are a popular way for women to socialize and connect with one another. They provide an opportunity to relax and have fun.
Kitty Party Games for Ladies
There are many different types of kitty party games for ladies, and the best type of game depends on the number of people attending, the theme of the party, and the age group of the attendees. Here are some popular types of kitty party games:
Fun Kitty Party Games
This is a great game for ladies who love nail polish! To play, you will need some different colored bottles of nail polish and this printable game board. Each player takes turns spinning a bottle of nail polish and has to follow the instructions on the board. The first person to paint all of their nails wins.
What's on your Phone?
Nearly everybody has a phone these days so this is a quick game to play. You have five minutes to check your phone for these items. The person who has the most points at the end is the winner.
Pass the Parcel
This classic game is always a hit at kitty parties! Wrap up a small prize in several layers of tissue paper or wrapping paper. Then, have all the ladies sit in a circle and pass the parcel around while music plays. Every time the music stops, whoever is holding the parcel gets to unwrap one layer.
You can make this game more exciting by adding in dares and challenges to each layer. Or how about trying a Saran wrap ball game? To play this game each layer is wrapped in saran wrap and to make it more challenging you can add Saran Ball challenge cards to each layer.
Set up a photo booth with props and costumes for your guests to dress up in. Take turns posing for fun photos with your friends! Whoever has the most creative costume or funniest poses wins!
Truth or Dare 
This classic party game needs no explanation! Players can either answer truthfully to personal questions OR take on dares (which could be anything from singing karaoke to eating spicy food). Be prepared for some hilarity (and maybe even some embarrassment)
Kitty Party Truth or Dare:
Girl Talk Truth or Dare
Scavenger Hunt
You can have a scavenger hunt in which your guests will have to find specific items within a given time limit. For example, you can give them a list of items like a black pen, a red apple, etc. and the team that finds the most items on the list within the given time limit wins the game.
Song Star
This is a classic Karaoke party game that is always a hit with guests. Divide your guests into teams and have them take turns singing a song starting with a particular letter. Write each letter of the alphabet on a piece of paper and put it into a bowl. One person from each team will choose one slip of paper and must sing a song starting with the letter on the paper. Their team will have 30 seconds to try to guess the song name. The team that guesses the most songs correctly within the given time limit wins the game.
Who Am I
This fun Who is it game is easy to play. Simply write the name of a famous person, place, or thing on a sticky note. Stick it to the forehead of each player without letting them see what it says. Then, players must take turns asking 20 questions to figure out who they are.
Balloon Drop
Fill up a dozen or more balloons with confetti, small toys, or candy. Then, have all the ladies stand in a circle and let the balloons go. As they pop, the confetti will fly and everyone will scramble to grab as many goodies as possible in one minute. Whoever collects the most prizes wins!
Balloon Drop Bag
Balloon Drop Bag
Fishbowl Party Game
Have you heard of the Fishbowl Game? This fun game is also known as the Salad Bowl Game. This is where lots of words are written on slips of paper and placed into a bowl. Then each team will choose one piece of paper and must either provide clues, act or say one single word to help their team guess correctly.
Kitty Party Word Games
These are perfect for parties with a large number of people. They can be played in teams or individually, and they're a great way to get everyone involved in the party.
This is a classic word game that is perfect for parties with a large number of people. To play, each team is given a list of words, and they have to unscramble the words as fast as they can. The first team to unscramble all of the words wins!
Scrabble and 25 words or less are also great word games for your Kitty Party.
Scrabble Game
Word Scramble Puzzle Book for Adults
Fast-Paced Word Game
Kitty Party Trivia Games
These are perfect for parties with a specific theme. For example, if you're having a movie-themed kitty party, you can play trivia games about movies.
Movie Trivia
This is a great game for parties with a movie theme. To play, you will need a list of trivia questions about movies. You can find these online or in magazines. The team that answers the most questions correctly wins!
Tea Trivia
How about a fun Tea Trivia Game? This would work well for a Tea Party themed Kitty Party. Have your guests try to answer these questions all about tea!
Printable Trivia Games
If you're looking for a fun and easy way to entertain your guests, printable games are the perfect solution. There are a wide variety of printable games available, from party classics like charades and pictionary to more modern options like emoji quizzes and trivia. Best of all, they are very quick to download and print. So if you're looking for a hassle-free way to keep your kitty party guests entertained, printable games are the way to go.
Another option is to base your trivia games on the season you are holding your Kitty Party.  Here are our favorite trivia games for all seasons
Kitty Party Board Games
Kitty Party Board Games are always a hit with guests and especially at a Kitty Party. Ladies love board games as they can sit around the table chatting and playing the game at the same time.
Lulu & You Bubbly - A Girls Night Party Game
Drawing Without Dignity - A Twisted Funny Adult Game
I should have known that! Trivia Game Green
There you have it – some fun games to liven up your next kitty party! So get your girlfriends together and start planning your gathering today. And don't forget to take lots of pictures – these memories will last a lifetime!
More Fun Party Games:
Looking for some fun hen party games that everyone will love? Look no further! These games are perfect for any group, and they're sure to get the party started. So grab your friends and get ready to have a blast!
Get into the Christmas spirit with these fun and festive drinking games! Whether you're looking for something new to add to your party or just want to get a little tipsy while celebrating, we've got you covered. Cheers!