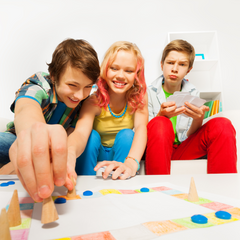 Board games are a great way for teenagers to have fun and spend time with friends. They can be a great source of entertainment, competition and laughter. Board games also provide an opportunity for teens to socialize and interact with each other in a different way than they do when they are online or playing video games.
Board games can also help to teach teenagers important skills such as critical thinking, planning and strategy. In addition, board games can be a great way for families to bond and spend quality time together. So next time you are looking for something fun to do, why not break out the board games?  Here are our favorite board games for teens.
(THIS POST CONTAINS SOME AFFILIATE LINKS FOR YOUR CONVENIENCE: READ MY FULL DISCLOSURE POLICY)
Trivial Pursuit
With Trivial Pursuit, the idea of the game is to travel the board by rolling dice and answering the questions, corresponding to the color of the board tile you are currently on. The categories and difficulty of the questions vary depending on which version of the game you are playing. I would suggest staying away from the Genius edition unless you are ready for a true mental challenge!
Trivial Pursuit Game: Classic Edition
The different types of questions challenge your knowledge of geography, history, arts and entertainment, and even sports. The great thing about this game is that when you don't know the answer, you end up learning something new. I can think of no other game that offers this level of educational gains when you play. And the best part is that Trivial Pursuit is fun to play.
It is a game meant for 2 players, but the more the better. You can pair up as teams, or play individually. Another reason why this game is the best board game for teens is even if you are by yourself, you can still pick up the question cards and test your own knowledge. There are thousands of questions so it will be a long time until you find the same question twice.
Trivial Pursuit also gives the players an excellent setting to build on their social skills and develop friendships. Many times have I been at a friend's house, not knowing everyone, and we start playing Trivial Pursuit. By the end of the game, you have made friends with everyone playing.
 As I mentioned before, there are several versions of this game available. They range from TV show-themed, like Friends, Harry Potter or The Simpsons, to the incredibly challenging Genius edition. Choosing which version fits you is the best way to get the most fun out of this game. Whether it be a family night or a rainy weekend with nothing to do, Trivial Pursuit is the game that will educate teens while at the same time it provides them with fun and excitement.
Trivial Pursuit: Friends The TV Series Edition
Trivial Pursuit Decades 2010 to 2020 Board Game
Trivial Pursuit World of Harry Potter Edition
Smart Ass the Board Game
This game is great to play and promotes that even "the dumb ass can be a smart ass." Set around a board game where each player is a "donkey" or ass as referred to in the game, moves are determined by the roll of a dice. A player reads the questions to the person who is currently in play.
The questions are very easy, giving simple clues to help determine the answer to questions such as What am I, Who am I and Where am I? The best thing about this game is that it's fast-paced and any person playing can answer the question. It makes it adrenaline and action-packed, and extremely hilarious to play.
Smart Ass the board game is highly recommended, as it doesn't contain a lot of skills just some general knowledge and quick thinking. There are also no little bits and parts that need to be gathered or eventually lost.
This game is great for teens as it's quick and easy, a lot of fun, and creates laughter for everyone.
Smart Ass - The Ultimate Trivia Game
Smart Ass The Ultimate Party Game
Cranium
"Outrageous fun for everyone" declares the box. There is no other game I have where this statement is true. Cranium is heaps of fun, especially for teens.
The questions contained in Cranium are easy, but the activities make for such hilarity and entertainment that not only teens find hysterical, but all members of the family.
Not only is trivia part of this game, but it also challenges acting skills, singing skills, and drawing skills. This is one game I highly recommend that your teen will love to play often.
Cranium games offer so many games and the standard game above is only one of them. All Cranium games are a blast to play and encourage fun and hilarity for all. You can also purchase a booster pack with the Cranium game for more questions and activities once the original has been played and used.
Other great games by Cranium that any teen will love are Cranium Zigity and Cranium Family Fun.
Cranium Game
Cranium Dark Game
Cranium Zigity
The Art of Conversation
Would you like to get to know your teen better? Then this game is the one that will surely get the whole family talking.
The Art of Conversation contains cards that are used to kick-start conversation topics. It allows all players to get to share their knowledge and experiences with each other, and share opinions and interests on topics they know and love.
Wits & Wagers
Tired of having to answer a question exactly? Give Wits & Wagers a try. Players are given a question requiring a numerical answer, and each answer is put up for scrutiny. Players then place bets on which answer they think is correct, and the players who bet on the number closest to the real answer win big.
Wits & Wagers is a clever blend of trivia and gambling without the risk of losing money (though it could be played like that?), and not having to get obscure questions dead-on correct should prove popular with teens.
Games Wits & Wagers Board Game | Vegas Edition
Games Wits & Wagers Board Game | Party Edition
Games Wits & Wagers Board Game | Deluxe Edition
Fauna
How heavy is an elephant? How tall is a tiger? Where does a tortoise live when it's not in a zoo? Fauna pushes players to answer these important questions by providing their best guesses and placing betting tokens on a map of the world. The players who correctly identify the animal's region or any adjacent territories, score points.
The first player to score a certain number of points wins. Fauna is another trivia game that doesn't enforce hard and fast facts but instead allows for some margin of error. It's also a fantastic choice for animal lovers.
Logo
Looking for a fun and challenging game that will test your knowledge of slogans, commercials and logos? Look no further than The Logo Game! This exciting game is perfect for teens and provides hours of entertainment. Put your skills to the test and see how many logos you can identify. With so many levels to play, you'll never get bored. So what are you waiting for? Get started today!
The Logo Game - New Edition with All New Questions!
Backgammon
Backgammon is a game for two players, played on a board consisting of twenty-four triangles called points. Backgammon is one of the oldest known board games. Each player has fifteen checkers (or men), which move between the points according to the roll of dice. The objective is to be first to bear off all of one's checkers from the board.

A player may not move into an occupied point and must have both feet touching the ground behind his own checker line at the beginning of each turn. If a piece is hit during play, then it is automatically moved forward to that player'

Classic Backgammon Set
Backgammon Set
Playing board games with teenagers is an extremely satisfying and learning experience. As they grow older their ideas, their hopes, and their maturity change and grow. Playing board games with your teenagers allows the family to keep in touch, have fun and enjoy each other's company.
More Fun Party Games:
A great party needs great games! Trivia games are the perfect way to keep your guests entertained and engaged. From general knowledge questions to themed trivia, we've got you covered. So grab a few friends, some snacks, and get ready to have a blast!
Having a party? These fun candy games are perfect to keep your guests entertained. From classic games like guess the candy to new twists on old favorites, there's something for everyone. So gather up your favorite candies and get ready to have some fun!