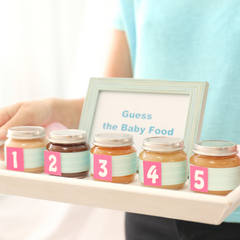 One of the best parts about planning a baby shower is picking out the games. This can also be one of the hardest parts of the planning process. Pick boring games and the party will lag on and have many people scrambling to leave early, pick good games, and have the guests and mom-to-be praising you for your ingenuity. How then can you decide on which games to choose when there are so many to choose from?
(THIS POST CONTAINS SOME AFFILIATE LINKS FOR YOUR CONVENIENCE: READ MY FULL DISCLOSURE POLICY)
Before you can leap into the game choosing process, you need to think about the theme that you have chosen for the shower, the venue, and the season that the Baby shower will be taking place. These three factors can be a great launching point for picking your games.

An example would be if you were having a shower during a warmer month or you're going to be at a larger venue, you can plan more active games such as a treasure hunt. With these factors in mind, you can pick games that will have your guests talking about your party for weeks.
Printable Baby Shower Games
If you're planning a baby shower, one of the best things you can do is to print out some games for your guests to play. They add a bit of fun and excitement to the party, and they're perfect for when you need something to keep people entertained. Plus, they're really easy to set up - all you need is a printer!
These Baby Shower games are easy to print out and have ready for your guests, you could even play this at a quarantine Virtual Baby Shower via zoom by posting the games to all your guests to play along with you. Check out some of our favorite printable games for baby showers below.
Minimalist Baby Shower Games Bundle
This pack of modern baby shower games will be a perfect match for any Baby Shower theme.
A diaper raffle is a fun game to play at your Baby Shower. You will be going through a lot of diapers, so to play this game, your guests will receive a raffle ticket with every pack of diapers they bring.
Then, throughout the course of the party, have them drop their tickets into a bowl or basket. At the end of the shower, draw out one ticket and whoever's name is on it wins a prize! If you are having a large party, you could have 2-3 winners.
Baby Shower Predictions and Advice
Play this fun Baby Predictions and Advice game with your family and friends at your Baby Shower. Ask your guests to fill in their baby predictions and any advice for the new parents. 
Get this Baby Predictions and Advice Printable in our shop or get it FREE below
This treasure hunt is a great way to announce if you are having a boy or a girl. Send your guests on a hunt around the house and the final clue will reveal the surprise.
Bee Baby Shower Games Bundle
This bundle is perfect if you want to make sure you have enough games for your party. Featuring a cute bee theme, this bundle of 10 games will keep your guests entertained.
Baby Bingo
Baby Bingo is a good way to turn a family favorite into a fun baby shower game. You can print off cards from many different websites or create your own. Fill in the boxes with different baby items such as diapers, pacifiers, and bottles. Give everyone some tokens or a bingo stamper so that they can cover the boxes until they reach BINGO.
Baby Shower Trivia Games
Most people love trivia games and they are a great way to test your knowledge. Baby Shower Trivia games are the perfect way to get your baby shower party started and get everyone in the mood for some good laughs. 

You can also use these trivia game ideas as an icebreaker to get conversation going among guests who don't already know each other. We know that celebrating your new bundle of joy can be a little overwhelming at times, but these trivia games will make it so much easier and more enjoyable.
Funny Baby Shower Games
Stroller Derby

Stroller Derby is a fun game to get everyone to get active and be goofy. You'll need to set up an obstacle course with cones of chairs and place a stroller and a baby doll at the start of the course. Give the mommy-to-be a stopwatch so that she can time each guest as they go through the course. The guests will pick up the doll and fasten it in the stroller and then make their way through the course. If they hit a cone or the baby falls out, they must go back to the start. The guest with the fastest time wins the game!
Blindfold Diaper Changing
Each guests gets a teddy bear and a diaper, then they are blindfolded. Start the clock and the first person who changes the diaper in the shortest amount of time wins a prize! No peeking

Nursery Rhyme Mayhem

Nursery Rhyme Mayhem is a good way to test the guest's knowledge of nursery rhymes. This game actually has two different versions that can be fun. The first is to have the mother-to-be pick her favorite nursery rhyme. Copy it into Word and take out random words here and there, so basically it becomes a mad scramble game, and then the guests have to fill it in with how they think it goes.

After they are finished, read the real version of the nursery rhyme, and whoever got closest wins. The other version is to pick out ten to fifteen nursery rhymes and summarize them on a piece of paper. Have the guests try to figure out which nursery rhyme each summary is referring to, and whoever gets the most right wins.

Guess What's In the Diaper

Guess What's In the Diaper is a baby shower staple by now. You get around ten different candy bars and melt them inside a diaper. Number each diaper and have them guess what each diaper contains by smelling and touching the contents. The person with the most correct candy bars wins.
Some people also do the blind diaper testing in which you fill diapers with things like peeled grapes and pudding and have and person blindly feel inside each diaper and try to guess the gross contents.
Pampers Disposable Baby Diapers
Huggies Baby Diapers
Baby Bottle Chug

Baby Bottle Chug is a great game for everyone to feel silly and get in touch with their inner child. You purchase small 2 oz baby bottles for each guest. They don't need to be anything fancy. You can just buy cheap plastic ones from the dollar store. Fill each one with juice or punch and have the guests race to see who can drink it the fastest. This game will your guests laugh at each other and just have tons of fun.
Medium Flow Bottles
Non-Drip Standard Bottles
Baby Bottles Slow Flow
Name Game

Name Game gives the guests a chance to see how well they know the guest of honor. Have the mom fill out their favorite names for each letter of the alphabet and then have the guests guess what the names are from A to Z. The person with the closest list wins.

Guess the Food

Guess the Food can be an interesting game. Buy five to ten baby food jars for each table and remove the labels. Blindfold each guest and put them in couples. Then get each guest to spoon the baby food puree to the other guest and try to figure out what each jar contains, you are welcome to smell the mixture instead. The guest with the most jars correct wins the game.

How Many Words

How Many Words will have many guests think. If you know the baby's name then put the full name at the top of the paper and see how many words the guests can come up with using the name. If you don't know the name then you can use a phrase like 'It's a boy' or a word like 'Congratulations' An example using the word 'Congratulations' could be grail, lion and cat. The guest that can make the most legitimate words from the name or phrase wins.

Baby Item Guess

Baby Item Guess tests the guest's baby item knowledge. Each guest gets a piece of paper and has five minutes to list as many baby items as they can. Whichever guest lists the most real baby items wins!
Pin the Pacifier on the Baby
This game is always good for a laugh as your party guest get blindfolded and have to try and put the pacifier on the baby's mouth, see how close you can get to the correct spot.
Pin the Pacifier on the Baby Game
Guess that Baby

Guess that Baby gives the guests a way to be part of the shower. Have the mom pick out some of her closest friends and family and get a picture of them as a baby and a picture of them today. Put all of the pictures on a bulletin board with the baby pictures on one side and the current pictures on the other. Number all of the pictures and have the guests try to match up the photos. Again the guest with the most correct wins.
Baby Shower Party Game Prizes
When it comes to baby shower games, the prizes can be just as important as the games themselves! Choosing the right prize can encourage guests to get involved and have fun, so it's worth putting some thought into what you'll be giving away. Here are some great ideas for baby shower prizes that are sure to please everyone.
Poppin Bottle Openers for Baby Shower
Unique Baby Shower Prize - Candle
Burt's Bees Gift Set - Baby Shower Game Prize
Play any of these games at the baby shower and expect to have tons of fun. Picking out baby shower games can be a fun experience and a lot of fun to set up. You'll also get the satisfaction of watching all of the guests have fun and make fun of each other. Good luck in choosing games for your upcoming shower!
DOWNLOAD THE FREE BABY SHOWER PRINTABLE GAME - PREDICTIONS AND ADVICE
More Fun Party Games:
Planning a Gender Reveal party? These games will keep your guests entertained and guessing until the very end. From classic games like Team Blue V Team Pink to new twists on old favorites, we've got something for everyone. So grab some friends and play these fun Gender Reveal Games!
Looking for some fun Housewarming Party Games? Look no further! These games will keep your guests entertained and laughing all night long. From charades to keep the key game, we've got you covered. So invite your friends over and get ready to have some fun!