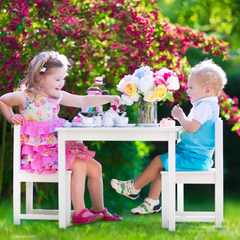 Do you need some ideas for tea party games? Whether you are throwing a children's tea party or an adult tea party, we have some great ideas for you. Tea parties can be so much fun, and adding some games to the mix will make them even more enjoyable. From classic games like Pin the lid on the Teapot to more creative options like making pretend tea cups from Play-Doh, we have something for everyone. Keep reading for our top picks!
(THIS POST CONTAINS SOME AFFILIATE LINKS FOR YOUR CONVENIENCE: READ MY FULL DISCLOSURE POLICY)
Fun Tea Party Games for Kids
Pin the Lid on the Teapot
This classic game is sure to be a hit with your little ones. All you need is a paper teapot and some blindfolds, and you are good to go! Hang a large image of a teapot on a wall or door, and then have each child take turns trying to pin the paper lid on the pot. The one who gets closest wins!
Play-Doh Tea Cups and Treats
This activity is perfect for your younger party guests. For this activity, all you need is some Play-Doh. Let them get creative and make their own unique tea party treats. 
Then provide each child with some modeling clay or Play-Doh, and let them get creative making their own teacups. Once they are done, you can even have a mini tea party with their creations!
Tea Bag Relay
This is a fun team game that will get everyone moving. All you need is a few tea bags and two buckets or bins. The goal is to see which team can throw the most tea bags from one bucket to the other in a certain amount of time.
Spoon & Teacup Race
This is a classic relay race with a tea party twist. Players must spoon up some liquid from a teacup and then transfer it to an empty teacup at the other end of the table. The first team to fill their teacup wins
Balance the Teacup
In this game, players must fill a teacup with water and balance the teacup on a saucer, then walk it across the room without spilling. The player who can do this in the shortest amount of time without spilling any water wins. 
Mad Tea Party Game
Bring the Mad Hatter's Tea Party to your party and play this fun game, play a card and do what if says, build your stack of topsy-turvy tea cups don't let it fall.
Fun Tea party games for Teens and Adults
Tea Party Printable Games Bundle
These fun and cute tea party games will be prefect for any afternoon tea party.
Tea Party Scavenger Hunt
Printable Tea Party Games such as this tea party scavenger hunt are a fun way to get everyone interacting and having fun. Make a list of items that can typically be found at a tea party, and send your guests off to find them. The first person or team to find all of the items wins. You could try this fun printable Tea Party Selfie Scavenger Hunt for the teens and tweens
Find this Tea Party Scavenger Hunt Game in our shop or get it FREE below
Tea Trivia
Test your guests' knowledge with this fun game. Prepare some tea trivia questions ahead of time about tea, its history, and different types of tea. You can even make it more challenging by including questions about specific brands or regions.
Guess the Tea
This is a great game for those who are passionate about tea. Set out a selection of different teas, and have your guests try to identify them by smell and taste. The person with the most correct guesses wins!  Or you could pin up different tea bags and have your guests try to guess identify the tea by smell alone.
Tea Party Relay
This is a fun and active game that is perfect for larger groups. Divide your guests into teams of two and line them up behind each other. At the other end of the room, set up a table with all of the necessary tea party supplies. The first person in each team must race to the table and first get a tea cup and put in on a saucer.
Once they have done this, they must race back and tag the next person in line. The next person runs to the table and puts a tea bag into the cup, then runs back and tags the next person. That person must run to the table and add a sugar cube to the cup. This game continues until all of the items have been added to the teacup.
The last person in the team must carry the completed teacup back to the starting line. The team that finishes first wins!
Who Can Name the Most Types of Tea?
This is a great game for tea aficionados! See who in your group can name the most different types of tea. To make it more challenging, you can set a time limit or give bonus points for naming rare or obscure teas. 
Minute to Win It Tea Party Games
Teacup Stacking
This game is exactly what it sounds like. Using only one hand, stack as many teacups as you can in 60 seconds. The person with the most teacups stacked at the end of the minute wins. Best to use unbreakable tea cups for this game!
Tea Bag Toss
In this game, players take turns tossing a tea bag into a cup from different distances. The player who gets the most tea bags in the cup in 60 seconds wins
Sugar Stack
Each player is given a set amount of sugar cubes. They must make a sugar stack by seeing how many sugar cubes they can stack on each other. Whoever stacks the most sugar cubes in one minute is the winner
Tea Party Game Prizes
A Box of Tea: This is a great prize for the winner of any tea-related game. You can even include a variety of different teas so that the winner can have a nice selection to choose from.
A Tea Mug or Cup: A new mug or cup is always a welcome prize, especially if it's tea-themed. Look for a mug or cup that has a beautiful design or message.
A Tea Infuser: This is a great prize for the tea lover in your group. A good quality tea infuser will make brewing the perfect cup of tea easier than ever.
Prizes for the kids: 
A Tea Party Set: This is a great prize for the little ones in your group. A tea party set usually comes with a teapot, cups, and saucers, and sometimes even some snacks. It's the perfect way to start their own tea parties at home!
Tea Party Prize and Favor Set

Floral Let's Par-Tea Round Candy Sticker

Tea Party Temporary Tattoos

We hope you enjoy these fun tea party games! Tea parties are such a great way to relax and have some fun, and adding some games to the mix will only make them more enjoyable. Do you have a favorite tea party game that we didn't mention? Let us know in the comments below.
DOWNLOAD THE FREE TEA PARTY SCAVENGER HUNT GAME
 More Fun Party Games:
Jump on in! These trampoline games are perfect for all ages and will keep everyone entertained. From simple games to more complicated challenges, there's something for everyone. So grab your friends and family and get jumping!
Ready to celebrate your 18th birthday with some fun games? These 18th Birthday Party Games will get everyone in the mood to have a great time. From classic favorites to new challenges, we've got you covered. So gather your friends and get ready for some unforgettable memories!