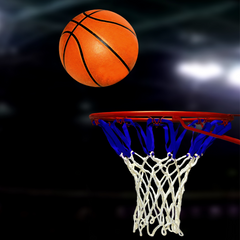 Get ready for some slam dunk action with these easy and fun basketball party games. Basketball party games are the perfect way to add excitement and entertainment to your sports-themed party. Whether you're hosting a birthday party for your kid or an NBA viewing party for your friends, these games are sure to get everyone in the mood for some basketball fun.
From simple shooting games to more challenging ones, these party games will keep your guests engaged and entertained throughout the day. So, put on your basketball jersey, lace up your shoes, grab your ball, and let's get started!
(THIS POST CONTAINS SOME AFFILIATE LINKS FOR YOUR CONVENIENCE: READ MY FULL DISCLOSURE POLICY)
Make Your Basketball Party Fun and Exciting with These Party Games
Knockout Game
One of the most popular basketball party games is the knockout game. It is a fast-paced game that involves all the guests taking turns to shoot the ball while others try to rebound and score. The player who fails to score is knocked out and the game continues until there is only one player left standing.
WILSON NBA DRV Series Basketball
Bulk Rubber Basketballs Size 7
Rubber Basketballs Balls with Pump
Around the World Game
The around the world game is another popular basketball game that can be played individually or in teams. The game involves shooting the ball from different spots around the court. The winner is the first player or team to make a shot from every position.
Basketball Emoji Pictionary
This game is perfect as a starter for a basketball party. Download the printable enough for all guests, then set a timer, then get everyone to try to guess the word from the basketball emoji clues.
Basketball Trivia
Get everyone in the mood for some basketball by testing their knowledge with a round of basketball trivia. You can find great questions online to keep the game interesting and fun.
Passing Relay Race
This game is great for groups of all sizes. Divide the group into two teams and have them stand in two lines at opposite ends of the court. The first person from each team must pass the ball to their teammate in line before they can take their shot. This continues until all players have taken a shot, and the team with the most points wins!
March Madness Basketball Squares
This game is perfect for the basketball season. Download this printable, which has a grid with 100 boxes and assign teams numbers to each box that corresponds with teams playing in March Madness. At the end of each quarter, players can check off their squares if their team has scored more points than the opposing team. The player with the most correct squares at the end of the game wins.
Hot Shot Game
The hot shot game is an enjoyable game that tests your shooting skills. In this game, players shoot the ball from a designated spot, and whoever makes the most shots in a given time wins. You can modify the game by increasing or decreasing the distance or by putting up obstacles.
Arcade Basketball Game Set
"Easy to Set Up and Use!" - With its simple design and easy-to-assemble parts, this basketball game set is perfect for setting up for a basketball themed party. Made with high-quality materials, it is built to last through endless rounds of intense gameplay!
Kids Arcade Basketball Game Set
Basketball Dribble Relay
The basketball dribble relay game is a fun and exciting game that requires teamwork. In this game, players split into two teams and line up in a relay race format. Each player dribbles the ball through a set of cones and passes it to the next teammate until the whole team completes the relay. The fastest team to finish the relay wins.
Free Throw Challenge
The free throw challenge is a simple game that can be played individually or in teams. Players take turns shooting free throws from the free-throw line, and whoever makes the most shots in a given time or has the highest percentage of successful shots, wins.
Inflatable Basket Heads
Are you looking for a way to liven up your backyard party? Look no further than this Inflatable Basket Heads game! This awesome product includes two inflatable baskets with straps and 8 ball pit style balls. Now, grab all your family and friends and create your own rules! Whether you're playing a game of one-on-one basketball or turning it into an obstacle course, this unique set has endless possibilities.
Pool Floating Basketball Hoop
Having a summer pool party? Look no further than this incredible Pool Basketball Toys with Backboard! This set is designed to be used in any swimming pool for hours of competitive playtime, and it sets up in seconds so you're ready to start playing right away.
Floating Pool Basketball Toys with Backboard
Basketball Prizes and Favors
Make sure everyone goes home with a smile by giving out basketball-themed prizes and favors. Give each player a basketball keychain or candy bar; fill favor bags with mini basketballs, stickers, and tattoos. You can also give out trophies for the winning teams to take home as mementos of their victory. 
Basketball Football Birthday Party Favors
Basketball Party Favors
Basketball Tattoos Temporary
With these exciting party games, you're sure to have a slam dunk success at your basketball-themed party. So, don't forget to stock up on basketballs and gather all the necessary supplies for these fun activities. Have a great time with family and friends! 
Basketball party games are an excellent way to add some fun and excitement to your sports-themed party. Whether you're hosting a party for kids, college party or an adult party, these games are sure to keep everyone entertained and engaged throughout the day. So, grab a ball, invite your friends, and get ready to play some basketball! With these games, you're guaranteed to have a fun-filled day that everyone will remember for a long time.
More Fun Party Games:
Looking for ways to make your next pizza party extra special? Check out these awesome pizza-themed games that will get everyone involved and add some serious fun to the night. Serve up a slice of good times with these creative activities.
Take your humor to the next level and have a ball with these fun ball puns and jokes! Whether you're cracking up with your friends or bringing some giggles to your family, this collection of funny one-liners is sure to bring a smile to all