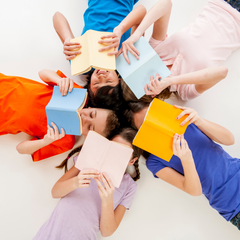 As kids get older, they often want to read books that are a little more challenging than the ones they read in elementary school. But at the same time, they're not quite ready for the heavy stuff that teens and adults read. That's where tween books come in!
These books are perfect for kids who are aged 9-12. They're packed with action, adventure, humor, and just the right amount of drama. Here are some great book series that your tween is sure to love.
(THIS POST CONTAINS SOME AFFILIATE LINKS FOR YOUR CONVENIENCE: READ MY FULL DISCLOSURE POLICY)
How To Encourage Your Tween To Read
As a parent, you know that encouraging your child to read is one of the best gifts you can give them. Reading helps to develop vocabulary and comprehension skills, and it also allows children to explore new worlds and understand different perspectives.
However, getting tweens to crack open a book can sometimes be a challenge. Here are a few tips to help encourage your tween to read:
Start by finding books that interest them. Whether it's history, mystery, or fantasy, there's sure to be a genre that your tween will enjoy. Once you've found a few books that pique their interest, go to the library or bookstore together and let them choose which ones they want to read.
Make reading time fun. Set aside some time each day for reading, and make it special by turning off electronics and other distractions. You can even make it into a family activity by taking turns reading aloud or playing word games together.
Lead by example. Let your tween see you reading books that you enjoy, and talk about why you like them. This will help them see reading as something worthwhile and enjoyable, not just something they're supposed to do for school.
With a little patience and effort, you can help your tween develop a love for reading that will last a lifetime.
Fun Book Series for Tweens
Here are some of the best book series we have found that are perfect for 8-12 year olds.
The Harry Potter series by J.K. Rowling
This is perhaps the most famous book series of all time, and for good reason! The story follows young wizard Harry Potter as he attends Hogwarts School of Witchcraft and Wizardry, makes close friends and powerful enemies, and tries to uncover the truth about his family's mysterious past.
With its unforgettable characters and fast-paced plot, this series is sure to keep your tween entertained from beginning to end.
Harry Potter Complete Book Series Special Edition Boxed Set by J.K. Rowling NEW!
Harry Potter: Film Vault: The Complete Series: Special Edition Boxed Set
The Percy Jackson series by Rick Riordan
If your child loves Greek mythology, they'll be sure to enjoy this exciting book series. It follows Percy Jackson, a 12-year-old boy who discovers that he is the son of Poseidon and is thrust into a world of gods and monsters.
With its mix of action, comedy, and mythology, this series is perfect for tweens who are looking for something a little different.
Percy Jackson and the Olympians 5 Book Paperback Boxed Set
Percy Jackson X 5 Book Set Series Collection
The Warriors series by Erin Hunter
This popular book series is perfect for animal lovers. It follows a group of cats who live in the wild and must stick together to survive against rival clans, humans, and other dangers. With its gripping story and lovable characters, your tween will be hooked from page one.
Warriors Box Set: Volumes 1 to 6: The Complete First Series
Warriors: The New Prophecy Box Set: Volumes 1 to 6: The Complete Second Series
The 39 Clues series by various authors
This action-packed book series follows two siblings as they travel around the world in search of 39 clues that will unlock a secret family treasure. With non-stop twists and turns, your tween will be on the edge of their seat until they reach the very last page.
The Diary of a Wimpy Kid series by Jeff Kinney
This hilarious book series follows middle school student Greg Heffley as he navigates the ups and downs of adolescence with his wry sense of humor intact. Your tween will laugh out loud at Greg's misadventures and relate to his struggles to fit in with his classmates.
With its relatable characters and laugh-out-loud moments, the Diary of a Wimpy Kid series is sure to delight any tween reader.
Jeff Kinney Diary of A Wimpy Kid Series Collection 1-21 Books Boxed Set
The Bad Guys Series by Aaron Blabey
This series follows a group of unlikely heroes who are actually bad guys. They're on a mission to do good deeds, but they always seem to end up in trouble. With its zany characters and hilarious plots, your tween will love following the Bad Guys' misadventures.
The Boxcar Children Series by Gertrude Chandler Warner
This classic book series follows four siblings who live on their own in a boxcar. They have to use their wits and resourcefulness to survive, and they also have to deal with the nosy adults who are trying to track them down.
With its timeless story and lovable characters, the Boxcar Children series is sure to charm any tween reader.
The Baby-Sitters Club series by Ann M. Martin
This classic book series follows a group of friends who start a baby-sitting business in their small town. Each book focuses on a different member of the club, and they all deal with relatable issues like first crushes, family problems, and dealing with bullies.
With its relatable characters and down-to-earth stories, the Baby-Sitters Club series is a timeless classic that any tween reader will enjoy.
The Baby-sitters Club Novels #1-7: Full Color Edition
The Baby-Sitters Club Retro Set
How to Train your Dragon Series by Cressida Cowell
This series follows young Viking Hiccup as he attempts to train a dragon. There are new adventures in each book, and your tween will love following Hiccup and his dragon friend as they face challenges and learn to work together.
With its fast-paced plot and lovable characters, the How to Train your Dragon series is sure to be a hit with any tween reader.
All of these books are engaging and well-written, and will keep tweens entertained for hours on end. So if you're looking for some good books to gift your tween this holiday season, be sure to check out one of these series!