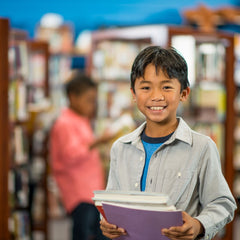 Are you looking for a fun way to explore your local library? A library scavenger hunt is the perfect activity to do with classmates, friends or family. Not only will it get you out of the house and into the stacks, but it can also help you discover some hidden gems that you may have never noticed before. Read on to learn more about how to plan your own library scavenger hunt!
What is a Library Scavenger hunt?
A Library Scavenger hunt is a fun and interactive way to explore a library and discover resources. It typically involves solving a series of clues or riddles that are hidden throughout the library and these clues lead to objects or books.
This is a fun school activity for teachers to assign their students or for families looking for something fun and educational to do on the weekend. It can help children become comfortable in the library, learn how to use the Dewey Decimal system, and even discover new books that they may be interested in checking out.
Working together in small teams, library scavenger hunts not only help people become familiar with the materials available in their libraries but also provide an opportunity for friendly competition amongst participants. They also encourage creativity and problem-solving skills as players work diligently to solve each clue and move closer towards winning!
(THIS POST CONTAINS SOME AFFILIATE LINKS FOR YOUR CONVENIENCE: READ MY FULL DISCLOSURE POLICY)
How do you do a Library Scavenger Hunt?
A library scavenger hunt is an easy activity to set up and play. Here are some tips to get you started.
How To Plan A Library Scavenger Hunt:
Set the Rules: Establish a set of rules for the scavenger hunt including how many clues/objects must be found, how long participants have to complete the scavenger hunt, and how rewards will be given out.
Write Clues: Write down some creative clues that lead to certain books or objects throughout the library. Make sure to include hints so that the clue is not too easy or too hard.
Gather Supplies: Get some supplies such as clipboards, pencils, and prizes for the winners.
Prepare the Library: If you are having a scavenger hunt in a public library, make sure to inform the library staff so they can help you with any questions or issues.
Start the Hunt: Get everyone together and explain the rules of the scavenger hunt. Then, have them all head out to find the clues and objects!
Award Prizes: After everyone finishes, award prizes for whoever found the most clues/objects.
With a little bit of planning, you can make your library scavenger hunt a fun and memorable experience for everyone involved. Just remember that libraries are quiet places, so make sure to respect the rules and keep your voices down while you're searching.
Library Scavenger Hunt Clues
The first step in planning your library scavenger hunt is creating a list of clues. Think of items or topics that would be fun to search for in the library and remember to take into account the ages of the people playing.
It could be something as simple as "find a book with an animal on the cover" or something more complex like "find a book written by an author with a last name that starts with the letter 'Q'". The possibilities are endless. Keep in mind that some items may be easier to find than others. You can either create your own list of clues or use some from our lists below.
Find a science fiction book
Find a picture book with an animal on the cover
Find a book written by an author from a different country
Find a book with a green cover
Find a book published in the 1990s
Find a biography of a famous musician
Find a book with a map in it
Find a book written by an author with the last name Smith
Find a book about space exploration
Find a cookbook
Find an audio book
Find a book you would like to read
Find a book about a country or place you would like to visit
Find a comic book/graphic novel
Find a book written by an author with a first name beginning with M
How to Play a Library Scavenger Hunt
Once you have created your list of clues, it's time to play! Gather up your classmates, friends and family and head to your local library. Make sure everyone has a copy of your clue list and a pen or pencil and set off on your adventure.
As you search through the stacks and shelves, keep track of all the items you find that match each clue. At the end of your hunt, tally up who found each item first and declare a winner! And don't forget, you can always make up new clues for future scavenger hunts if you want to keep playing again and again.
You can decide if you will take a photo of the books you find or if you have to bring the physical books back. Just remember if you do take the books off the shelves you will have to put them back where you found them once you are finished the scavenger hunt.
Set a time limit so the game doesn't drag on - thirty minutes could be enough time to complete the scavenger hunt and keep everyone interested and entertained. To finish it off, consider rewarding participants with a small treat such as cookies or cups of hot cocoa.
A library scavenger hunt is an excellent way to explore your local library while having fun. It's easy to plan, all you need is a list of clues and some willing participants, and best of all, it can be done entirely free at any public library! So what are you waiting for? Gather up some people and get ready for an adventure in search engine discovery!
More Fun Party Game Ideas:
A classroom scavenger hunt is a great way to get your students excited about learning. It's perfect for the first day of school or any time you want to add some excitement to your lesson plan. Your students will love exploring the classroom and finding all the items on the list.
Looking for something fun to do? Why not try a photo scavenger hunt! This is the perfect way to spend an afternoon out with friends, and it's sure to provide plenty of laughs.