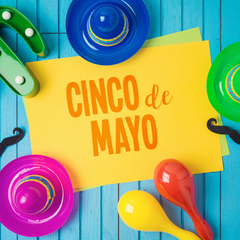 Cinco de Mayo is a fun excuse to get together with friends and eat some great food. But what if you want to take the party up a notch? We have put together some of our favorite games that are perfect for celebrating Mexico's Independence Day.
So what is Cinco de Mayo? It is a holiday that celebrates the Mexican victory over the French at the Battle of Puebla in 1862. While the holiday is not as widely celebrated in Mexico as it is in the United States, it has become a popular excuse for parties and celebrations north of the border.
So whether you're looking for a game to play inside or outside, we have you covered. Read on and get ready to have some fun!
(THIS POST CONTAINS SOME AFFILIATE LINKS FOR YOUR CONVENIENCE: READ MY FULL DISCLOSURE POLICY)
Cinco De Mayo Games for Adults
Chili Pepper Guessing Game
This fun adults game is not for the faint hearted! Players must taste and try to guess which chili pepper or sauce is which. Place different chili peppers in numbered bags and sauces in small numbered containers. Make sure to write down which is which beforehand! Have players go around and smell each one, then take a small taste before writing down their guess. The person who gets the most right, wins. Keep some milk on hand for those who can't handle the heat.
Mexican Drinking Game
This drinking game is strictly for the adults and so much fun. Get a group of friends together and choose one person to be the dealer. The dealer will start by dealing out 5 cards face up to each player. Once everyone has their cards, the dealer will start flipping over cards from the deck, one at a time. Whenever a player gets a match with the card in their hand, they have to take a drink. You can choose to either match the number on the card or the suit or both!
Drink If Game - Cinco de Mayo - Mexican Fiesta Party Game
Plastic Margarita Glasses
Cinco De Mayo Games for Kids
If you want to get the kids involved in the Cinco de Mayo festivities, there are plenty of games that they will enjoy.
Taco Bar Toppings Game
This is a great game to play with a group of friends or family. Set up a toppings bar for tacos with all the fixings. Have everyone make their own taco and then vote on which one was the best. The winner gets bragging rights and a prize.
Piñata Tic Tac Toe
For a more laid back game, try this classic game with a festive twist. Simply draw a tic tac toe board on a piñata. Choose two people to play and the first person to get three in a row, wins the game. They then get to hit the pinata to try to break it open to release some sweet treats. Continue playing the tic tac toe game until the pinata breaks open.
Donkey Pinata for Cinco de Mayo Party

Taco Tuesday Pinata

Cinco De Mayo Cactus Pinata

Pin the Tail on the Donkey or Llama
This is a classic party game with a festive twist! Simply draw or print out a donkey or llama and hang it on the wall. Then, cut out tails from construction paper and write each player's name on them. Blindfold each player in turn, spin them around three times, and see who can get the closest to pinning the tail on the donkey or llama! The winner gets a prize!
Pin The Tail On The Donkey - Mexican Donkey Game

Pin The Tail and Sombrero on The Llama Game

Cinco De Mayo Scavenger Hunt
The object of the game is to find all the items on the your scavenger hunt list. The first person or team to find all the items will win. Kids and teens will love this game and it will keep them busy. The teams can take a photo of each item instead of collecting the actual item
Here are some suggestions of things to find
Sombrero
A guitar
Cactus
A bottle of hot sauce
A picture of a donkey
A Mexican flag
You could even turn this into a Cinco de Mayo Treasure Hunt by making clue cards with riddles to solve which will lead the team to their next clue.
Soccer
Soccer is a very popular game in Mexico, so why not have a game of soccer at your Cinco de Mayo party? You can have a friendly game amongst friends or family, or even make it a tournament with prizes!
Printable Cinco de Mayo Games
One of the best ways to celebrate this fun and festive holiday is by playing some games. There are many different games that can be enjoyed and printable games are perfect for your celebrations. Printable games are available for instant download so they make it easy to celebrate with family and friends. Whatever type of game you choose, it's sure to be a fun way to celebrate this special holiday.
Prize Ideas for Cinco de Mayo Games
Gift cards to Mexican restaurants
Cinco de Mayo Necklace
Festive toys
Taco seasoning
Fiesta Eyeglasses Cinco De Mayo Paper Glasses
Make Your Own Fiesta Stickers Sheet
Mexican Fiesta Scratch Cards Art Set
So, what are you waiting for? Get your party started with these Cinco de Mayo games! Whether you're looking for a way to get the family together or want to add some fun to your fiesta, we've got just the thing. And don't forget to celebrate Mexican culture while you're at it! Olé!
More Fun Party Games:
No one wants to be bored on a road trip. These fun road trip games will keep you entertained and help the time fly by. From classic games like I Spy and Movie Games, to new favorites like Silly Songs! and Would You Rather, there's something for everyone in this list. So next time you hit the open road, don't forget your game bag!
Having an 18th birthday party? Make sure you have some fun games planned to keep your guests entertained. From classic party games like lip sync contest to newer, more challenging games, we've got you covered. So grab a few friends and get ready for some laughs!