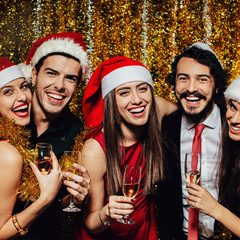 It's that time of year again! Christmas is just around the corner, and what better way to get into the spirit than by playing some festive drinking games? Whether you're celebrating with family or friends, we've got you covered. From classic games like beer pong and flip cup to more creative options like A Christmas Carol and reindeer games, we've got something for everyone. So grab a drink and get ready to have some fun!
(THIS POST CONTAINS SOME AFFILIATE LINKS FOR YOUR CONVENIENCE: READ MY FULL DISCLOSURE POLICY)
Now that you're all warmed up, it's time to get started! Here are some of our favorite Christmas drinking games:
A Christmas Carol
This fun drinking game involves singing Christmas carols. The person starting the round will choose a Christmas carol and sing the first line. The person to their left must sing the second line and so it goes around the circle. If you get the words wrong or do not know the next line you must have a drink/shot. The game can either restart with the next player or you can continue around the circle with the next person singing the next line in the Christmas carol.
Christmas Card Game
You will need a pile of different Christmas Cards for this game. Turn the cards face down and when you are ready to play, everyone must pick a Christmas Card. Ask everyone to turn over their card and look at the picture. Then read out a set of rules and if your card matches any of these rules you must drink. The rules can be things such as drink if;
Your card has a reindeer on it
Your card says Merry Christmas
Your card has a Christmas Tree on it
Christmas Cards

Christmas Cards

Never have I ever
This is a classic game to play with friends and family to get to know each other better (or reveal some secrets!). One person starts by saying "never have I ever…" and then finishes the sentence with something they have never done. For example, "Never have I ever gone kissed someone under the mistletoe." Anyone who HAS done that then has to drink. You can make the sentences Christmas related and as naughty or innocent as you'd like!
Never Have I Ever Party Card Game, Classic Edition

Drink If
This game is simple to play. Write some 'Drink If' cards and players must choose a card and read it out. If they answer yes or if the statement is true then that player must drink. This can include things like
If you can name all of Santa's reindeer you choose someone to drink
Drink if you love Christmas
Drink if there is snow outside
Anyone wearing a Santa Hat must drink
Drink If Game - Wild and Ugly Sweater Party

Drink If Game - Friends Christmas Party Game

Drink If Game - Jolly Santa Claus Christmas Game

Christmas Pong
This one is sure to get you into the holiday spirit! All you need is a few empty plastic cups and some ping pong balls. Set up the cups in a triangle formation at the end of a table, and then take turns trying to bounce the ping pong balls into them. Every time you make a shot, your opponent has to drink.
Glow in The Dark Beer Pong Set

Beer Pong Drinking Games for Adults

Christmas Movie Game
This is a more relaxed Christmas Drinking Game to play. You will need to choose a Christmas Movie to watch, generally a Hallmark movie is best. Then write out the rules such as 'When Jingle Bells is played everyone must drink' or 'when you see someone in an ugly Christmas sweater you all must drink'.
The Alphabet Game
In this game, players must try to think of Christmas related words and phrases starting with each letter of the alphabet. The first person starts with the letter A and they could say something like Angel.Then the next person would have to think of a Christmas related word or phrase starting with the letter B, and so on. If you can not think of a word or phrase within 3 seconds you lose and must drink.
Depending on the size of your group you could also play that everyone must say a word beginning with the letter A and can not say the same word as someone else. If they repeat a word or can not think of one they must take a drink. Then a different person starts the next round and everyone must think of a word or phrase beginning with the letter B and so on. This game can get really challenging, especially after a few drinks!
Flip Cup
This is a fast-paced drinking game that's perfect for large groups. All you need is a table and some plastic cups. Fill the cups up with your beverage of choice, and then line them up in a row. Players take turns flipping their cups upside down and trying to land them back on the table. The first team to finish their drinks wins!
4 in 1 Cup Party Games; Quarters, Flip Cup, Pong, Slap Cup

So there you have it – our top Christmas drinking games. We hope you have a blast playing them all! Which game are you most excited to try? And don't forget to drink responsibly this holiday season! 
This Grinch drinking game is perfect for your holiday party! It's a great way to get everyone in the spirit and keep the party going. Be sure to drink responsibly!
More Fun Party Games:
Christmas is a time when family and friends get together to celebrate. These fun Christmas emoji games will keep you entertained all night long! So gather your loved ones around the table and get ready to have some holiday fun!
Planning a bachelor party and looking for some fun games to keep the night going? Look no further! These games are perfect for any group of guys looking to have a good time. From classic games like beer pong and flip cup to more unique options, we've got you covered. So gather your buddies, stock up on booze, and get ready for a night you'll never forget!