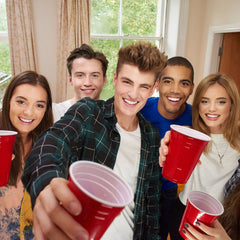 Cornhole is a popular game at many outdoor gatherings, but did you know that you can also use it to play drinking games? Here are some cornhole drinking games that are sure to liven up your next party!
(THIS POST CONTAINS SOME AFFILIATE LINKS FOR YOUR CONVENIENCE: READ MY FULL DISCLOSURE POLICY)
Cornhole Champion
This is a classic game to play with your cornhole board. Easy to learn and simple to play, this game will quickly become a favorite.
Cornhole Game Set Bean Bag Toss
Portable Collapsible 5 Holes Cornhole Game Set
Cornhole with carry bag US flag
To play you will need to split your players into two even teams. One at a time each person will toss the beanbag at the cornhole board to earn points for their team.
3 Points: If they make the shot, and get their beanbag through the hole, their team wins 3 points.
1 Point: If the beanbag does not go through the hole but lands on the wooden part of the board, their team earns 1 point.
0 Points (foul): If you completely miss the board or your beanbag slides onto the ground, you have earned your team a foul.
The first team to make it to 21 points is the winner.
If you want to make this game more interesting, you can add a drinking rule. For example, if a team scores a point, the other team has to drink. Or, if a team scores 3 shots in a row, the other team has to skull their drink. Get creative and come up with your own rules to make this game more fun!
Drinking Challenge
This game is played using the same points system as the Cornhole Champion game. You will earn points if you manage to toss your beanbag into the hole on the board or land it on the board.
At the end of the game tally up the points for each team. This will be how many drinks the team has to take. For example, if a team earned 18 points then they have to take 18 drinks which can be spread between the member of their team.
Cornhole Master
What You'll Need:
Cups for each person
Your favorite alcoholic beverage.
How to Play
Everyone must fill their cup with their chosen beverage and line up all of the cups in front of the cornhole board. Then all players stand in a line up front of the cornhole board.
To start the game, The first player must throw the bean bag and try to get it into the hole. If they are successful, they go to the back of the line and it is the next person's turn to throw a beanbag.
The first player to miss the hole on the corn-board must drink the contents of the cups in front of them, starting with the first cup and working their way down the line of cups. They must continue to drink the cups until someone else misses the hole in the corn-board and that player now becomes the Cornhole Master.
You will need to regularly top up the cups to make sure it is fair on all players. Play continues until you move onto a new game or your favorite beverages run out!
Blame The Bag
This is a quick and simple game. You will need 4 beanbags and a cornhole board. Write one of these words onto each beanbag.
The aim of the game is to throw one of the beanbags at the board and try to sink it through the hole. If you are successful, you can choose one person who must either chug, drink or take a shot of their drink depending on which beanbag you have thrown. But choose carefully because if you miss, it will be YOU that has to take that action! If you choose to throw the 'all' beanbag this means if you get it in the cornhole board hole, everyone playing must take a drink.
Bag Drop
This game is a bit different in that you start with all of the bean bags on the board and the aim is to try to knock your opponents beanbag off the board. Beware, the beanbags are not allowed to be knocked through the hole!
This game is best played with 2 players. Assign each person 4 beanbags of a certain color. They will place 3 of their beanbags on the board and hold onto the last one.
One at a time each player will throw a beanbag onto the board trying to knock their opponents beanbags off the board. If a player knocks one of their opponents bags off, the opponent must chug their drink. If they knock one of their own beanbags off, then they must chug their own drink.
On your second turn, you are allowed to pick up one of your beanbags from the board and use this to throw for your turn. The game continues until one player has knocked all of the other player's beanbags onto the ground.
So there you have it, some fun and easy drinking games that you can play using a cornhole set! No matter which game you choose to play, adding drinking rules will make your next party even more memorable! So grab some cornhole sets and get ready for a night of fun and laughter. Cheers!
More Fun Drinking Games!
Get ready to dominate your next Beer Olympics party with these sick drinking games. Whether you're looking for something new and exciting or a classic game that always delivers, we've got you covered. So grab some friends, stock up on brews, and let the games begin!
Looking for a fun way to get drunk at your next party? Look no further than these Hocus Pocus drinking games! With so many different ways to play, you're sure to find one that will work perfectly for your next shindig. So grab a few friends and some drinks, and get ready to have some fun!