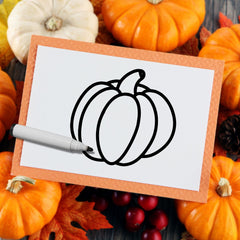 This Thanksgiving, ditch the football game and try something new with your family! Thanksgiving Pictionary is a great way to get everyone involved in some holiday fun. This game is similar to the classic game of Pictionary, but with a Thanksgiving twist.
What is Pictionary?
Pictionary is a game where players draw pictures to guess words. The game is simple: one person starts as the drawer, and the others must try to guess what they are drawing. The drawer picks a card with a word on it. They have 60 seconds to draw the word or phrase to help the others guess what it is.
If the team gets the word correct, they get a point; if not, the other team gets a chance to steal. The first team to reach 10 points wins the game!
Pictionary is a great way to get family and friends together for some fun competition. It's also a great way to improve your drawing skills! So next time you're looking for something fun to do, why not give Pictionary a try?
(THIS POST CONTAINS SOME AFFILIATE LINKS FOR YOUR CONVENIENCE: READ MY FULL DISCLOSURE POLICY)
How to Play Thanksgiving Pictionary
To play, you will need a whiteboard, and markers or can use a pen and paper.
Divide into teams of two and choose one person from each team to be the artist.
The artists will each pick out a card from the bowl
The artist has 60 seconds to draw a picture that represents the word or phrase written on their card. Their team mates must guess what is being drawn.
If the team guesses correctly, they earn 1 point. If they do not guess correctly within 60 seconds, their opponents have a chance to guess and earn the point.
The first team to reach 10 points wins!
Rules of Pictionary
Pictionary is one my favorite games. It's a guessing game where players have to guess the word that their team mate is drawing. The game is simple but it can be really fun and challenging at the same time. Here are the rules of the game:
Players are not allowed to talk or give any verbal clues
Players have 60 seconds to draw the word or phrase
Players must choose their card at random
Only the person drawing is allowed to see the card
Easy Thanksgiving Pictionary Words
Turkey
Pilgrims
Mayflower
Cornucopia
Cranberry sauce
Stuffing
Mashed potatoes
Gravy
Green beans
Sweet potatoes
Pumpkin pie
Apple pie
Whipped cream
Ice cream
Coffee
Tea
Milk
Friends
Corncob
Acorn
Scarecrow
Pumpkin
Bonfire
Pecan Pie
Casserole
Family
Kids Table
Cousin
Black Friday
Thanksgiving Action Pictionary Words
Harvesting 
Family Dinner 

Playing Football 

Eating Turkey
Laughing with friends
Dancing 
Expressing Gratitude 
Macys Parade
Black Friday Shopping
Stuffing the turkey
Making a wish
Taking a nap
Eating Pumpkin Pie
Setting the table
Jumping in the leaves
Picking Apples
Carving the turkey
Thanksgiving Emoji Pictionary
For a fun new take on the classic Pictionary, why not try the very popular Thanksgiving Emoji Pictionary.
You simply print out the sheets and give one to each person. Super easy as all of the drawing has been done for you on this game. Players just have to try to decode the Thanksgiving word or phrase using the emojis on the sheet. Whether the answer is a turkey or a pumpkin pie, get ready to have some fun with this Thanksgiving with Thanksgiving Emoji Pictionary.
So, next time you're looking for something fun to do with your friends or family over Thanksgiving, why not try out Thanksgiving Pictionary? I guarantee you'll have a blast!
More Fun Party Game Ideas:
Looking for a fun game to keep everyone entertained at Thanksgiving? Try Thanksgiving charades! This classic game is perfect for all ages and can be played with as many or as few people as you like. So gather your family around and get ready to have some laughs.
Get your family excited for Thanksgiving with these easy, fast minute-to-win-it games. These games are perfect for all ages and will keep the whole family entertained while you're cooking or waiting for the turkey to finish. So grab a few friends or family members and get ready to have some fun!