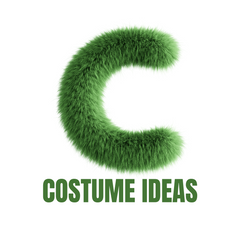 Halloween is just around the corner and if you're anything like me, you're already brainstorming costume ideas. But with so many options to choose from, it can be overwhelming to settle on something that is both original and witty. Well, fear not my spooky friends because I've got you covered with some creative and comical costume ideas beginning with the letter C.
Letter C Costume Ideas for Adults
These costume ideas are perfect for Halloween or any fancy dress occasion.
Cleopatra
Transport yourself back to ancient Egypt and embrace the elegance of Cleopatra, the iconic Queen of the Nile. Adorn yourself with a flowing white or gold dress, a gold belt, elaborate jewelry, and a captivating headpiece.
(THIS POST CONTAINS SOME AFFILIATE LINKS FOR YOUR CONVENIENCE: READ MY FULL DISCLOSURE POLICY)
Captain Jack Sparrow
Channel your inner pirate with a Captain Jack Sparrow costume from the "Pirates of the Caribbean" franchise. Combine tattered clothes, pirate accessories, and don't forget his signature dreadlocks and bandana.
Cruella de Vil
Bring out your villainous side with a Cruella de Vil costume inspired by the infamous character from "101 Dalmatians." Wear a black-and-white fur coat, a red dress, and sport a black-and-white wig. Don't forget the red lipstick and a faux fur stole.
Black and White Spot Halloween Costume
Halloween Cruella de vil costume
Cruella Halloween Costume Dress Up Dalmatian Print
Catwoman
Embrace your feline side with a sultry Catwoman costume. Dress in a tight-fitting black jumpsuit, accessorize with a cat mask or facepaint and gloves.
Women's Cat Cosplay Suit with Mask and Whip
Child's Deluxe Catwoman Costume
Circus Ringmaster
Become the charismatic ringmaster of a whimsical circus. Wear a red tailcoat, black trousers, a top hat, and carry a whip or a cane to complete the look. Don't forget the dramatic makeup!
Circus Ringmaster Costume Men
Child's Ringmaster Costume
Circus Ringmaster Costume Women
Cat
Turn into a cat with simple black clothing and some furry accessories. Don't forget to add whiskers, ears, and a tail for maximum effect!
Charlie Chaplin
Pay homage to the legendary silent film star by dressing up as Charlie Chaplin. Wear a black suit, a white shirt, a bowler hat, and a mustache, and perfect Chaplin's iconic physical comedy.
Charlie Chapman 1920s Star Adult Sized Costumes
Charlie Chaplin Tash and Eyebrows Self-Adhesive
Clark Kent
Channel your inner Superhero by dressing up as Clark Kent, the mild-mannered alter ego of the Man of Steel. Wear a white shirt and blue trousers, add round glasses and slick back your hair to be instantly transformed into this iconic superhero.
Crazy Cat Lady
Embrace your inner feline fanatic with this purrfect costume idea. Wear your oldest bathrobe, carry around a basket full of stuffed cats, and don't forget to add cat ears and glasses. Don't be afraid to get creative and tape a few cat pictures to your robe or add some whiskers to complete the look.
Cinderella's Fairy Godmother
Transform into the enchanting Fairy Godmother from "Cinderella." Dress in a flowing white or pastel-colored gown, accessorize with a wand and a crown, and sprinkle some fairy dust for added magic.
Caveman/Cavewoman
Travel back in time with this classic caveman or cavewoman look. Wear brown or tan clothing, add some furry accessories, and bring along a toy club for added effect. Don't forget to give yourself wild bedhead hair for the full effect.
C3PO Costume
Bring home the gold with this C3PO costume from "Star Wars." Wear a golden boiler suit and add some metallic accessories. You can even fashion yourself a robotic eye piece for added effect. May the force be with you!
Cheerleader
Be the life of any party with a cheerful cheerleader costume. Put on your favorite sports jersey, add some pom-poms and get ready to lead the cheering squad! Don't forget the megaphone and smile. Go team go!
Cheerleading Costume for Halloween
Cheerleader Costume For Fancy Dress
Cheerleader Costume for Women
Convict Costume
Let your wild side take over with this daring Halloween convict costume. Wear an orange or black and white jumpsuit and add some handcuffs for a dramatic touch. Don't forget to draw an inmate number on your chest and accessorize with a ball and chain for full effect. Just don't end up in the slammer!
Cabin Crew Member
Be the pilot or flight attendant of your own spooky plane ride. Wear a navy blue shirt, black pants, a hat and an aviator scarf for added effect. Don't forget to accessorize with a pair of sunglasses so you can fly high in style!
Christmas Elf
Channel your inner elf and spread some holiday cheer with this classic Christmas costume. Wear green or red clothing, accessorize with a pointy hat and some bells, and don't forget to add some playful facial features. You'll be the life of any pre-holiday party!
Cupid
Love is in the air, so why not dress up as the one and only Cupid? Put on a white toga, add some gold embellishments, and finish with a bow and arrow. Don't forget to accessorize with some feathers for that extra bit of love. Spread the love this Halloween season!
Cyclops Costume
Transform into a mythical cyclops with this creative costume idea. Wear a green or brown tunic and fashion yourself some cardboard eye pieces for added effect. Don't forget to carry around a club so you can be prepared for any mythical creatures in your way!
Costume Ideas for Kids
These costume ideas are not just for the kids, adults and teenagers will love these dress up ideas too!
Cinderella
Let your little one transform into a beloved princess with a Cinderella costume. A blue ball gown, glass slippers, and a tiara will help complete the enchanting look.
Captain America
Bring the patriotic superhero to life with a Captain America costume. Dress your child in a blue bodysuit with the signature white star, red and white stripes, and a matching helmet or mask.
Cat in the Hat
Embrace the whimsy of Dr. Seuss with a Cat in the Hat costume. Dress your child in a black bodysuit or clothing, accessorize with a tall red-and-white striped hat, and draw on a black nose and whiskers.
Dr. Seuss the Cat in the Hat Costume for Kids
Kids Cat Costume Tale Book Costume
Cowboy and Cowgirl
Embrace the Wild West by dressing up as a cowboy and cowgirl duo. Wear denim jeans, plaid shirts, cowboy boots, and hats. Accessorize with bandanas and toy revolvers to complete the look.
Cookie Monster
Nothing beats the classic Sesame Street character that loves all things cookies. For this costume, all you'll need is a blue onesie or shirt, a pair of googly eyes, and a cookie in hand. Add a touch of white fabric to create the signature mouth, and you'll be ready to gobble up any treats in sight.
Construction Worker
Build this costume from scratch with a construction worker look. Wear an orange vest or overalls, hardhat, and work boots. Add a construction tool of your choice to complete the look!
Chef
This is perfect for all the aspiring chefs out there. For this fun costume idea, wear a white shirt or apron, black pants or skirt, and accessorize with a chefs hat or bonnet for added drama. Don't forget to bring along playful kitchen tools like a rolling pin or whisk to make your costume even more fun and unique.
Crocodile
Turn your little one into a scaly reptile with a croc costume! Wear green clothing and add some fins to the sleeves and pants. Don't forget the tail and sharp teeth for maximum effect. For added fun, don't be afraid to get creative with an inflatable raft or float to really make your crocodile come alive!
Crayon
Bring out your child's inner artist with a crayon costume! Start by wearing an oversized crayon box, then add some colorful parts like a tutu or skirt and tights for the perfect rainbow effect. To finish off the look, draw on colorful lines on their face and arms to complete the look.
Captain Hook
Let your child become the infamous pirate Captain Hook from "Peter Pan." Dress them in a red pirate coat, black trousers, a pirate hat, and accessorize with a hook hand and a fake parrot.
Clown
Create a playful and colorful clown costume for your child. Use vibrant clothing, oversized shoes, a wig with colorful hair, and face paint to bring the cheerful character to life.
Cow Costume
Turn your little one into a gentle cow with this fun costume idea. Wear a white and black spotted shirt or dress, add some brown ears and horns, accessorize with some white hooves, and don't forget to attach a tail. Your child will look simply moooo-velous!
Crazy Scientist
Step into the lab with this costume idea that is sure to spark curiosity. Dress as a mad scientist with a lab coat, crazy hair, and goggles. Add a touch of creativity and carry around test tubes and beakers filled with "experiments."
Caterpillar Costume
Let your child transform into a cute and cuddly caterpillar with this fun costume idea. Use green clothing, attach some felt antennae to the headband, and add colorful legs and feet for maximum effect. Don't forget to paint on some big eyes! 
So there you have it, some creative and comical costume ideas beginning with the letter C. Whichever one you choose, you're sure to stand out from the crowd. With Halloween right around the corner, don't wait too long to start working on your costume!
More Letter Costume Ideas: