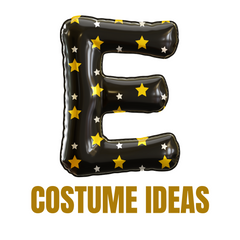 Costume parties are a fantastic way to let your imagination run wild and step into the shoes of your favorite characters or creatures. If you're in search of a unique and exciting costume that starts with the letter 'E', you've come to the right place!
From mystical beings to iconic pop culture characters, there's no shortage of creative options that will make you the star of the party. We will explore some fun and enchanting costume ideas that all begin with the letter 'E'. Let's dive in!
(THIS POST CONTAINS SOME AFFILIATE LINKS FOR YOUR CONVENIENCE: READ MY FULL DISCLOSURE POLICY)
The Best Letter E Costume Ideas
Elf
Transform yourself into a magical woodland creature with an elf costume. Dress in earthy tones, don a pair of pointed ears, and carry a bow and arrow for added authenticity. Whether you choose to be Legolas from "The Lord of the Rings" or a traditional forest elf, you'll look enchanting.
Green Elf Costume for Women
Buddy The Elf Costume Men
Women Girls Christmas Elf Costume
Edward Scissorhands
Channel your inner Tim Burton fan and become the enigmatic Edward Scissorhands. A wild black wig, black leather attire, and scissor hands made from cardboard can complete this iconic look. Don't forget to perfect the pale makeup!
Elsa (Frozen)
Let it go and become the Snow Queen, Elsa, from Disney's "Frozen." A shimmering blue gown, a blonde braid, and a bit of face paint will help you create the look. You can even add a plush Olaf as an accessory.
Frozen Elsa Costume for Girls
Elsa Costume for Girls
Princess Dress Queen Costume
Einstein
For a more intellectual costume, pay homage to the genius physicist Albert Einstein. All you need is a wild white wig, a lab coat, a blackboard, and a marker for some scientific scribbles. Voila, you're the smartest person in the room!
Albert Einstein Costume
Mad Scientist Costume
Elephant
Animal costumes are always a hit, and dressing up as an elephant is both cute and creative. Gray clothing and a DIY trunk, along with some oversized ears, will make you the life of the party. Add a stuffed peanut for a humorous touch!
Elvis Presley
If you're a fan of rock 'n' roll, consider becoming the King of Rock and Roll, Elvis Presley. All you need is a white jumpsuit, a black wig, and some aviator sunglasses. Don't forget to practice your Elvis dance moves!
Ewok (Star Wars)
Star Wars enthusiasts, rejoice! Dress up as an Ewok from the forest moon of Endor. You'll need a fur-covered costume, some primitive weapons, and perhaps a cute little plush Wicket to accompany you.
Child's Star Wars Premium Wicket Costume
STAR WARS Baby Ewok Costume
Girl's Star Wars Premium Wicket Costume
Emoji
Bring your favorite emojis to life by creating a fun and expressive costume. Whether it's the heart eyes, laughing face, or the classic poop emoji, this costume is sure to spark conversations and laughter.
Egyptian Pharaoh 
Travel back in time to ancient Egypt as a pharaoh. With ornate costumes, gold accessories, and elaborate headdresses, you'll exude regal elegance.
Eve (from Adam and Eve)
Team up with a partner and go as the original power couple, Adam and Eve. Leafy loincloths and strategically placed faux leaves will keep your costume party-appropriate while telling a timeless tale.
Eagle
Fly high at the costume party as an eagle. A brown or white outfit with feathers attached and a bird's beak mask will give you a majestic and awe-inspiring appearance.
California Costumes Eagle
White Eagle Mask
Eagle Inflatable Costume
Easter Bunny
If you're looking for an Easter-themed costume, the Easter Bunny is a classic choice. A fluffy bunny suit, floppy ears, and a colorful Easter basket filled with eggs will delight kids and adults alike.
Easter Bunny Costume
Easter Bunny Costume
Premium Rabbit Costumes
Elton John
Pay homage to the legendary British rock star, Elton John, with a flamboyant costume. Choose one of his iconic stage outfits, complete with oversized glasses, a flashy jacket, and a piano-themed accessory.
Evil Queen (Snow White)
Explore the darker side of fairy tales by dressing up as the Evil Queen from Snow White. A dramatic black and purple gown, a crown, and a poison apple prop will make you the fairest (or evilest) of them all.
Evil Queen Deluxe Adult Sized Costumes
Evil Queen Deluxe adult sized costumes
Equestrian
Embrace your inner horse lover with an equestrian-themed costume. Wear riding boots, jodhpurs, and a blazer for an elegant, horseback-riding look. Don't forget a riding crop or a horse accessory.
Equestrian Costume Adult
Horse Riding Equestrian Tights
To wrap it up, finding costume ideas that begin with 'E' is like opening a treasure chest of fun and creativity. You can turn into Elsa or Einstein, a cute elephant, or even an emoji! These costumes are perfect for Halloween, parties, or just having a good time.
No matter your age, 'E'-themed costumes offer tons of choices. They let you step into the worlds of stories, history, and famous people. You can make people laugh, bring back memories, or simply have a great time.
Next time you're stuck for a costume idea, think about starting with 'E'. With some imagination and a bit of DIY effort, you can be the star of any event. So, whether you go for an elegant Egyptian look or a funny emoji face, remember: 'E' costumes are all about having fun and letting your unique style shine!
More Letter Costume Ideas: