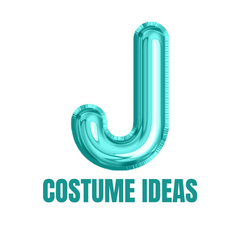 Do you need a way to liven up your next party? Look no further! With so many creative ways to dress up with letter J, your guest are guaranteed to have endless fun and unforgettable experiences. Read on for some awesome ideas for costumes that start with J that will leave you feeling inspired and show-stopping.
These costume ideas are also great for Halloween. Whether you're trick-or-treating with your kids, attending a party with your friends, or just enjoying the spooky atmosphere on the streets, dressing up is a must. If you want to stand out from the crowd this Halloween, forget the typical costume options and consider something more unique. 
(THIS POST CONTAINS SOME AFFILIATE LINKS FOR YOUR CONVENIENCE: READ MY FULL DISCLOSURE POLICY)
Costumes that Start with J
Here are some creative costume ideas that will make you the life of the party.
The Joker
If you're a fan of the infamous Gotham villain, you'll be sure to stand out with this costume. To get the look, you'll need a vest, jacket and pants in green, purple and black, and of course, a Joker mask or facepaint..
We recommend adding some temporary green hair dye and a scar makeup kit for a more authentic look. Don't forget to accessorize with a cane and purple gloves!
The Dark Knight Deluxe The Joker Costume
Joker Tailcoat Jacket Costumes
Jester
Bring some medieval fun to the party with a classic jester costume. Think bold colors, checkered patterns, and bells. Have fun adding your own twist by color-coordinating your makeup to your outfit. Don't forget to practice your juggling skills to complete the look!
Jazz Musician
Nothing says cool like a jazz musician, so why not channel your inner trumpet player with this idea? All you need is a suit, fedora hat, and a prop trumpet. Jazz up your look with some dark eyeliner and bold red lipstick. Remember to dance the night away and enjoy the smooth sounds of the music!
Jedi
Transform into your favorite Star Wars character with a Jedi costume. Get a tan robe, a brown belt, and a toy lightsaber. Enhance your makeup by adding some galactic glitter or star-shaped stickers around the eyes. May the force be with you!
Jedi Costume for Kids
Star Wars Classic Child's Deluxe Jedi Knight Costume
Jedi Brown with White Hooded Robe
Jack O Lantern
Brighten up your Halloween night with a classic Jack O Lantern costume. Start with an orange or black bodysuit and pumpkin hat accented with green leaves and trim. Then, draw in the details of your Jack O Lantern face (triangle eyes, nose, and toothy smile) with fabric paints or markers. Add some extra zing to your outfit by wearing glow-in-the-dark face paint. You'll be ready to light the way for other trick-or-treaters!
Pumpkin Poncho
Jack-O-Lantern Pumpkin Halloween Costume
Jellyfish
Take inspiration from the ocean with a colorful jellyfish costume. Use a transparent umbrella as your base and attach strips of different colors of fabric to represent the tentacles. Add some glow-in-the-dark paint to increase the impact of your costume at night. You'll be sure to create some waves with this one!
Women's Jellyfish Costume
Blue Jellyfish Under the Sea Costume
Curling Jellyfish Skirt
Joan of Arc
If you're looking for a strong lead character, Joan of Arc is a great option. Get a silver breastplate, metal arm cuffs, and a sword prop for some extra impact. Consider adding some red lipstick and smoky eye makeup to bring out your warrior side. March forward with confidence and courage!
James Bond
Slick and stylish, a James Bond costume is a classic choice for any costume party. Get a tuxedo, a white shirt, and a black bowtie. Add your own twist, by wearing sneakers instead of dress shoes. Accessorize with a fake gun or a martini glass. You'll be sure to turn some heads, with your spy-like moves!
Princess Jasmine
Add a touch of Agrabah to the party with a Princess Jasmine costume. All you need is a turquoise top and pants, and a matching headpiece with gold accents. Accessorize with gold bracelets, earrings, and necklaces for some extra bling. You'll feel like a true princess with this look!
Jurassic Park 
Bring some prehistoric action to the party with a Jurassic Park costume. Get a green shirt, khaki shorts, and a toy dinosaur prop. Add some fake leaves and palm trees to the outfit for a truly natural look. Create some dino-terror with your roars and growls! Or go full dinosaur with a fun dinosaur onesie!
Johnny Depp Character
If you're a fan of Johnny Depp movies, transform into his iconic characters, Captain Jack Sparrow and Willy Wonka. To create Captain Jack Sparrow's look, wear ragged clothing, accessories like a hat, bandana, and pirate boots, and paint your face with some black and white makeup. Don't forget to practice those quirky mannerisms and accents.
To transform into Willy Wonka, wear a purple suit coat, green pants, brown boots, and accessorize with a sequined bowtie, and top hat. Create the perfect Willy Wonka hairstyle by slicking back your hair and using some hairspray to keep it in place.
Jaguar
If you're an animal lover, consider dressing up as a jaguar. A jaguar symbolizes power and strength in various cultures. To make the costume at home, use a black skin-tight clothing, black gloves, and shoes.
Draw black spots on your outfit and use black face paint to create whiskers and cat-like eyes. You can also use some faux fur to create ears and tail. With this costume, you'll be sure to turn heads.
Japanese Samurai warrior
Samurai culture is another fantastic option for a Halloween costume. A samurai costume includes traditional clothing, armor, and the iconic katana sword. When creating the costume, choose a deep-red, silver or black fabric for your kimono-style robe, a black silk or cotton cord to tie the robe and a pair of traditional Japanese sandals called Waraji.
For the armor, use cardboard and coat it with silver paint. Don't forget to practice your movements and poses, like bowing and walking slowly, to perfect the samurai character.
Judge
If you're interested in authority figures, dressing up as a judge can be an innovative and easy option. A traditional judge costume includes a black robe, white shirt with a stiff collar, and a necktie. You can create a wig with a white powdered look or buy one to match the judge's look. Don't forget to accessorize with a gavel, which is essential for judges to deliver the verdict in movies and real life.
Judge Costume Accessory
Judge Costume Accessory
Judge Costume Accessory
Justice League Team
Embodying superheroes like Superman, Wonder Woman, Batman, and Aquaman can show your admiration for them while being fun. The trick is to choose a superhero you resonate with the most and gather the appropriate accessories.
Superman costume requires a blue suit with the iconic red and yellow S, red cape, and red boots. For Wonder Woman, accessorize a red corset with a gold belt and matching wristbands, and star-spangled blue shorts. For Batman, wear a rubber suit with a black cape and accessorize with a utility belt and cowl. For Aquaman, pair a green body armor shirt with long orange pants and accessorize with a trident.
Juliet
If you want to dive into the Renaissance era, Romeo and Juliet costumes are a perfect fit and an ideal couples costume idea. The costumes comprise Renaissance-style clothes like a frilly shirt, doublet, and leather boots. For Juliet, wear a long dress with a corset, puffy sleeves, and style your hair with braids. For Romeo, wear a long-sleeve shirt, a doublet, and a calf-length gold belt. Accessorize with thigh-high boots, a hat, and a sword.
Jockey
The last costume idea is for those passionate about horses; dress up as a jockey. For this costume, wear a riding helmet, white shirt with colorful patchwork, white pants or jodhpurs, a horse-riding saddle pad, and boots to create the perfect jockey look. Don't forget to accessorize with a riding crop, and you'll look like you just came out of a horse race.
More Fancy Dress ideas starting with J
If you are wanting even more J costume ideas, here are some you may not have thought of yet.
Characters beginning with J
Jack Sparrow (Pirates of the Caribbean)
James Bond
Jasmine (Aladdin)
Joker (from Batman)
John Snow (Game of Thrones)
Joan of Arc
Jessica Rabbit (Who Framed Roger Rabbit)
Judge Dredd
John Wick
Jane Jetson (The Jetsons)
John Lennon
Julius Caesar
Jason Voorhees (Friday the 13th)
Joffrey Baratheon (Game of Thrones)
Jonny Bravo
James T. Kirk (Star Trek)
Jean Grey (X-Men)
Jabba the Hutt (Star Wars)
Jack Skellington (The Nightmare Before Christmas)
Jane (Tarzan)
Jean Valjean (Les Misérables)
James (Team Rocket, Pokémon)
Jiminy Cricket (Pinocchio)
Jareth the Goblin King (Labyrinth)
John McClane (Die Hard)
Joey Tribbiani (Friends)
Jane Austen (Author)
Johnny Depp (Actor)
Josephine Baker (Entertainer)
Juliet Capulet (Romeo and Juliet)
Occupations beginning with letter J
Jedi Knight 
Jester
Journalist 
Judge 
Janitor 
Jewel Thief 
Juggler 
Animal Costumes Starting with J
Jaguar
Jellyfish
Jackrabbit
Jaybird.
Jumping Spider
Jackal
Jungle Cat
Celebrity Ideas Starting with letter J
These celebrity-themed costume ideas starting with the letter "J" should give you a range of options to choose from for your fancy dress party
Johnny Depp

Jennifer Aniston

Justin Timberlake

Julia Roberts

Jack Nicholson

Jessica Alba

John Travolta

Julia Louis-Dreyfus

James Franco

Jada Pinkett Smith

Jonah Hill

Jim Carrey

Jennifer Lopez

Jake Gyllenhaal

Jamie Foxx

Jude Law

Julia Stiles

Jason Momoa

John Cena

Jennifer Lawrence

Jared Leto

Jamie Lee Curtis

Jane Fonda

Jason Segel
Janet Jackson
Jodie Foster
A dress up party or Halloween party is a time to showcase your creativity and have some fun, so don't settle for a boring costume. Choose one of these unique and creative ideas, let your personality shine through, and have a blast!
More Letter Costume Ideas: