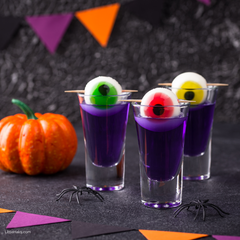 Looking for some festive Halloween party drinks to enjoy with your kids, tweens or teens this year? Look no further! We've got a wide variety of spooky and delicious drinks that everyone is sure to love. From classic pumpkin spice lattes to creative spooky drinks made from all sorts of different fruits and juices, we've got something for everyone. So get ready to get in the spirit with these Halloween drinks!
Witches Brew
Here is a great way to get your kids excited about Halloween! This drink uses just 5 simple ingredients and you can put it together in just minutes. Kids will love the bright colors and sweet flavor and best of all you can customize this drink to suit whatever ingredients you have on hand.
Ingredients:
Lime sherbet (or icecream)
Gummy worms or other Halloween Candy
Whipped cream (optional)
Instructions:
Pour in the Gatorade until the glass is 1/3 full. Scoop lime sherbet/ice cream into the glass then slowly add sprite/lemon-lime soda to fill the glass up. Now comes the fun part of adding the decorations. Add a squirt of whipped cream and pop in some gummy worms or eyeball candy.
Trolli Sour Brite Crawlers Gummy Worms
Green Paper Straws
Mason Jar 16 Oz. Glass Mugs with Handle
Monster Milk
If you are looking for something a bit healthier this Halloween then try this fun Halloween Monster Milk. Easy to make but it looks so fun.
Ingredients:
Milk
Food coloring
Mini Marshmallows
M&Ms
Instructions:
Fill your glass with your choice of milk then add a couple of drops of food coloring. Blue or green are good spooky monster colors. Mix your drink well. To make the monster eyes, push your skewer through the side of a marshmallow. Attach an M&M candy to the marshmallow with icing.
Plastic Spiders
Puffed Marshmallows
M&M'S Chocolate Candy
Zombie Halloween Punch
This drink is simple to make and the gummy worms and plastic spiders add just the perfect spooky look.
Ingredients:
Instructions:
Fill your glass 3/4 full with lemon-lime soda (or use 1/2 glass lemon-lime soda and 1/4 glass of pineapple juice). Add a few drops of green food coloring and stir well.  Drop in some gummy worms and candy eyeballs and finish off with spooky Halloween straw.
Eye Ball Candy
Sour Gummy Worms
Halloween Paper Straws
Pumpkin Spice Latte 
One of our all-time favorite Halloween drinks is the pumpkin spice latte. This classic fall drink can be easily made at home with just a few simple ingredients.  Just mix everything together and voila! You've got yourself a delicious, non scary pumpkin spice latte. 
Ingredients:
Instructions:
Mix all ingredients together and enjoy! If you want to make things a little more festive, you can always top it off with some whipped cream and a sprinkle of cinnamon or Halloween sprinkles.
Canned Pumpkin Puree
Halloween sprinkles
Reddi Whip Original
Magic Potion 
You can use a variety of flavors for this Magic Potion. This is such a fun Halloween drinks as it uses dry ice make the drinks look spooky.
Ingredients:
Cranberry Juice, Orange Juice or Apple juice
Frozen limeade concentrate, thawed
Lemon-lime soda
Dry ice 
Instructions:
Choose which color drink you would like to make and use either cranberry, apple or orange juice. To make this drink combine juice, limeade concentrate and lemon-lime soda in a glass. Add 1/2 inch chunk of dry ice to the glass. The ice will sink to the bottom and will start to give off the spooky smoking effect.
*Remember do not touch the dry ice with your bare hands. 
To add to the spooky look, you can pop in a spider or Halloween drink stirrer. Serve immediately and enjoy!
Spooky Halloween Swizzle Sticks

Plastic Halloween Picks

Bat Plastic Drinking Straws

Eyeball Blood Soda
This spooky drink is sure to be a hit with the kids! You can also make the eyeballs ahead of time and freeze them. Then pop a couple of these frozen eyeballs into the drink when you are ready to serve.
Ingredients: 
Fruit punch
Lychees
Blueberries
Instructions:
Strain the lychees to drain off the liquid. Wash your blueberries and carefully press a blueberry into each lychee. Canned lychees have a hole in each end so be careful not to push the blueberry in too far.
Pour your choice of fruit punch into a glass and drop in 4-5 eyeballs. For an extra-creepy effect, float some Halloween shaped ice cubes in the punch as well.
Polar Polar Lychee No Sugar Added

Organic Wild Blueberry Powder

Drinking Glasses Can Shaped Glass

Swamp Blood
This is the ultimate Halloween drink and will score you points with the kids for Halloween Spookiness!  Kids will love the sweet flavor of the drink and the dripping 'blood' will have them lining up for more!
Ingredients: 
Green Hawaiian Punch
1/4 cup Corn syrup
6-8 drops of Red food coloring
Instructions:
Pour some corn syrup into a shallow bowl and mix in red food coloring until you reach the desired color. Then hold your glass and dip the rim into the red syrup. Quickly turn your glass up the right way and the syrup will start to drip down the sides and look like blood. If you are not serving this immediately, you may need to freeze the glasses for a few minutes to allow the syrup to harden and not continue to drip down the glass.
Fill your glass with green Hawaiian Punch and serve.
Hawaiian Punch Green Berry Rush

Liqua-Gel Food Coloring Super Red

Dracula's Potion
This creaming gruesome Draculas blood drink is perfect for Halloween! With whipped cream, ice-cream, strawberry syrup and raspberry topping, it's sure to be a hit with the kids! Kids will love this drink as they help you make it and watch the transformation from white to red. Add some Dracula teeth candy to add that extra special touch!
Ingredients:
1 cup whipping cream
1 cup ice-cream
¼ cup strawberry syrup
Raspberry syrup/topping
Dracula teeth candy (optional)
Extra Whipped cream
Instructions:
Add whipping cream and ice-cream to blender. Blend until smooth. Pour strawberry syrup in glass coating the inside walls of the glass, then add the whipped cream and ice-cream mix, top with more whipped cream, raspberry topping and Dracula teeth candy.
Gourmet Sugar-Free Strawberry Syrup

Gummy Teeth

Sugar Free Raspberry Syrup

Trick or Treat Punch
If you are looking for a delicious drink that is not too spooky, this Trick or Treat Punch would be perfect. Decorate the rim of the glass with whatever color you choose and you will have a fun and easy kids Halloween drink.
Ingredients: 
Hawaiian Punch
1/4 cup Corn syrup
Colored sanding sugar
Instructions:
Pour some corn syrup into a shallow bowl. Fill a saucer with the colored sanding sugar. Dip the rim of the glass into the syrup. Immediately add the colored sugar by either rolling the rim of the glass along the saucer of sugar or sprinkling the sugar over the glass rim. Add Hawaiian Punch and decorate with Halloween decorations.
Red Edible Sanding Sugar

Hawaiian Punch Fruit Juice

150 Pieces Plastic Spider

Pumpkin Punch
This festive punch is perfect for any Halloween party! Give the kids something that's both delicious and nutritious with this homemade pumpkin punch. Made with just a few simple ingredients, this punch is sure to be a hit with ghosts and goblins of all ages.
Ingredients:
Pumpkin puree
Cinnamon
Sparkling water
Candy corn
Instructions:
To make the punch, simply combine apple juice, pumpkin puree, and cinnamon in a blender and blend until smooth. Then pour the mixture into a punch bowl and add your favorite sparkling water. For an extra festive touch, garnish each glass with orange and black sanding sugar and garnish with candy corn. Decorate you glasses with vinyl decals you made from your cricut machine or these Halloween stickers.
So whether you're hosting a Halloween party or just looking for a fun way to celebrate the holiday with your family, this pumpkin punch is the perfect way to do it.
Brach's Candy Corn

Pure Pumpkin Puree

Halloween Sprinkles

Fun DIY Halloween Drink Ideas
If you have run out of time or don't have the right ingredients you can still make a fun and spooky Halloween drink. Just use whatever drink you have at home and decorate the glass with googly eyes, paper/pvc bats or vinyl decals made from your cricut machine
Halloween 3D Bats Decorations

Googly Eyes Self Adhesive

Halloween Pumpkin Craft Stickers

These are some great ideas for spooky drinks the whole family can enjoy this halloween! Get creative and mix up something special for your Halloween party! They can be as creative and spooky as you like, make your own recipes up as there is no limit to what you can create! Whatever you choose to make, we hope you have a spook-tacular Halloween! Cheers!
What is Dry Ice?
Many Halloween drinks use dry ice to create a spooky look and you may be wondering what exactly it is and how to use it.
Dry ice is a type of ice that is really cold and can be used to make your drink look foggy and spooky looking! Just be careful NOT to touch it with your skin as it can cause injury.
You can usually buy dry ice from supermarkets or gas stations. It is important to make sure that you buy food grade dry ice as this is the only type that is safe to use in drinks.
Dry ice is generally safe to use in drinks, however it is important to be careful when handling it. It is very cold and can cause injury if it comes into contact with your skin. Never put dry ice in a sealed container as this can cause the container to explode. Always use gloves or tongs when handling dry ice and supervise children.
Remind your guests not to drink the dry ice! The ice will take about 5 minutes to melt in a glass and you can safely take sips with the ice at the bottom of your drink. If serving this to young children, it is best to make the punch with the dry ice in a punchbowl. Then scoop out the punch without any dry ice cubes to give to children.
More Fun Party Ideas:
Looking for some fun and spooky games to keep your kids entertained this Halloween? Check out these printable Halloween games that are perfect for all ages. Print them out and get ready for some serious Halloween fun!
Looking for some spook-tacular Halloween game prizes? Look no further! These eerie, yet irresistible goodies are sure to please everyone at your next Halloween party. So what are you waiting for? Start collecting these frightfully fun treats today!