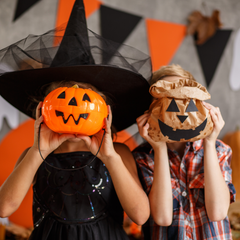 Are you hosting a Halloween party this year? You have probably organized the party food and decorations but have you thought about prizes for your Halloween Games? 
Most people love a bit of competition and having the chance to win a prize will make your games exciting. It is always fun to give out prizes at your Halloween Party and there are many ways your guests can get a prize. Things like winning a game, having an unusual Halloween costume or finding prizes in a Halloween Treasure Hunt or Scavenger Hunt.                                       
We have put together a list of spook-tacular prize ideas for kids, teens and adults. Whether you're looking for something small or something big, we've got you covered. So what are you waiting for? Start browsing our selection of prizes for Halloween games and get ready to have a blast this Halloween!
(THIS POST CONTAINS SOME AFFILIATE LINKS FOR YOUR CONVENIENCE: READ MY FULL DISCLOSURE POLICY)
Kids Halloween Game Prizes
Children love the chance of winning a prize so make sure you have plenty on hand. Plenty of smaller items are a good idea and don't forget the candy! Every kid loves candy so be sure to have a good selection to include with each prize.  You could have one larger prize as well as the smaller ones. This grand prize should be something special that the kids will be excited about. A good prize for a Halloween Party would be movie tickets or tickets to a Halloween attraction.
Here are some great prize ideas that will surely make your younger Halloween Party guests happy. 
Kids Halloween Bracelets for Prizes

Halloween Wind Up Toys

Halloween Prize Ideas for Teenage Girls
Finding a prize for teens can be tricky-they are at the age where they feel too old for some things but are still too young for others. If you're looking for the perfect prize for a teenage girl this Halloween, look no further. We've listed some great prize ideas from gift cards to makeup kits, and everything in between. So start browsing and get ready to make this Halloween the best one yet!
Halloween's Day Bow Knot Hair Pins

Halloween Nail Stickers Glow in The Dark

Horror Classic Movie Characters Keyring

Halloween Prize Ideas for Teenage Boys
Choosing prizes for Teenage boys does not have to be hard. Most boys will love all things spooky. Here are our top picks for teenage boys prize ideas
Glow Blacklight Face and Body Paint

3D Small Black Temporary Tattoos

Adult Halloween Game Prizes
Don't forget the adults this Halloween. You will not need as many prizes for the adults as you do with the younger guests. Have a couple of prank/funny prizes and a couple of main prizes.
Halloween Candy Handout Ideas for Trick-or-Treaters
If you're looking for a way to give back this Halloween, why not hand out candy to trick-or-treaters? Here are some ideas for what you can include in your goodie bags:
Whatever you choose to include, make sure it's something that everyone will enjoy. And don't forget to have fun with it! After all, Halloween is all about getting spooky and enjoying some sweet treats. So go ahead and get creative with your candy handouts this year. Your trick-or-treaters are sure to love whatever you come up with!
Costume Contest Prize Ideas
A Halloween Costume contest is a great way to add some fun and excitement to your Halloween party. Adding in awards, trophies and prizes makes it more exciting. But how do you make sure everything runs smoothly? Here are a few tips:
First, decide what type of contest you want to have. Do you want it to be judged by a group of people, or do you want everyone to vote on their favorite costume?
Once you've decided on the type of contest, it's time to start planning. Make a list of all the prizes you want to give away, and start collecting them.
Now you will need to make a plan for the actual contest. Will it be a simple walk-around judging, or do you want to have a more structured event?
Finally, it's time to make sure everyone knows about it ahead of time, so they can start planning their costumes.
Some award ideas for your Halloween Costume Contest. You could give trophies or certificates and prizes for different categories such as
Include a small prize with each certificate or trophy. This can be as simple as some Halloween candy or give away a gift card with the major awards.
Cheap Halloween Game Prizes:
Halloween party game prizes don't have to be expensive to be fun! They just need to be creative! Here are some cheap Halloween game prize ideas:
Halloween Pumpkin Box Party Favors Set

Halloween Punch Balloons

Halloween Party Toys Assortment

As you can see, there are many fun and inexpensive prizes that you can give out at your Halloween party this year! So get creative and have fun! Happy Halloween!
No matter what prizes you choose, your guests are sure to love them! So have fun and get creative with your party this year! 
Still looking for more Halloween inspiration? Check out our blog for more ideas on how to make this holiday the best one yet. From games and prizes, to food and decor, we've got everything you need to make this Halloween a hit. So what are you waiting for? Start browsing and get ready for a spook-tacular time!
More Fun Party Games:
Looking for some fun, spooky games to play at your next Halloween party for tweens? Check out these ideas that will keep tweens entertained all night long. From classic games with a Halloween twist, to new and exciting challenges, there's something here for everyone. So get ready to have some scary fun!
Looking for some fun, printable Halloween games to keep the little ones occupied? Look no further! These games are perfect for all ages and can be printed right at home. So get ready to have some spook-tacular family fun this Halloween!