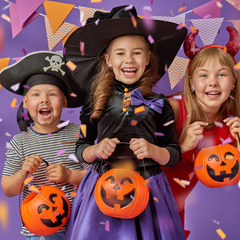 Are you looking for something fun to do with the kids, tweens or teens this Halloween? A Halloween scavenger hunt is the perfect activity with a spooky twist! It's a great way to get everyone out of the house and into the Halloween spirit.
We've put together some fun Halloween scavenger hunt ideas that are sure to get the kids moving and excited for the holiday.
(THIS POST CONTAINS SOME AFFILIATE LINKS FOR YOUR CONVENIENCE: READ MY FULL DISCLOSURE POLICY)
You could start with a simple Halloween Scavenger Hunt. Print out a list of items everyone has to find, such as a black cat, a spider web, a pumpkin, etc. Give everyone a set amount of time to find all the items on the list. The first person or team back with all the items wins.
Here are some ideas for items to include in your hunt:
For a more challenging hunt, try our Halloween Photo Scavenger Hunt. This hunt requires everyone to take photos of the items on the list instead of just finding them. This is a great way to get everyone exploring their neighborhood or local park. Include things such as
Take a selfie with a pumpkin
Take a photo with a spider
Take a photo of a Halloween decorations
Printable Halloween Scavenger Hunt
For an extra challenge, try our Halloween Treasure Hunts. This hunt requires everyone to find specific items and then solve a puzzle to figure out where the next clue is hidden. This is a great way to get everyone working together to solve the puzzles and find the treasure!
If you really want to up the ante, try our Halloween Scavenger Hunt with a Twist. This hunt includes all the elements of a traditional scavenger hunt, but with a few spooky surprises thrown in! Include some fun challenges that everyone will have to complete, such as taking a selfie with a scary statue or finding the perfect hiding spot for a jump scare.
These printable Halloween Treasure Hunts are so much fun for kids, tweens and teens. They take very little preparation and are perfect for getting everyone out of the house and into the Halloween spirit!
Themed Halloween Scavenger Hunts
To make things more interesting, you could theme your Halloween scavenger Hunt. 
The Witch's Cauldron
This hunt is all about finding items that would typically go into a witch's cauldron. For example, you can hide things like plastic frog, snake, eyeball, bones, and bugs toys. The key is to make sure the items are small enough to hide easily, but not so small that they're impossible to find.
You can also make this hunt more difficult by requiring the kids to find items that are specific colors. For example, you could hide 10 green frogs and 10 black bugs. Or give each team a witches cauldron and a list of items they need to find to make their witches brew. When each person finds an item on the list they must drop it into their cauldron. First team to complete their list will win.
Halloween Witches Black Cauldron
Mini Green Frogs
Plastic Spiders for Halloween
Mummy's Tomb
This hunt is similar to the witch's cauldron, but with an Egyptian twist. Hide items like scrolls, jewelry, coins, pots, and statues. Again, you can make this more difficult by requiring certain colors or by hiding the items in specific places (like under bushes or in tree hollows).
100 Pieces FakeCoins
Halloween Charms
Halloween Charms
Haunted House
This is a great team-building exercise for larger groups of kids. Break the group into teams of two or three and give each team a list of items they need to find in order to build their own haunted house. Items could include spooky props like spider webs, skeletons, bats, rats, ghosts, and gravestones. When they have found their spooky decorations, they will need to decorate a corner of the room. The team with the best decorated space will win.
Skeleton Halloween Decoration
Halloween Foam RIP Graveyard Tombstones
Spider Webs Halloween Decorations
Pumpkin Patch
This hunt takes place in your very own backyard pumpkin patch! Before you start, give each team a pumpkin. You will need to draw a simple map of the 'pumpkin patch' with numbered stations. At each station, hide a small bag containing things like seeds, leaves, marker pens, acorns, berries, and pinecones. The goal is to find all of the hidden bags and then each team will use the contents to decorate their team pumpkin.
Goblin Treasure
For this hunt, you'll need to create a treasure map (this can be as simple as drawing a picture of your backyard with X marks the spot). Then hide small treasures like gold foil-wrapped chocolate coins or toy jewels around your yard. The first person back with all of the treasures wins!
No matter which hunt you choose, everyone is sure to have a blast! So get out there and start exploring with our fun and spooky Halloween scavenger hunt ideas. Happy hunting!
More Fun Halloween Party Games Ideas:
Looking for some fun and spooky ideas for your next Halloween party? Check out these awesome Halloween charades ideas that are perfect for the occasion! From classic horror movie characters to modern pop culture references, there's something here for everyone. So get ready to get scared - with laughs - tonight!
Looking for some fun Halloween game prizes? Look no further! We've got a list of spook-tacular prizes that will get everyone in the Halloween spirit. From temporary tattoos to Halloween scratch it cards, we've got something for everyone. So start planning your next Halloween party and be sure to include these awesome prizes!