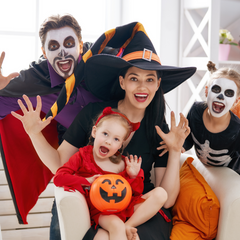 Halloween is a fun holiday for all ages. One of the best ways to get into the holiday spirit is by playing some spooky games. 
Halloween charades is a great way to get the family together and have some fun. To play, divide into two teams and have one player from each team start by acting out a Halloween related word or phrase. Remember you can use any type of body language, but no words!
The other players on the team must guess what the word or phrase is before time runs out. If they are successful, they earn a point for their team. The game continues until all players on both teams have had a turn. Charades is a fun way to get everyone involved in the party and can be tailored to suit any group size or age. 
We've put together a list of the best Halloween charades ideas to get you started.
 Easy Halloween Charade Ideas
Mummy
Witch
Haunted House
Ghost
Dracula
Frankenstein
Werewolf
Zombies
Vampire
Skeleton
Pumpkin
Black Cat
Spider
Cobweb
Graveyard
Halloween
Brains
Superhero (

Catwoman, Batman, Spiderman, Wonder Woman, Superman, Aquaman, The Flash etc)
Printable Halloween Charades
If you are looking for a quick and easy way to play charades this Halloween, then these printable charade cards are for you! Simply print out the pages and cut them into strips. Then, have each player draw a slip of paper and act out the charade without speaking. The first person to guess correctly wins that round.
Halloween Action Charade Ideas
Trick or Treating
Carving a Pumpkin
Eating Halloween Candy
Being scared
Being chased by a Zombie
Going trick or treating
Making a witches brew
Riding a broomstick
Dressing up in a costume
Going to a Halloween party
Watching a scary movie
Bobbing for apples
Witch casting a spell
Hard Halloween Charade Ideas
Headless Horseman
Mad scientist
Friday the 13th
Flying Bat
Night of the living dead
Classic Halloween Movies to Act Out in Charades
The Addams Family
Beetlejuice
Casper
Corpse Bride
Edward Scissorhands
Hocus Pocus
It's the Great Pumpkin, Charlie Brown
Nightmare Before Christmas
The Addams Family Values
Twitches
Halloween Villain Match up printable and Horror Movie Emoji Pictionary Printables have some great ideas to help give you some ideas for your charades.
TV Shows to Act Out in Charades
American Horror Story
Buffy the Vampire Slayer
Charmed
Dark Shadows
Sabrina the Teenage Witch
Supernatural
The Walking Dead
True Blood
The Twilight Zone
Charades is a great way to get everyone in on the Halloween fun. We hope our list of the best Halloween charades ideas has inspired you to get creative and have a spook-tacular time!
More Fun Halloween Party Game Ideas:
Halloween is a great time to get together with friends and family and have some spooky fun. One way to do this is by playing the Halloween Body Parts Game. 
Teenagers especially enjoy this spooky holiday. There are many different games that teens can play on Halloween. Some popular games include bobbing for apples, ghost in the graveyard, and pin the nose on the pumpkin. These games are sure to get any teen into the Halloween spirit.
Looking for a fun family game to play at Halloween? These Family Friendly Halloween Feud Questions will keep everyone entertained!