Ice cream sundaes are a classic treat that can be enjoyed by people of all ages. But why settle for a regular old bowl of ice cream when you can create something truly special?
An ice cream sundae bar is the perfect way to make your next party or gathering extra special and memorable. Read on for some creative ideas to help you get started!
(THIS POST CONTAINS SOME AFFILIATE LINKS FOR YOUR CONVENIENCE: READ MY FULL DISCLOSURE POLICY)
Ice Cream Bar Decoration
Ice Cream Bar Banner
Ice Cream Party Supplies
Ice Cream Sundae Bar for Parties
Ice cream sundae bars have become wildly popular over the past few years, and for good reason! Offering limitless combinations of flavors, toppings and sauces, it provides a unique adventure in food exploration.
An ice cream sundae bar is the perfect addition to a birthday party, sleepover or any special occasion. You can set up a full-service station where guests can build their own sundaes, or you can offer a selection of signature sundae recipes for them to choose from.
Encourage your guests to get creative by providing lots of fun flavors and toppings like brownie bits, gummy bears, sprinkles and syrups.
You can even play a fun game like this Ice Cream Dice Game to keep everyone entertained.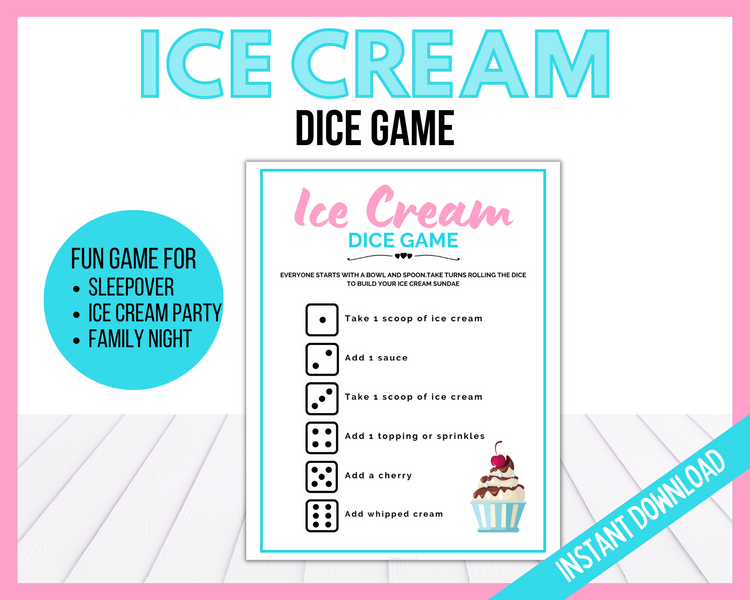 Sundae bars are also exciting as you become your own chef. Everyone will love this freedom to create their own signature dessert without having to wait in line at an ice cream parlor.
Plus, they get an instant burst of satisfaction in seeing their personalized treat come to life before eating it. It's no wonder that so many people love having an ice cream sundae bar at parties!
Everything you Need to Host an Ice Cream Sundae Bar
For those looking to add something special to their next party or get together, an ice cream sundae bar could be the perfect solution. Setting up a fun and interactive ice cream station is easy, and supplies can easily be found at any local store. All that's needed are bowls and spoons for serving, as well as a variety of ice cream, cones and toppings like sprinkles, nuts and sauces.
Sundae Ice Cream Bar Bowls and Spoons
Plastic Ice Cream Bowls with Spoons
Ice Cream Cups with Spoons
When it comes to the ice cream selections, you can not go wrong with vanilla. It matches nicely with all topping choices and allows guests to create their own unique combinations. But having an array of different flavors is great for an ice cream sundae bar.
Popular choices are chocolate, strawberry but don't forget more creative options like mint chip or cotton candy. Offering both dairy and non-dairy varieties will ensure everyone can enjoy the treat regardless of dietary restrictions or allergies.
For the toppings, include some fun add-ins like M&M's, chopped nuts or sprinkles for texture. Finally, don't forget the sauces! Common favorites include chocolate and caramel sauce, but you can also offer things like marshmallow fluff or raspberry syrup. 
How to Set up an Ice Cream Sundae Bar
You can make your ice cream sundae bar as simple or extravagant as you want to. To set up the sundae bar, start by laying out the bowls and spoons on a large table or counter space. Then place separate containers with all of the desired toppings around each bowl for easy access.
For larger gatherings consider adding additional bowls so multiple people can enjoy their favorite flavors at once. Finally provide plenty of napkins to keep things neat and tidy while everyone builds their own personal creations.
For more fun try adding some ice cream themed party games to play alongside your ice cream sundae bar.
Ice Cream Bar Decor Kit
Ice Cream Table Centerpiece
Keeping the ice cream cold
A challenge with your ice cream sundae bar will be keeping the ice cream cold to prevent it from melting. To ensure everyone can enjoy their sundae without a mess, you will need to have an efficient way of keeping it at the right temperature.
Consider using insulated coolers filled with ice or having pre-scooped balls of ice cream that can be stored in your freezer until it's time for them to be served. Or you can put your ice cream containers into a large bowl filled with ice. Sprinkle some salt over the ice to create a chillier temperature.
Ice Cream Sundae Toppings
One of the most exciting and fun parts of having an ice cream sundae bar is getting to choose from a variety of toppings. Have a mix of options so that everyone can find something they like. 
Fun Topping Ideas
Chocolate chips
Sprinkles
Crushed candy bars
Whipped cream
Cherries
Marshmallows
Nuts
Berries
Cookie Dough pieces
Brownie chunks
Gummy worms
Ice Cream Sundae Sauce Ideas
Caramel sauce
Chocolate sauce
Marshmallow fluff
Raspberry syrup
Peanut butter sauce
Fudge
Sundae Syrup Caramel, Butterscotch & Chocolate
Rainbow Sprinkles
Whip Original Whipped Topping
Ice Cream Sundae Bar Tips
Here are some great tips to make sure your ice cream sundae bar is a success.
Plan ahead. Make sure you have plenty of toppings, ice cream, cones or waffle bowls on hand.
Pre-scoop the ice cream. This is a great option if you have a large group as it will speed up the process and prevent too much mess. Store your scooped ice cream on a baking tray in your freezer until needed
Use separate spoons for each ice cream flavor and each bowl of toppings as people may not want to mix flavors
Offer a few non-dairy flavors such as sorbet for those with dietary restrictions or allergies.
Set up separate stations. Have one for cones and ice cream and another for toppings so guests can easily create their own sundaes.
Put out plenty of napkins to keep things neat and tidy while everyone builds their own personal creations.
Creating an ice cream sundae bar is sure to be a hit at your next event or gathering. With the right ingredients and toppings, you'll have partygoers coming back for seconds, maybe even thirds!
Don't forget to have lots of napkins handy because it's sure to be an incredibly messy, but oh so delicious affair! So why wait? Get creative and start planning your very own ice cream sundae bar today!