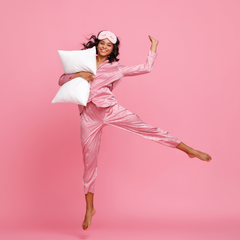 There's nothing quite as fun as getting a group of friends together for a good old-fashioned pajama party. Whether you're planning a kids birthday celebration, bachelorette party, or just a night of fun with your pals, a pajama party is the perfect way to let your hair down and make treasured memories. Here are our top pajama party ideas.
Pajama Party Tips and Tricks
Here are some tips to help your slumber party run smoothly. 
Set the mood with your Invitations
A pajama party should feel like a special event, so make sure your invitations match the theme. You can use cute and colorful invites with pajama-clad animals or opt for a more chic and elegant invitation with a satin robe design. Don't forget to include all the necessary information such as the date, time, and dress code! 
Have fun with Decor
Transform your living room into a cozy and inviting sleepover space with some fun and whimsical decorations. Think about adding blankets, pillows, and fairy lights to create a warm and relaxing atmosphere. You can also incorporate your favorite snacks like pop tarts, a candy charcuterie board, and hot cocoa for the ultimate nostalgic touch. 
Create a DIY Pampering Station
Who doesn't love a little self-care time? Set up a DIY pampering station for your guests to indulge in some TLC with facemasks, nail polish, and hair clips. You can even include some homemade scrubs and lotions for an extra thoughtful touch. 
Plan some Fun Activities
Pajama parties aren't just about relaxing and lounging around! Plan some fun and interactive activities to keep your guests entertained. You can play slumber party games, have a karaoke session, or even set up a DIY photo booth with cute props and backdrops. The sky's the limit with what you can do with your friends! 
Make Breakfast an Experience
Whether you're hosting a slumber party or just having a quiet night in with your significant other, making breakfast an experience can be a memorable and comforting touch.
Pull out your waffle maker or pancake griddle and whip up a batch of fluffy treats, or have a mini brunch bar with bagels, fruit, and coffee. Don't forget to use your fanciest mugs and plates to make it feel extra special!
Mini Maker for Individual Waffles

Crepe/Pancake Maker Machine

Wiz Waffle Iron ,Non-Stick Cooking Plate

Pajama Party Ideas and Themes
Here are some fun party themes and ideas to take your sleepover to the next level. 
Rock a Pajama Costume Party
Animal onesies, superhero capes, and fuzzy slippers – they all make for great costumes at a pajama party. Have your guests come dressed up in their wildest outfits or let them borrow some of yours! 
A Masquerade-themed Sleepover
Make your party even more mysterious and exciting by incorporating a masquerade theme. Have everyone come in their own masks or provide them with some you've made yourself. Don't forget to add some glamorous decorations like crystal chandeliers, rich fabrics, and twinkling lights! 
Throw a movie night
What's better than cozying up with your friends and watching a movie? A classic pajama party staple, movie night is always a hit. Choose a few of your favorite films, put on some comfy pajamas, and snuggle up with blankets and pillows. Stock up on popcorn, candy, and other fun snacks to enjoy during the movie. Turn off all the lights, and let the movies work their magic. 
DIY Beauty Treatments
Why not turn your pajama party into a spa night? Do-it-yourself beauty treatments like face masks, lip scrubs, and nail polish are great activities to do with friends. There are tons of recipes and tutorials on the internet to choose from, but make sure to do a little research before trying anything out, as some treatments can cause skin irritations.
Game Night
Another great idea is to have a game night. Board games, card games, and group games like charades and Pictionary are all great options. You can also make it a friendly competition with prizes for the winners. It's the perfect way to have some laughs and add a little friendly competition into the mix. 
Time Capsule
A fun and sentimental idea is to create a time capsule. Have everyone bring something small that represents what they're currently into or something personal they'd like to preserve. Then, seal it in a container and set a date (i.e., five years, ten years, etc.) for when you'll all return to open it. It's a great way to celebrate your friendship and reminisce about the good old days. 
Play the Fishbowl Game
This simple fishbowl game is so much fun. Simply write objects or words onto slips of paper and put them into a bowl. Then players will give clues in three unique ways – by providing clues, acting it out, or saying a single describing word. Everyone else must try to guess the word on the paper.
Backyard Campfire and S'mores
If you have a backyard open space, building a campfire is always a fun experience. Roasting marshmallows together and making s'mores is a great way to bond and create memories. Just make sure to practice proper fire safety and have adult supervision if needed. You can even turn this into a fun Backyard camping sleepover. If you do not have room for a campfire, you can still make some delicious s'mores in the airfryer.
Indoor Camping
If you don't have a suitable backyard area you can set up a mini indoor campsite with sleeping bags, and fairy lights. Tell stories, rand enjoy classic camping snacks. If you have a projector, it's also fun to watch outdoor movies under the stars. 
Photo Scavenger Hunt
Another great activity is to plan a photo scavenger hunt. Make a list of items or places that each participant has to take pictures of. The photos can be goofy, serious, or anything in between - it's up to you! Award prizes for the most creative and funny images. 
Dance Party
Clear a space for a dance floor and create a playlist of everyone's favorite songs. Provide glow sticks, disco lights, and a mini DJ booth for a lively and energetic party.
DIY Pizza Party
A pizza party is a fun and easy theme. Let everyone make their own personalized pizzas. Prepare a variety of toppings and dough, and have a pizza-making station where guests can assemble their creations. Bake them together and enjoy the delicious results.
Scavenger Hunt
Plan a scavenger hunt throughout your home or backyard. Create a list of clues or riddles that lead to hidden treasures or surprises. Split into teams or work together to solve the clues and find the ultimate prize.
Karaoke Night
Everyone loves a singalong so set up a karaoke machine or use a karaoke app on a device. Encourage everyone to sing their favorite songs and have a blast being the star of the night.
Makeover Madness
Set up a makeover station with makeup, hair accessories, and a full-length mirror. Let everyone experiment with different looks and styles, or have a themed dress-up competition.
Storytelling Circle
Create a cozy circle with cushions and blankets. Take turns sharing funny or spooky stories, or have a designated storyteller entertain the group with a captivating tale.
A pajama party is a great way to celebrate a special occasion, or just spend a night with your closest friends. Whether you opt for a movie night or a spa night, game night, time capsule, or campfire and s'mores, there's no shortage of fun, nostalgia-inducing activities to choose from. Remember to cherish the memories and take lots of photos to look back on in the years to come!