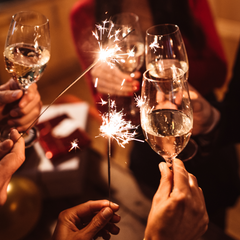 Bring in the New Year with lots of fun and games! Ring in 2023 with laughter, good memories, and a few friendly drinking games. Get your friends together for a good time and try out some of the newest, most popular drinking games – from Never Have I Ever to King's Cup. With New Year Drinking Games, everyone gets to join in on the fun and let their hair down! So pour yourself a drink, enjoy some laughs and make lasting connections as you see in the New Year with style.
Fun New Years Drinking Games to Play on New Years Eve
Are you looking to make your New Year's Eve party a night to remember? Then you need some fun drinking games! Playing drinking games is an excellent way to get the party started and keep it going until the ball drops. Let's take a look at some of the best drinking games for New Year's Eve.
Reverse Happy Hour:
This game can be played with any number of people, but it works best with 2-4 players. The goal is to start with only one shot glass filled with beer, and then try to fill all of the cups in front of them by pouring one beer at a time from cup to cup, without spilling any of it. As soon as someone spills their beer, they lose and have to take a drink. The first person who fills all their cups wins!
Flip Cup:
This classic game is great for larger groups (6-10 players). Set up teams on opposite sides of a table, each player with a half pint glass full of beer in front of them. On the count of three everyone has to chug their beer and then place the empty glass upside down on the edge of the table. The first team that manages to finish all their glasses is declared the winner!
Kings Cup:
Kings Cup is another popular game that requires 4 or more players. You will need to purchase some King Cups Playing Cards. Everyone takes turns drawing cards from a deck and performing whatever action or drinking they are told to do by each card. To win this game, all you have to do is make it through all 52 cards without breaking any rules or making any mistakes!
Beer Pong:
Beer pong is an awesome game that requires 2-10 players and a few ping pong balls. Set up your cups in a triangle formation at either end of the table, fill them with beer and then take turns trying to throw the ball into the other team's cups. If you manage to get the ping pong ball in to their cups they have to drink.
8-Foot Portable Folding Beer Pong Table
Beer Pong Set
LED Beer Pong Party Cup Set
Set up a Beer Olympics:
Make sure to bring in the New Year with a bang and challenge your friends to an epic Beer Olympics tournament! This game is played with teams of two, who compete against each other in five classic drinking games- beer pong, flip cup, never have I ever, kings cup and quarters.
Whoever wins all five events is crowned the Beer Olympic champion! Or you can have any of your favorite games in the challenge, print off our Beer Olympics scorecard, grab a few beers and go for gold!
Do or Drink Party Card Game:
Are you ready to get the party started? The Do or Drink Party Card Game is the perfect addition to your next gathering with friends. This fun and interactive game puts a spin on the classic Truth or Dare, while adding a bit of spice to keep everyone entertained. Get ready for some wild and outrageous challenges in the craziest game night ever!
Do or Drink Team Wars Card Games for Adults
Do or Drink Party Card Game
Do or Drink - Card Game - Expansion Pack #1
New Year Eve Charades:
Ah, charades. This classic party game is always a hit and perfect for New Year's Eve. Gather up your friends and take turns trying to act out words or phrases without saying anything. You can even make up rules like "each team has to act out 10 words in 60 seconds!" Charades will have everyone laughing and having a great time. Make some rules around drinking, like if they do not guess the word in 60 seconds then the team has to take a drink!
You can use this Pictionary words printable and instead of drawing them you can act them out, cut them up put them in a hat and get someone to draw one out of the hat.
These Cards Will Get You Drunk Too:
Looking for a new and improved drinking game to liven up your nights? Look no further than 'These Cards Will Get You Drunk Too' - the hilarious expansion pack for the original #1 drinking game! With 100 new and improved cards to get you and your friends competing, voting and screwing each other over, you'll never run out of fun. The perfect addition to the original deck or can even be played as a standalone game, it's great for 2-8 players, ages 21+. So drink up and have some fun!
These Cards Will Get You Drunk Too [Expansion] - Fun Adult Drinking Game for Parties
Never Have I Ever Drinking Edition
Never Have I Ever is a party game that is played with a group of people. The objective of the game is to get your friends to say "Never have I ever…" followed by something you have done in the past. For example, if you haven't gone skinny dipping, you would say "Never have I ever gone skinny dipping!" You can also play Never Have I Ever drinking edition and make your parties even more entertaining!
Never Have I Ever Drinking Edition Board Game for Adults
If you're looking for an unforgettable way to ring in the new year, these drinking games are surefire ways to make your New Year's Eve celebration something special. New Year's Eve is the best time to get creative with your drinking games. Whether you're playing classic games or trying something new, you can be sure that everyone will have a good time ringing in the New Year! So gather your friends, pour yourself a drink and get ready to party.
Happy New Years! 🎉 🍻
More Fun Party Game ideas:
Looking for a fun way to spend your next girls night? Check out this list of girls night drinking games that are sure to get you drunk (in a good way). From classics like Never Have I Ever and heads up to more creative games like sip, sop, shot, there's something here for everyone. So gather your friends, break out the booze, and let the party begin!
Having a cocktail party? Here are some fun games to keep your guests entertained all night long! From classic games like cocktail scavenger hunt and Cocktail Trivia to new favorites like guess the cocktail color, there's something for everyone. So grab a drink and get ready to have some fun!