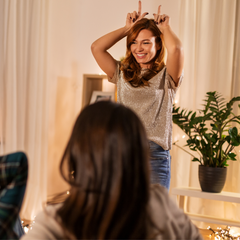 This Thanksgiving, get the whole family together for some laughs with a game of charades. We've put together a list of Thanksgiving-themed charades ideas that are sure to get everyone in on the fun. From classic holiday dishes to popular TV shows, there's something for everyone on this list.
Charades is such a fun game to play with family. It's a great way to get everyone engaged and laughing. And what could be more fun than playing charades with Thanksgiving-themed ideas.
How to play Thanksgiving Charades
1. Divide into teams. You can have as many teams as you want, but we recommend keeping it to no more than four.
2. Choose a player from each team to go first. That player will choose a charade from the list below and act it out for their team.
3. The other players on the team must guess what the charade is. They can shout out their guesses, but they cannot discuss it with each other.
4. If the team guesses correctly, they get a point. The player who acted out the charade then gets to choose the next one. If the team doesn't guess correctly, the other team gets a chance to guess.
5. The first team to 10 points wins! 
Printable Thanksgiving-themed charades ideas
If you're looking for some fun and festive Thanksgiving charades ideas, you've come to the right place! This game has a great selection of printable charades ideas that are perfect for getting everyone in the holiday spirit. So whether you're looking for something classic like "turkey" or "pilgrim", or something a little more unique like "cornucopia" or "gravy", we've got you covered!
Easy Thanksgiving Charade Ideas
This Thanksgiving, put your family and friends to the test with these easy charades ideas and everyone will be laughing in no time.

For an added challenge, try to beat the clock by completing as many charades as possible in two minutes. No matter how you play, these Thanksgiving charade ideas are sure to bring some extra fun to your holiday gathering.
Turkey
Stuffing
Gravy
Cranberry sauce
Mashed potatoes
Sweet potatoes
Green beans
Carrots
Peas
Corn
Tablecloth
Thanksgiving Action Charade Ideas
Hard Thanksgiving charades are more fun because they're challenging. You have to really think about the clues and act them out in a way that everyone will understand. And since it's harder, it's also more rewarding when you get it right.

Plus, hard Thanksgiving charades are more likely to make everyone laugh. And isn't that what the holidays are all about? So go ahead and give them a try this year.
Peeling a potato
Basting a turkey
Mashing potatoes
Pouring Gravy
Pouring Cranberry sauce
Eating Pumpkin pie
Stirring a Coffee
Stuffing the turkey
Pumpkin carving 
Playing Football
Carving a Turkey
Going Black Friday Shopping
Watching the Macy's Thanksgiving Day Parade
Napping after Thanksgiving dinner
Pie eating contest  
Thanksgiving is a time for family, friends, and fun. Get everyone together for some laughter with a game of Thanksgiving charades using our list of fun ideas. So gather up the kids, break out the snacks, and get ready for some turkey-day fun!
More Fun Party Game Ideas:
This is a fun way to express gratitude for all the good in your life. It's like a treasure hunt where you're looking for things to be grateful for. The best part is that it can be tailored to fit your own unique life. Give it a try and see how much more positive and joyful your days become!
Minute to win it games are perfect for Thanksgiving! This roundup has ideas for all ages and abilities. There's something for everyone, so get ready to have some fun this holiday season!