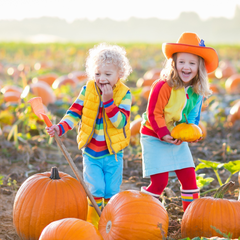 Looking for a fun way to spend Thanksgiving with your family? Look no further! We have the perfect activity for you – a Thanksgiving scavenger hunt! This is a great way to get everyone up and moving, and it's a lot of fun too. We will give you all the information you need to plan your own Thanksgiving scavenger hunt.
Thanksgiving is a time for family, food, and fun. One great way to get the whole family involved in the holiday spirit is to have a Thanksgiving scavenger hunt. The objective of the game is simple: players must solve a series of Thanksgiving themed clues and riddles that will lead them to the treasure. Of course, the prize for winning should be something delicious, like a homemade pumpkin pie. With a little creativity, a Thanksgiving scavenger hunt can be the perfect way to add some excitement to your holiday gathering.
How to set up a Thanksgiving Scavenger Hunt
Supplies
You will only need a few things for this Scavenger Hunt
First, you will need to come up with a list of clues and riddles. You can write your own or here are some printable

 

Thanksgiving Scavenger Hunt Clues
Cardstock to print your clues on
Prizes for the 'treasure' at the end of the hunt
How to hide the clues
Print out the sheets of clues. Before you start cutting them up it is a good idea to write on the back of each clue where it should be hidden. You can find the suggested hiding places on the answer sheet included with our Scavenger Hunts.
Set aside the first clue as you will not need to hide this one
Your second and subsequent clue will be hidden in the place the previous clue leads the players to.  
For example in our printable Thanksgiving Scavenger Hunts the first clue is given to the players and it reads
So this clue will lead players to a pair of shoes and clue number 2 would be hidden inside the shoes. Then clue number 3 would be hidden in the place clue number 2 leads you to and so on.
This continues until players reach the final clue and this will lead them to the 'congratulations' card which you can hide with the final prizes/treasure.
Thanksgiving Scavenger Hunt Clue Cards
We have put together a couple of different printable Thanksgiving themed scavenger hunt clue cards so you can find one to suit your party colors and theme.
 If you are looking for something a little different we also have there options
When it comes to the prize and treasure found at the end, get creative! The sky's the limit when it comes to what you can hide. A few ideas include:
Thanksgiving stickers
Thanksgiving stationery 
If you are playing this with a group then a basket filled with Thanksgiving themed goodies is ideal
Thanksgiving Stickers

Thanksgiving Stationery Paper Set

Turkey Rubber Duck

Turkey Headbands and Glasses

Turkey Headband

Scratch Off Thanksgiving Turkey

The possibilities are endless! So, what are you waiting for? Get started planning your own Thanksgiving scavenger hunt today. Your family will thank you for it. Happy hunting
More Fun Party Games:
Printable Thanksgiving games to keep the whole family entertained. Whether you're looking for a trivia game, a scavenger hunt, or just some fun activities to do while waiting for dinner, we've got you covered. Happy Thanksgiving!
Looking for some inspiration for Halloween game prizes? Look no further! We've gathered up some of the best ideas that will make your party guests happy and entertained. From gift cards to candy, we have something for everyone. So get ready to start handing out treats and watch the fun unfold!