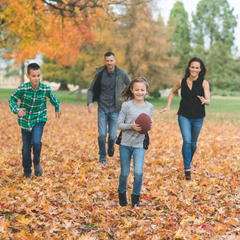 Fall is by far one of the best seasons of the year. The leaves are changing colors, the weather is cooling down, and there are so many fun activities to do in the great outdoors. If you're looking for something to do this fall season, here are some awesome fall bucket list ideas that will make your autumn unforgettable!
Fall Bucket List Ideas
Whether you're looking to spend an afternoon finishing the last few rays of sun or embracing the wintry chill of crisp morning air, adding a few ideas from a fall bucket list is just the thing to help make the season memorable. No matter how big or small your plans are, cherish every moment and take in all that fall has to offer with these fall bucket list ideas.
Go Apple Picking
Nothing says fall like picking apples and enjoying all of the seasonal treats made with them. Go on a family outing to an orchard near you and pick as many apples as you want! You can use them to make apple pie, cider, or other delicious treats.
Visit a Pumpkin Patch
Pumpkins are a staple of fall decorations, but they can also be used to make tasty dishes too! Visit a local pumpkin patch and search through piles of pumpkins until you find the perfect one. Then take it home and get creative in the kitchen with recipes like pumpkin bread or pumpkin soup!
Explore Local Trails
With cooler temperatures come more comfortable outdoor activities. Take advantage of this by exploring your local trails with friends or family. Enjoy nature's beauty while getting some fresh air and exercise at the same time!
Go on a Nature Scavenger Hunt
Get the whole family involved in this one! Find a nearby nature trail and come up with a nature scavenger hunt list of items to find, like acorns or pinecones. This is a fun way to keep everyone entertained and get closer to nature.
Have a Fall Games Night
Gather your friends and family for a night of friendly competition! Host a fall-themed games night with activities like apple bobbing, leaf pile jumping, and pumpkin carving. Then print off some Fall Printable Games to play inside and watch everyone will have an unforgettable time while creating lasting memories.
Learn to Knit or Crochet
Fall is the perfect time to learn how to knit or crochet. Grab some needles and yarn, then join an online class or watch tutorials on YouTube. It's a fantastic way to keep occupied during colder weather and be productive too – you can make cozy scarves, hats, mittens, sweaters and more!
Watch a Football Game
Football games are always more enjoyable when done outside in crisp autumn air. Whether you're cheering on your favorite team from home or at the stadium, watching football games is always a fun way to spend your weekend in autumn.
Play some Candy Corn Games
Candy Corn is a classic treat of the season and it can be used for more than just snacking! Try some fun candy corn games like candy corn bowling or candy corn relays for an extra sweet experience.
Go Stargazing
As summer passes and nightfall arrives earlier, this is the perfect opportunity to enjoy stargazing on a cool fall night. Bundle up and find a spot away from the city lights where you can relax and take in the stars.
Make Candy Apples
Making candy apples is a classic fall activity. Dip apples in boiling caramel, then roll them in chopped nuts for an extra crunchy treat. You can even get creative by trying different toppings like toffee bits, cinnamon and sugar, or crushed cookies!
Go to a Fall Festival
The season brings many fall-themed festivals and events. There are plenty of fun activities to get involved in. Grab some friends and enjoy everything that the festivals have to offer – from live music and craft vendors to hayrides and more!
Have a Fall Photo Shoot
Fall is full of beautiful colors and the perfect backdrop for a photoshoot. Whether you're just taking photos with your friends or setting up a professional shoot, capturing the season in all its glory will give you memories to last a lifetime.
Decorate Fall Cupcakes
For a tasty autumn treat, try decorating cupcakes with fall-themed decorations. Get creative with icing colors and use candy corn and other seasonal candies for extra flare. Then enjoy your masterpiece – it's sure to be delicious!
Make a Fall Craft
From wreaths to pumpkin carving to Thanksgiving fingerprint art, there are plenty of fall crafts you can make. Get creative with your ideas and craft something that's both fun and festive! You don't need fancy tools or supplies either—just some imagination and a few basic materials.
Plan your Thanksgiving Party
Thanksgiving is the perfect time for gathering friends and family to celebrate all that you're grateful for. Start planning your Thanksgiving party and the fun Thanksgiving games you can play now so that you can enjoy every minute of it when the holiday arrives!
Have a Picnic in the Park
Picnics are always fun, but even more so when done in a park with colorful leaves around you. Pack up some snacks and grab a blanket and head out to your nearest park for a fall picnic!
Go Camping
Nothing's better than camping in the great outdoors during the fall season. Enjoy this time with friends or family. There are plenty of spots for camping nearby so you can enjoy the outdoors without having to travel too far. Or have a backyard camping sleepover.
Take a Hayride
Hayrides are an absolute classic during the fall season, and they're always fun! Most hay rides also come equipped with hot cocoa, donuts, and other treats you can enjoy while taking in the sights and sounds of the season.
Try Pumpkin Spice
It's the season of pumpkin spice and everything nice! Try out recipes like pumpkin spice lattes, pumpkin spice fudge, cakes, and so much more. Not a fan of pumpkin? There are lots of other flavors to choose from that will still make your mouth water this fall season!
Have a Bonfire Adventure
Gather your friends and family around a bonfire to roast some marshmallows and tell stories. Enjoy the warmth of the fire on cool fall nights, or just simply star gaze for hours! Either way, this is sure to be an unforgettable experience.
Carve a Pumpkin
Last but not least, don't forget to carve a pumpkin! This is an activity that all ages can enjoy. Have fun getting creative with your design and of course, taking pictures of the finished masterpiece! When you're done, light it up and watch as it illuminates in the night sky.
Fall is full of exciting activities that will create lasting memories for years to come. From apple picking and visiting pumpkin patches to exploring trails and watching football games, there's no shortage of things to do during this gorgeous season!
Make sure to add these fun fall bucket list ideas to your agenda this year so that you can have an unforgettable experience!
More Fun Party Game Ideas:

Why not add in a gratitude scavenger hunt this holidays to help remind you of all the great things to be thankful for. This will help you have a happy Thanksgiving and remember some memories of the holiday season.
Looking for some fun, printable halloween games to keep everyone entertained? Look no further! We've gathered a list of our favorite games that are perfect for all ages. So download and print these games today and get ready for some spook-tacular fun!