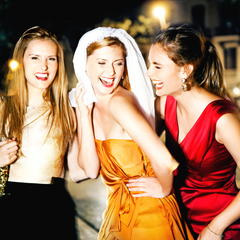 If you're looking for some fun bachelorette drinking games, look no further! We've got the best ones right here. These games are guaranteed to get the party started and help you celebrate your friend's last days of singledom in style. So gather up your girls, pour some drinks, and get ready to have a blast!
(THIS POST CONTAINS SOME AFFILIATE LINKS FOR YOUR CONVENIENCE: READ MY FULL DISCLOSURE POLICY)
Bachelorette Bundle - 7 Fun Party Games
Bachelorette BASH - A Bachelorette Party Game
Girls Fever - The Bachelorette Games
Never Have I Ever
This is one of the most popular bachelorette drinking games. It is perfect for getting to know your friends (or potential friends) better, and it's sure to generate some embarrassing stories. To play, each person takes a turn making a statement about something they've never done. For example, "Never have I ever gotten a speeding ticket." Everyone who has done the thing mentioned must take a drink. The more outrageous the statements, the better!
I Never
Another great game to play is "I Never." This one is similar to "Never Have I Ever," but with a twist. Instead of making statements about things you've never done, you make statements about things you have done. For example, "I never hooked up with a guy on the first date." Again, everyone who has done the thing mentioned must take a drink. This game is bound to get some laughs and create some great memories (or maybe even some regrets).
Bachelorette Drink Pouch Cup with Straw
Bride Tribe Bachelorette Party Premium Can Sleeves
Truth or Dare
No bachelorette party is complete without a round of "Truth or Dare." This classic game is always a hit, and it's sure to get everyone talking (and maybe even a little wild). To play, each person takes a turn choosing whether they want to answer a question truthfully or complete a dare. The questions can be anything from "What's your biggest fear?" to "Have you ever hooked up with a friend's ex?" And the dares can be anything from sing a love song to taking a shot of tequila. Just make sure everyone is comfortable with whatever is being asked or done, and you're sure to have a great time.
Bachelorette Party Dare Cards Party Game
Bachelorette Party Game Scratch Off Cards
Girls Just Wanna - Bachelorette Party Game
Looking for a hilarious bachelorette party game? Look no further than Girls just wanna get crunk! This game is filled with funny tasks, embarrassing dares, and outrageous challenges that are sure to have everyone in stitches. Whether you're looking for an ice breaker or just want to have some fun, this game is guaranteed to deliver. So grab a few friends and get ready to laugh your pants off!
Bachelorette Bundle - Novelty Gold Bride Hat - Naughty Game for Girls Parties
Bachelorette Party Games - Bachelorette Games - Naughty Game for Hens Party
Two Truths and a Lie
Another great game that is perfect for getting to know your friends better is "Two Truths and a Lie." In this game, each person takes a turn telling the group three things about themselves, two of which are true and one of which is a lie. The rest of the group must try to guess which one is the lie. This game is bound to generate some funny stories and help you get to know your friends better. If the group guesses correctly then you must have a drink, but if someone guesses incorrectly then they must drink!
Hen Party Drinking Games
What is a hens night?
A hens night, also known as a bachelorette party, is a last night out for a bride-to-be before she gets married. It's a chance for her to let loose and have some fun with her closest friends. And what better way to do that than with some naughty drinking games?
If you're the Maid of Honor or Best Woman tasked with planning the party, you'll want to make sure it's a night to remember. And that's where these Hens Party games come in. They're guaranteed to get the party started and keep everyone entertained all night long. So what are you waiting for? Let's get this party started.
Pin the Ring on the Bride Hens Party Game

Who Has The Ring - Funny Scratch Off Lottery Ticket Cards

Bachelorette Party Games Pack of 57 - Hens Party Games

Flip Cup
If you want to add a little bit of competitive fun to your bachelorette party, try playing "Flip Cup." This game is played by two teams of equal number of players. Each team lines up on opposite sides of a table, and the first player on each team starts with a cup filled with beer or your drink of choice. The goal is to drink the drink and then flip the empty cup upside down on the edge of the table. The next player can then start drinking their drink. The first team to finish all of their drinks wins! This game is sure to get everyone laughing and having a great time.
Bachelorette Party Gold Team Bride Cups
Bachelorette/Hens Party Team Bride Cups
Bridal Bachelorette Party Cups
Higher or Lower?
This fun card game has everyone guessing if their card if higher or lower than their opponent. To start the game everyone must get into pairs. Each person takes a card from the deck, licks the back of the card (to make it stick) then without looking presses it onto their forehead. The person then looks at their opponents card and has to decide whether their own is higher or lower. If they are correct they stay in the game, if they are incorrect they must take a shot.
Bridal Party Card Game, Rainbow Deck of Playing Cards
Quarters
This is another classic drinking game that is perfect for parties. All you need is a quarter and a cup. Players take turns bouncing the quarter off the table and into the cup. If they make it, they get to assigned a drink by the other players.
==Keep score with this Ladies Game night Scorecard
Shot Roulette
To play you will need:
A Roulette Wheel (You can find one easily online or even at some stores)
A bunch of shot glasses
Your favorite liquor
To start, fill each shot glass with a different kind of liquor. Once they are all filled, spin the wheel and whichever number it lands on is the drink you have to take! 
Bachelorette and Bride Shot Glass Necklace
Drinking Shot Glass Roulette Game
This is a classic drinking game that's perfect for a bachelorette party. All you need is a die and some alcohol and the printable. To play, simply take turns rolling the die. Follow the prompts on the printable, So whenever you roll a six, everyone has to drink. Whenever you roll a 3 the person on your right has to drink For an extra twist, you can add additional rules for other numbers. For example, if someone rolls a three they have to take off an article of clothing. Or if someone rolls a five, they have to do a shot. Be creative and have fun with it!
Who Knows the Bride Best?
To play you will need:
A list of questions about the bride
Pen and paper for each person playing
Drinks!
This game is simple. Go around the group and have everyone answer the questions on the paper about the bride. Whoever gets the most right, wins! And to make it more interesting, you can make it so that for every incorrect answer that person needs to take a shot or do a dare!
Clean Bachelorette Games
If you are looking for some good clean fun for your bachelorette party, then this bundle of 15 games is perfect. With plenty of options to keep all of your party guests entertained, these clean bachelorette games will help make your party a success!
Match the Lingerie
When sending your invitations for this Bachelorette Party, add a note asking your guests to bring a piece of Lingerie to the party. When they arrive they can place their Lingerie into a bag without anyone seeing. To start the game, everyone sits in a circle, each holding a shot glass. The bride to be will pull out one piece of Lingerie from the bag and she must guess who brought it. If she guesses correctly then all of the guests must drink their shot. If she guesses incorrectly then she must take a shot. This game continues until the bag is empty.
So there you have it! The best bachelorette drinking games to help you celebrate your friend's last days of singledom in style. So grab some drinks, gather up your friends, and get ready for a night you'll never forget. Cheers!
More Fun Party Games:
Looking for ideas on how to keep the bachelor party fun going all night? Check out these awesome games that will keep everyone entertained. From classic games like beer pong and flip cup to more creative options like giant Jenga and cornhole, there's something for everyone. So grab a few drinks and get ready to have some fun!
Looking for something fun to do on your next date night? Grab your partner and get ready for some fun! These date night games are fun and some a raunchy, so be prepared for a night of passion.
Are you looking for an epic way to spend your weekend? Why not host a beer Olympics party?! This guide will tell you everything you need to know to make sure your party is a hit. Beer Olympic Beer games will sure make your party fun.