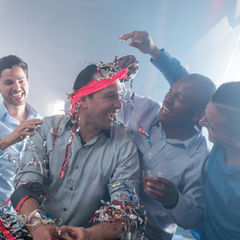 Planning a bachelor party can be a lot of fun, but it can also be a little stressful. You want to make sure that the night is memorable for your friend or loved one, but you don't want to spend too much money or go too crazy.
One of the best ways to ensure an unforgettable night is by playing some fun games! Here we will show you some of the best bachelor party games that are sure to get everyone laughing and having a good time. 
(THIS POST CONTAINS SOME AFFILIATE LINKS FOR YOUR CONVENIENCE: READ MY FULL DISCLOSURE POLICY)
The best way to plan a bachelor party is by involving the bachelor himself! He knows what type of night he wants, and he will most likely appreciate all of the effort you put into planning it. That said, be sure to get input from other friends and family members who will be attending – they may have some great ideas, too!  Once you have a good idea of what everyone wants, it's time to start planning the games.
Bachelor Party Drinking Games
Truth or Dare
One of the most popular bachelor party games is "Truth or Dare." This classic game can be played with any number of people and is sure to get some laughs. If you want to add a little more excitement, try playing "Drink Truth or Dare." This version of the game is exactly what it sounds like – players must complete a dare or answer a question truthfully, or else they have to take a drink. Of course, you can make the stakes even higher by adding additional forfeits for losing players!
If the groom loves beer, why not play some fun Beer Olympics Games. From 'the penalty box game' to 'Pongopoly' there is something here for everyone.
These quick and easy dice drinking games will keep the party going all night. Easy to learn and perfect for groups of any size, these dice drinking games that are sure to get the party started. Funny Bachelor Party Ideas are great icebreakers, they will get everyone relaxed and ready to party.
Never Have I Ever
Another great game to play is "Never Have I Ever." This game is perfect for getting to know your friends (or potential friends) better, and it's sure to create some laughs. To play, simply go around the circle and have each person make a statement about something they have never done. For example, "Never have I ever been skydiving." Anyone who has done the activity mentioned must then take a drink. The more outrageous the statements, the better!
Never Have I Ever Expansion Pack

Never Have I Ever Adult Party Drinking Game

Beer Pong
This is a classic drinking game that no bachelor party would be complete without!  It is an easy game to set up. Just be sure to have plenty of beer on hand for those who want to play. This is always a great ice breaker game and can get people mingling and laughing in no time.
8' Folding Beer Pong Table with Bottle Opener

Glowing Party Beverage Pong Game

Beer Pong Balls, Novelty Party Games Set

Cornhole Drinking Games
What better way to celebrate an upcoming bachelor's night than a few fun cornhole drinking games? Everyone can have a blast throwing bean bags at a board while trying to reach the hole and enjoying their favorite drinks.
Cornhole is perfect for any bachelor party, as it combines friendly competition with laughter and refreshment. Plus, it's versatile enough that everyone can customize the rules to their own level of enjoyment. 
Uno Drinking Games
Make it even more exciting by turning this uno card game into an uno drinking game. This is the perfect way to get everyone involved, laugh and of course have some drinks while they're at it. It's a great way to make sure that you really enjoy and make memories of the upcoming wedding in style!
Flip Cup
Beer Pong might be a classic, but if you want to mix things up a bit, try playing "Flip Cup." This game is similar to beer pong, but instead of throwing the ball into a cup, players must drink their beer and then "flip" the empty cup onto its bottom. The first team to finish all of their cups wins!
Glow In The Dark - Flip Cup Party Game
Flip Cup Drinking Game
Statues
In this game, one person is chosen to be the King. At any time during the night he can freeze into a pose. When everyone else sees him freeze, they must freeze as well. The last person to do this must either skull their drink or buy the next round!
Fun Bachelor Party Games
Here are some more bachelor party game ideas that the groom and his mates are sure to enjoy.
Cards Against Humanity
For something a little different, try playing Cards Against Humanity. It's a hilarious game that is sure to get everyone laughing. Just be warned, it can be a little crude at times!
Charades
Another fun choice for parties. You can make up your own rules or use a pre-made set. Either way, it's sure to be a hit with the group!
It's in The Bag! A Mashup of Charades
Party Charades Game
Banned | Word Game of Act Out Charades
Bachelor Party Scavenger Hunt
A Bachelor party scavenger hunt is another great game that can get everyone involved and laughing. Everyone will have to complete silly tasks or find certain items, during the night. It is a good idea to get some fun bachelor tee shirts printed for everyone to wear during the scavenger hunt. This way everyone knows who is part of the group and it will make for some great photo opportunities. Make sure to set a time limit for the scavenger hunt so that it does not go on all night and everyone gets a chance to participate!
Bachelor Party Bingo 
Another fun game to play is bachelor party bingo. This can be played a few different ways but the basic premise is that everyone has a bingo card and tries to get five in a row. The items on the bingo card can be things like, " sees a stripper" or " buys a round of shots". This is a great way to keep track of all the crazy antics that happen during the bachelor party.
Best Man Challenge
Every time the Best Man blows a whistle everyone must drop down and do 5 push ups. The last person to finish this has to complete a task set by the Best Man.
Bachelor Blast Off
Bachelors take it in turns rolling the dice, picking up cards, and performing wildly absurd tasks. It's a hilarious game that brings out your inner child as you perform ridiculous tasks.
Bachelor Blast Off - The Ultimate Party Game for Bachelor Parties

Bachelor Party Games For Groom
Bachelor Party Bar Games
Bar Hopping games to play at all or different bars as the night rolls on, pub crawls are very traditional on a bucks night.
Legged Pub Crawl
Bar Scavenger Hunt
Bachelor Party Decorations
Bachelor Party Plastic Cups
Bachelor Party Decorations
Bachelor Party Thermocoolers
So there you have it, the best bachelor party games to ensure an unforgettable night. Make sure to have plenty of beer or champagne on hand, and don't forget to toast to the groom-to-be.
More Fun Game Ideas:
The wedding shoe game is a fun way to get your guests excited for the big day. Grab these Wedding Shoe Game Questions and have a blast with the Bride and Groom.
Beer Olympics Games are so much fun to play at a bachelor party or for a night in with friends. Grab the scorecard and get your competitiveness ready for a fun night