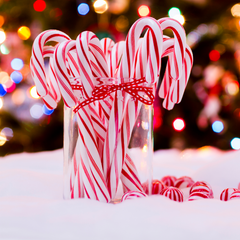 Looking for a fun way to celebrate the holidays this year? Why not try out some of these Candy Cane Games. These games are perfect for family gatherings, parties, or just a fun night in with friends. 
One of the best things about the holiday season is all the delicious candy that is available. And what better way to enjoy that candy than by using it to play some fun games? Here are a few ideas to get you started:
(THIS POST CONTAINS SOME AFFILIATE LINKS FOR YOUR CONVENIENCE: READ MY FULL DISCLOSURE POLICY)
Candy Cane Hunt
No list of candy cane games would be complete without mentioning the ever-popular candy cane hunt. This can be done inside or outside, depending on your preference. Simply hide a bunch of candy canes around the house or yard and let the kids loose to find them. The first one to find all of the candy canes is the winner!
Candy Canes - Peppermint Flavor
Variety Candy Canes
Red and White Peppermint Candy
This fun printable Candy Cane Treasure Hunt has done all of the hard work for you. There are 17 super cute treasure hunt clues for your child to solve, and each one brings them closer to the treasure hidden at the end. The answers and suggested hiding places for these clues are included so it is such as easy game to set up. You can hide Candy Canes with each clue or leave some with the final treasure. This game is such a fun kids Christmas activity.
Candy Cane Balance
This is a test of both skill and patience. See how long you can balance a candy cane on your finger, nose, or forehead.The person who can go the longest without dropping their candy cane wins.
Candy Cane Wrap
Divide your group into teams of 4 or 5. Choose one person in each team to be the 'Candy Cane' while the others are the 'Wrappers'. The Candy Cane person must stand still while the Wrappers use their red and white crepe paper to wrap them up in stripes like a candy cane. The first team to finish wins!
Crepe Paper Roll, Red
Red and White Crepe Paper Streamers
Crepe Paper Roll, White
Candy Cane Relay
This is a great game for larger groups. Divide your group into teams and line them up behind a starting line. The first person in each team must run to the other side of the room (or outside if you have enough space) and back holding their candy cane. As they cross the finish line they must hook their candy cane on the next person in the line's candy cane. The next person then has to run with the both candy canes and so on until everyone in the team has had a turn. If any candy canes fall off during the race, the team must pick it up and go back to the start. The first team to finish wins!
Pin the Candy Cane
When it comes to playing games with candy canes, there are quite a few options available. One popular game is the classic "pin the tail on the donkey" game, but with a holiday twist. Instead of a donkey, use a gingerbread man or gingerbread house and have players try to pin the candy cane onto the correct spot. This is sure to bring some laughs and make for a great photo op.
Large Fabric Colorful Gingerbread House Door Cover
Candy Cane Fishing
This is a fun Christmas Minute to Win it game. The aim of the game is to collect as many candy canes as you can in just one minute. To do this you will need 2 players, 2 cups and a pile of candy canes. Each player picks a candy cane and holds the straight edge in their mouth. They will use the candy cane like a fishing hook to try to pick up another candy cane and put it into their cup. They can not use their hands and can only pick up one candy cane at a time. Place the candy canes in a pile in between the two players and on the count of three watch as they hilariously try to 'fish' for candy canes!
Candy Cane Face Off
Using a small candy cane, each player must place it on their forehead. The object of the game is to get the candy cane into your mouth without using your hands. The first person to do so wins!
Organic Mini Candy Canes
Mini Candy Canes Tub
Candy Cane Tree Toss
You will need to give each team a small artificial Christmas Tree and a pile of candy canes. Standing a distance away from the tree, each team must take turns throwing their candy canes at their tree, trying to get them to stick. The team with the most candy canes stuck in their tree at the end of the game wins!
The candy cane is one of the most classic Christmas candies. These striped peppermint sticks are not only delicious, but also versatile. So, if you're looking for a fun and festive way to keep the kids occupied, try one of these candy cane games. They are sure to provide hours of entertainment for everyone.
More Fun Party Games:
Balloons provide hours of fun for kids. These fun games are just a few examples of the many possibilities. With a little imagination, you and your children can have a blast with balloons!
It can be tough to get your kids away from screens and into playtime, but it's important for their development. Here are a few tips on how you can make that happen. With a little effort, you can create a balance between screen time and playtime that works for your whole family.