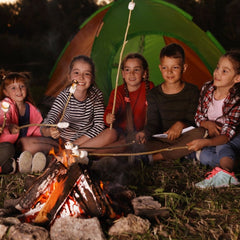 A Backyard Camp out with the kids can be a blast and is the perfect way to celebrate Summer. The kids will love sleeping out under the stars with their friends and you won't have to worry about rattlesnakes, poison ivy, or wild coyotes. And the best part about it all is that mom gets to sleep in a nice warm bed, if she wants to. Or is the best part that the clean-up is all outside and not in the house?
When there is no time to get away for the weekend, a good alternative is to have a backyard campout. An additional advantage of the backyard camping sleepout, over traditional camping is that the children can camp out in their own in the backyard.

Most children love campouts, It is probably best suited to ages 8 and above, unless you are planning to sleep out in the tent with the younger kids. If you already have a tent then this can be a regular event. Don't panic if you do not have a tent, you could ask your friends and family if they have one you can borrow or you could make a blanket fort and set up the sleeping area inside instead. Either way the kids will love it.
Pitch The Tent In Advance
The day of your chosen campout is not when you want to find out about necessary cleaning, missing parts, or other issues. You will also want to air your tent out before using it.
Make any needed repairs—clean minor mildew problems with vinegar mixed with water. Serious mildew problems could require professional cleaning or possibly a new tent.
Choose The Day And Location
Before choosing the day, look at the forecast from at least two different weather information providers. If possible, choose a night that is predicted to be clear.
If you have a large backyard, pitch the tent in a good, secluded area well away from the house. If you have a small backyard, you can use the patio or deck. A gazebo can also protect you from unexpected rain.
Setting Up
Plan your cookout and campout as if you were on a real camping trip. This is a good time to teach children how to pack light and not bring any electronics. This is a night for storytelling and stars.

Plan to make only four trips from the house if you can. The first trip is to carry the bedding, and the second carries non-food items, and the third brings the food and camp stove. After supper, your fourth trip returns all the food items to the house to discourage urban wild animals, such as raccoons.

This assumes that you have multiple hands to help. If you have younger children, you may need more trips, but don't get carried away. The point of the campout is to pretend you are in the wilderness, and you cannot do that if you keep going back to the house for supplies.
Inviting Friends
If you want to invite some friends over for you backyard camping sleepover then why not make/buy some really cool invitations
There are so many cute camping invitations to choose from. Some you can edit by adding your child's name and campout information and print out on your home computer.  Or if you prefer, you can purchase ones like these from Amazon and handwrite the details. Don't forget to remind everyone to bring their warmest pajamas, a flashlight, a sleeping bag, and a pillow, as they will be sleeping outside.
(THIS POST CONTAINS SOME AFFILIATE LINKS FOR YOUR CONVENIENCE: READ MY FULL DISCLOSURE POLICY)
Camping Party Food and Drink
It is a good idea to keep the food options simple. Traditional camping food such as burgers and hotdogs are always a hit.
You can even roast hot dogs over an open flame if the sleepover starts around supper time. If you decide to start the sleepover later, say seven-thirty in the evening, you can stick to snacks, roasting marshmallows, cake and hot chocolate.
Just like a real camping trip S'mores are essential.  If you have a round barbecue grill or a wood-burning grill that is specifically designed for this type of thing (often found at places like Home Depot), the older kids could roast their marshmallows over this. The younger ones will need help with this or you could use an Indoor electric stainless steel smores maker
No campout would be complete without snacks. The best kind of snacks are chips, and crackers because they stay fresh don't go stale fast
Water bottles would be great for drinks as the kids will be running around and need to replenish their bodies. If you give them soda or punch, they will end up with a sugar rush and become more hyper, and harder to get settled down towards the end of the evening.  Using bottles will (hopefully) prevent lots of spilled cups. You can write their names onto the water bottles or use these fun water bottle labels.
Hot Chocolate is perfect for winding the kids down for sleep. Make a huge batch of hot chocolate and keep it warm on the stove. After everyone is ready to settle down, and in their sleeping bags, bring out the hot cocoa and prepare to tell stories.
All your campout food should be cooked outside. Bring traditional outdoor food, which can be cooked over a barbecue or camp stove, such as hot dogs. Always check local regulations before lighting a campfire.
If you want to go all out with real camping food ideas then print out these camping food printable cards and add them to the food table with the corresponding food.
Camping Party Activities
Make crafts using objects from nature. A great craft would be to take a miniature wooden fence and hot glue (or Elmer's glue) twigs, leaves, and flower petals onto the fence. Once dry, hot glue two hooks on the back of the fence.
A scavenger hunt around the neighborhood would be a great way to get some of that energy out of the kids. You could also have relay races and play charades. Treasure Hunts are also great to hide gifts, food around the yard for the kids to find.
How about playing sack races or tug of war, kids will enjoy beating the parents at these games (hint hint parents might need to let them win one or two games)
In Case You Get Rained Out
Whether you choose your backyard campout day carefully, your plans may still be disrupted by unexpected cold weather or a heavy downpour. You can plan ahead for cold weather and make it fun, but you don't have to put up with persistent rain during a backyard camping sleepover.
Be prepared to move back inside on short notice. You can keep the air mattresses and other items inside the tent until it stops raining and bring them in then. Let the tent dry fully before folding it back up to prevent mildew.
Breakfast
In the morning, you could serve donuts and milk or have a cooked breakfast of eggs and bacon on the grill.
Children love Backyard sleepovers so maybe you could make it a regular occurrence.